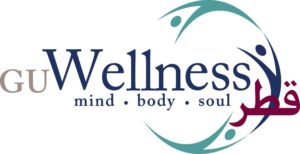 Georgetown University is committed to enhance the health and well-being of all GU-Q faculty, staff, and their families.
Specifically, we strive to:
Provide access to a range of wellness resources and programs
Promote preventative health care
Educate the community about healthy eating and living
Educate the community about their health management options
Respond to the specific health and wellness-related needs of the community
---
Wellness Programs
GU-Q Wellness offer a variety of programs to support, guide and educate our community to live a healthy lifestyle. Programs such as physical activity, healthy eating, 'Know Your Numbers', Mindfulness Stress Management, Meditation, Lunch and Learns and challenges are designed to improve the overall health and well-being of faculty, staff and the families.
Fitness
Exercise Classes
At GU-Q, we understand the importance of regular physical activity as a way to reduce the risk of disease, increase energy and improve overall quality of life. The GU-Q wellness team offers a range of exercise classes to faculty, staff and their families. These currently include: Step, Yoga, Zumba and Spinning classes.
Gym
For the convenience of faculty and staff, the GU-Q building has an on-site gym that is open 24 hours a day, 7 days a week. The gym is fully equipped with treadmills, elliptical machines, exercise bikes, free weights, and strength machines, including a bench press and Smith machine.
QF Fitness
As a member of Qatar Foundation, the GU-Q community has access to all of the Foundation's exhaustive range of exercise classes, programs and activities. Teen workouts, kid's zumba, football, cricket, squash, insanity calisthenics, yoga, Pilates, swimming classes are some of the great activities offered to the QF community.
Family members wishing to access QF facilities, programs and actives must complete an application for a QF Family Card. Completed applications must be submitted to Human Resources.
Sports and Activities in Qatar
There are sports clubs and a range of indoor and outdoor activities in and around Doha such as sailing, kayaking, scuba diving, rugby, football, natural history group, amateur acting and singing groups which GU-Q Wellness will publicize as appropriate.