Collaboration With Education Above All
The university's foundational values of social justice, academic excellence, and community engagement and service are at the heart of GU-Q's robust partnership with Education Above All (EAA), and emerges out of our shared commitment to increasing access to quality education for at-risk youth. Attacks on education, and the problem of ensuring access to quality education for communities impacted by conflict and crisis presents risks for populations today, and sows the seeds for future conflict that will continue to harm future generations. Now more than ever, we need to live our institutional values, and come together to find new answers to safeguard quality education as a human right.
Our collaborations around these issues include awareness raising activities, a Memorandum of Understanding that facilitates diverse student recruitment, a collaboratively developed credit bearing course on Education in Conflict, a number of internships, and the publication of an outcomes paper for a joint Georgetown University and EAA event featuring H.H. Sheikha Moza bint Nasser, Dr. Alaa Murabit, and Melanne Verveer, on "Protecting Education in Times of Conflict."
By empowering young learners with the knowledge, skills, and understanding of the stakes involved, we can contribute to the global effort to protect education in conflict and crisis, and prepare the next generation of leaders who will shape the policies that will create real change

Dean Ahmad Dallal
Awareness Campaign
Unite to Protect Campaign Support
GU-Q is a proud partner of EAA's #UnitetoProtect campaign, which leads up to the first ever International Day to Protect Education From Attack on September 9, a U.N. General Assembly resolution adopted to mobilize action to safeguard education in armed conflict. In support of this effort, GU-Q has released a special message from the dean for International Protect Education from Attack Day, and developed a social media campaign to raise awareness of the critical issue of education at risk.
Furthermore, a new course this year organized in collaboration with EAA will educate GU-Q students on the ways conflict and crisis impact access to education, and will encourage them to develop and contribute their ideas for lasting change. Beyond these efforts, GU-Q leverages university resources and expertise across a host of initiatives, including events, research projects, collaborations, and student development opportunities, to promote education equity and to tackle the growing threat facing education across the globe.
Social Media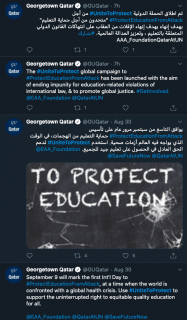 The #UniteToProtect global campaign to #ProtectEducationFromAttack has been launched with the aim of ending impunity for education-related violations of international law, & to promote global justice. #GetInvolved @EAA_Foundation @QatarAtUN
According to #EuA2020, education has been attacked 11,000+ times in the past 5 years. Urgent action is needed to #ProtectEducation. We must #UniteToProtect @EAA_Foundation @QatarAtUN
22,000 students, teachers, and academics were killed, injured, arrested, or otherwise harmed in attacks in 2015-2019, @GCPEAtweets reports. What can governments do? #UniteToProtect #ProtectEducationFromAttack @EAA_Foundation @QatarAtUN
Education Above All Youth Advocates
GU-Q students regularly serve as EAA Youth Advocates helping to raise awareness about the mission and activities of the foundation. In 2020 GU-Q students and youth advocates shared their expertise at v-Empower 2020, an annual youth conference organized by Reach Out to Asia (ROTA), a program of the Education Above All Foundation (EAA). In 2019 six GU-Q students took part in a Youth Talk ED 2.0 under the edvOcate campaign as EAA Youth Advocates, and in 2016 Dana Al Anzy (SFS'17) addressed the 71st session of the UN General Assembly in her role as EAA Youth Advocate.
Relevant Articles:
Academic Collaboration
MOU with Education Above All and The African Leadership Academy
Our focus on maintaining genuine diversity in terms of race, nationality, and socio-economic background resulted in a partnership through EAA with the African Leadership Academy, allowing us to expand our recruitment efforts to Kenya and Nigeria, and attract a talented incoming class which includes more students from African countries than ever before.
Collaborative Course on Education in Conflict
GU-Q has developed an international affairs course on "Education and Conflict" in collaboration with EAA's Protect Education in Insecurity and Conflict (PEIC) division. The course, which began Fall 2020, is led by Dr. Anne Nebel, Associate Dean for Teaching, Learning and Assessment, and features guest lectures from experts at EAA and Educate a Child, as well as GU-Q alumni working in related fields and GU-Q students working as EAA Youth Advocates.
Gender & Human Rights Course Guest Lecture
For the Spring 2020 Culture and Politics course on "Gender and Human Rights," Visiting Assistant Professor Rajnaara Akhtar invited Maleiha Malik, executive director of PEIC, Education Above All, to give a special guest lecture drawing on her decades of experience as a lawyer and executive director of PEIC.
Internships
EAA Foundation offers GU-Q students for credit and not for credit internships. One academic and six not for credit internships were offered in the 2019-2020 academic year.
Event Collaborations
Joint Georgetown-Education Above All Conference at Georgetown University in Washington, DC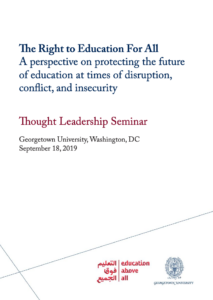 GU-Q supported the September 2019 conference on "Protecting Education in Times of Conflict." The thought leadership seminar featured H.H. Sheikha Moza bint Nasser, Chairperson of QF and EAA Foundation and U.N. Sustainability Development Advocate; Dr. Alaa Murabit, U.N. Sustainability Development Advocate; Melanne Verveer, Executive Director of the Georgetown Institute for Women, Peace, and Security; and was moderated by the President of Georgetown John J. DeGioia.
In addition, GU-Q worked closely with EAA to produce an outcomes paper from the conference which was then published and disseminated in Geneva on the occasion of Her Highness giving the keynote address at the Social Forum of the U.N. Human Rights Council on October 1, 2019.
Georgetown University in Qatar and Education Above All, 2019. "The Right to Education Above All: A perspective on protecting the future of education at times of disruption, conflict, and insecurity." Doha: Georgetown University in Qatar. https://issuu.com/sfsqcomm/docs/georgetown_eaa_brochure_print
Relevant articles:
The Impact of Movement and Displacement on Education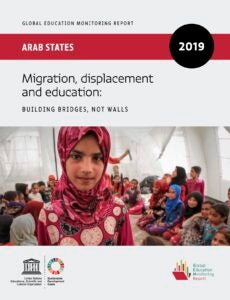 GU-Q partnered with EAA to host an event in October 2019 on "The Impact of Movement and Displacement on Education," leading up to the official launch of UNESCO's Global Education Monitoring Report's first regional report on education, migration, and displacement in the MENA region. Panelists included Noha Aboueldahab, Brookings Doha Center, Dean Susan L. Karamanian, HBKU College of Law, Dean Ahmad Dallal, and Mustafe Axmed, GU-Q student.
Migration, Displacement and Education: Building bridges, not walls. Global Education Monitoring Report on Arab States, 2019.
Art Exhibit and Talk by Head of Advocacy at the Education Above All Foundation
Alumnus Mubarak Al-Thani (SFS'10) held a solo art exhibition and public lecture at GU-Q in 2019, explaining how as Head of Advocacy at EAA, he used artwork to communicate the importance of promoting the right to education for marginalized communities in conflict zones.
Relevant Article: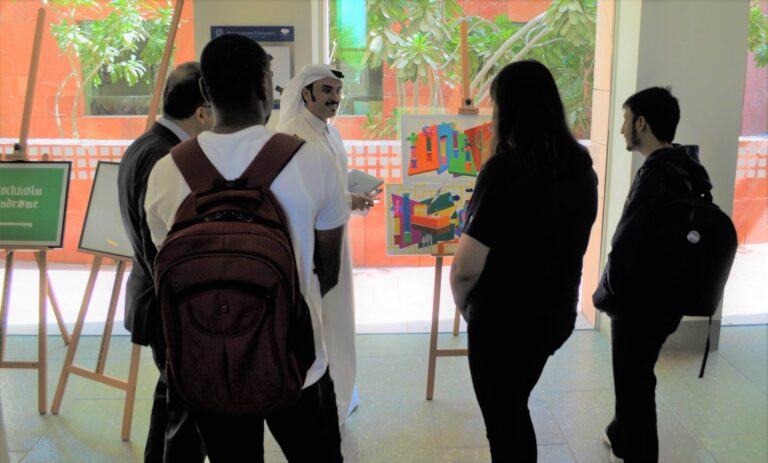 Alumni Mubarak Al Thani, Education Advocate, Artist, Donates Work to GU-Q