Admissions
Admissions Open House Welcomes Local High School Students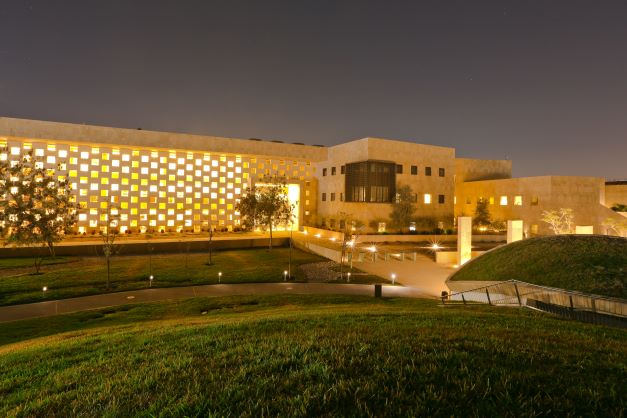 This Wednesday, September 28, GU-Q opened its doors at the annual Admissions Open House, the perfect time for future university students to learn what it takes to succeed in the transition to college life before GU-Q's February 1 application deadline for the 2023 academic year.
Catering to the needs of local high school students and their families, this year's event was the first on-campus open house since 2019, and offered many opportunities to explore academic programs and student life, learn about the application process, and learn what makes the Bachelor of Science in Foreign Service (BSFS) at Georgetown University one of the top ranked international affairs programs in the world.
In the lead up to the open house, Joseph Hernandez, Director of Admissions at GU-Q said: "One of the best ways to decide whether a school is the right fit for you is to see it for yourself. The open house is designed to highlight the very best that GU-Q has to offer, and we look forward to meeting prospective students and answering any questions they have about attending Georgetown, or any question they have about the transition from high school to college, which can be a challenging time." 
The event kicked off with a faculty panel moderated by four Georgetown students from Qatar, Germany, Pakistan and India. The discussion provided an overview of the enrollment requirements for the next academic year and key information about the school's curriculum and majors, classroom experience, and career prospects following graduation.
After the panel discussion, visitors were invited to explore a fair featuring the many departments across the university that work to support student success, including tutoring, writing support, research training, sports, and leadership development. "The holistic learning environment extends beyond the classroom. Our students have access to the critical resources, mentorship and support they will need to take on the challenge of creating a better future," said Hernandez.
The BSFS degree at GU-Q is offered in four majors, Culture and Politics, International Economics, International History, and International Politics. With the critical skills gained through the same BSFS degree offered at Georgetown's campus in Washington, DC, graduates have gone on to pursue successful careers in a wide range of industries, including banking, communications, energy, education, business, government, media, and more.
International students will soon be offered a virtual open house to support their academic journey. Director Hernandez also encourages students to connect through the university's website for more help in the application requirements, answers to frequently asked questions, and program information to make the process easy to navigate including videos that take students step by step through the entire admission process.