Welcome New Hoya's! 
We are excited to have you join our community, and this guide highlights key information and university requirements. Just follow the directions below to ensure your smooth transition to Georgetown University in Qatar (GU-Q). In the summer, new students will receive an invitation to enroll in Hoyas 101, a special orientation program to learn more about life, services and support at GU-Q.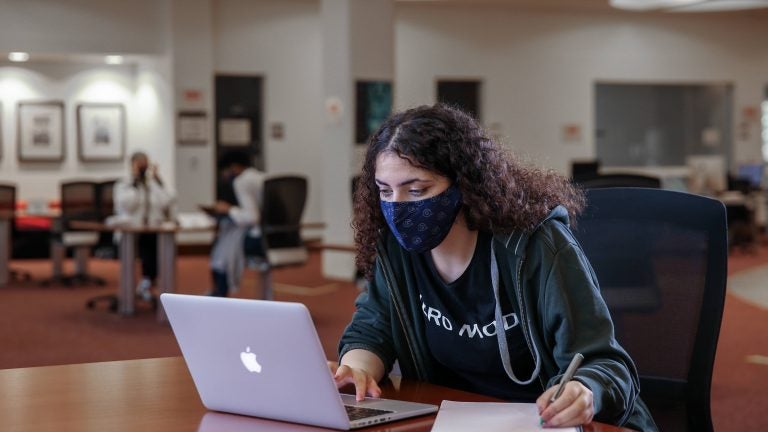 Congratulations on your acceptance! To process your enrollment, you need to submit a few documents and applications. You will also need to activate your NetID and Georgetown email account.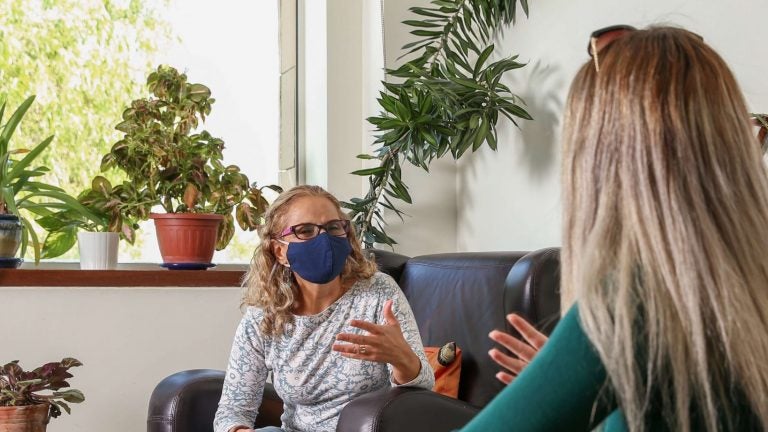 Health & Wellness
Learn about immunization compliance, health insurance, and emergency contact information.
NSO & Convocation
Find out about the mandatory New Student Orientation (NSO) and the Convocation ceremony which officially makes you a GU-Q student.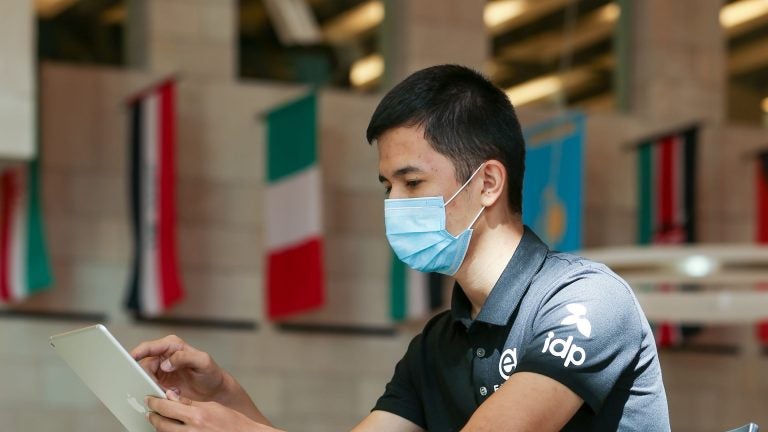 International Students
Information about immigration, airport transportation, orientation, housing, and what to pack.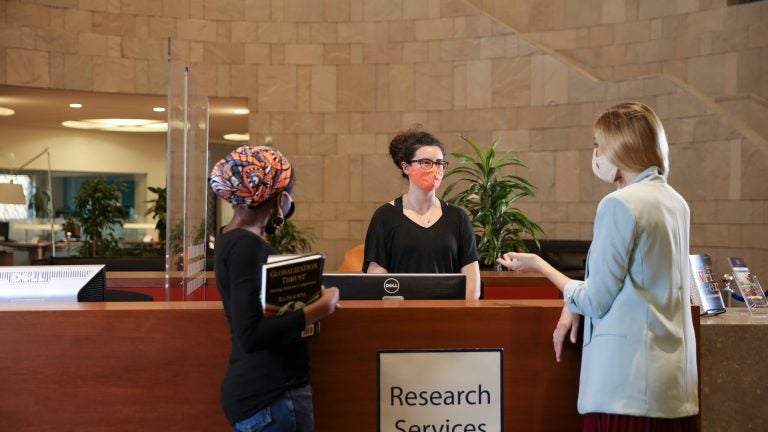 Program Information
View the calendar and available courses, and understand requirements including the core curriculum, pre-registration, and foreign language proficiency.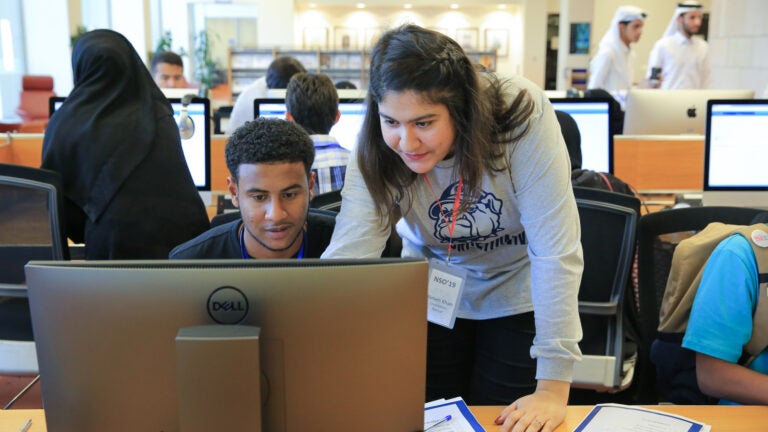 Academic Resources
Find out about academic accommodations and academic support services offered.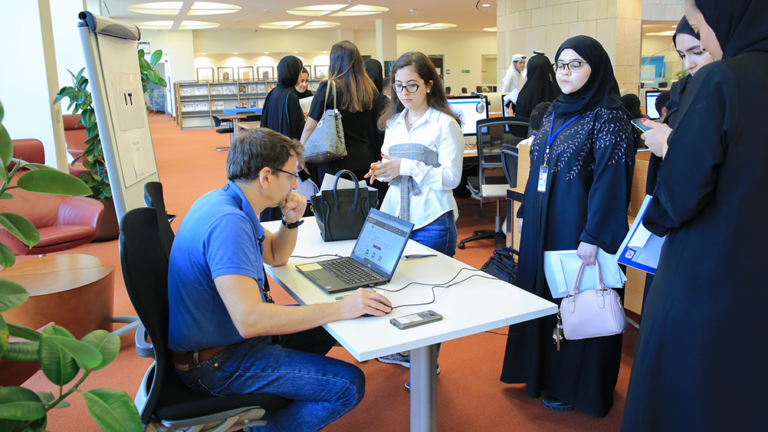 Useful Information
View other useful information regarding IT services, facilities in the GU-Q building, finances, and student employment.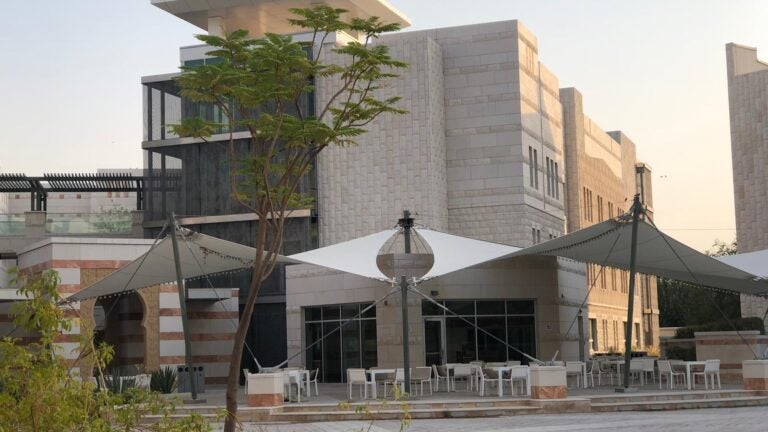 Student Housing
Learn how to apply for housing and the housing dates!
Start Here!
Health and Wellness
All students are required, at the time of registration, to provide documentation of vaccination or immunity from Polio, Diphtheria, Tetanus, Hepatitis B, Measles, Mumps, Rubella, Varicella, and Meningitis. In addition, all students are required to have documentation of a Tuberculosis (TB) skin test in the last year and submit the Immunization History and Tuberculosis Screening form upon admission.
If you choose to waive the Meningitis vaccination, you should read the Meningitis Fact Sheet and complete and sign the Meningitis Vaccine Waiver.
The Immunization History Form and Tuberculosis Test Form must be completed by a health care physician. This process can take several weeks to complete. You will need to plan ahead to meet the deadline and avoid registration delays.
► Please upload your completed immunization documents via your Application Status Page. PLEASE DO NOT EMAIL YOUR COMPLETED FORM OR IMMUNIZATION DOCUMENTS TO US.
For more information on required immunizations, click here.
For inquiries, contact the Student Wellness & Counseling Center.
All enrolled international and local expatriate students residing in Qatar are required to carry a supplementary private health insurance; therefore, GU-Q has negotiated a comprehensive medical and travel policy designed specifically for GU-Q students.
All international and local expatriate students will be automatically enrolled and charged a premium fee for this insurance on their student billing accounts, unless they decline the coverage and provide documentation of adequate insurance coverage under another private policy.
If you have coverage by another private insurance that remains in effect throughout the academic year, and you wish to decline the student health insurance arranged by GU-Q, you must complete the Insurance Waiver Form and provide a copy of the front and back of your current private health insurance card. ► If you are eligible to opt out of enrollment in GU-Q insurance plan, please upload your completed Insurance Waiver Form along with a copy of the front and back of your current private health insurance card via your Application Status Page, should you choose to waive.
Students are responsible for understanding their insurance coverage and benefits and must carefully read the enrollment and benefit details, including the inclusions, exclusions, and limitations of their coverage.
For more information on Student Health Insurance and Medical and Travel Insurance Policy, click here.
For inquiries, contact the Student Wellness & Counseling Center.
You need to provide the following two pieces of information by logging into https://myaccess.georgetown.edu/ before you arrive. You will need your Net ID and password.
Emergency contact information (Next of Kin tab). Please provide a name, relationship, address and mobile number for the person you want us to call in case of an emergency. You may add more than one person.
Your mobile number (Addresses and Phone tab). We use your mobile number to reach you by SMS only when needed.  For those who are coming from abroad, you can change the mobile/cell phone number later, once you get a Qatar SIM card. Use the format 974######## when entering your number.
Student Housing
This is a two-step process. First, Georgetown needs to verify that you are a student. Once this is done, students will shortly receive an email from StarRez. You should respond to the instructions sent by the StarRez system.
Information for students who apply for housing will automatically be provided to QF Housing and Residence Life (HRL). HRL will then send information to your Georgetown email with instructions for completing your housing application through their StarRez system.
Students who already live in Qatar are also eligible to apply for housing.
Steps to Apply
Step 1: Please click on this Link in order to start the application process for QF Residence Halls.
Step 2: Look for an email from Qatar Foundation / StarRez and follow the instructions.
Expected Assignment Timeline
By the end of June, Qatar Foundation will email applicants a link to the StarRez system.  You must follow the instructions emailed to you in order to reserve a space. Note that you will not hear back from QF Housing Residence Life (HRL) about your room assignment until the beginning of August.
New Student Orientation (NSO) and Convocation
Your New Student Orientation (NSO) begins on August 13 and ends on August 17 with a formal convocation ceremony. It is mandatory for all incoming students to attend their NSO as you will meet all the people that play a role in your academic journey at Georgetown. Why is this important? Well, university life is very different from high school and you will be expected to perform at a faster pace from your first day on campus. We have a lot of resources to help students manage the transition to university life and it will save you lots of time in the future if you get to know who they are, where they are located and how they can help you shine!
New Student Convocation will be on Thursday, August 17, 2023 and is mandatory for all new students.  The dress code is business or traditional attire.  Please be respectful of cultural norms.  We encourage parents and family members to gather and celebrate the beginning of your Georgetown career together.
International Students
Process and Requirements to Get a Visa for Qatar
If you do not have a Qatari ID or residency permit, GU-Q will process a student entry visa for you and email it to you. You cannot enter Qatar on a visitor visa in order to study, and the only required document for GU-Q to begin the process is a valid passport. The visa will be emailed to you by GU-Q around late June.
Traveling to Qatar
Once you have recieved your visa and entry permit, you can book your ticket. Please do not book your travel until we have notified you that your visas and entry permits have arrived.
After you have booked your ticket, upload your flight itinerary via your Application Status Page in order to issue an OK to board on your flight.
Print out your visa and take it with you to the airport (an electronic copy will not suffice). It may be necessary to present a copy at passport control.
Getting your Residency Permit (RP)
After you arrive in Qatar, we will begin the process of obtaining a residency permit (RP).  The RP allows you to stay in Qatar for more than 30 days and facilitates other processes, such as getting a national health card, a driver's license, etc.  The process includes:
Upload Documents: Upload a passport size photo and blood type document via your Application Status Page. Not having these items will delay the process.
Passport collection: At New Student Orientation (NSO), GU-Q will collect your passport temporarily to submit it to Qatar's immigration department to get your RP.
Processing: The process of getting a residency permit takes approximately 4-6 weeks. You will not be able to leave Qatar until your RP process is complete, unless there is an emergency.  Please do not plan to travel for at least one month after your arrival.
Getting Medical Clearance: To study and reside in Qatar, immigration laws require that individuals seeking residency be screened and test negative for HIV, Hepatitis B, Hepatitis C, and Tuberculosis. The issuance of the residency permit is contingent on passing the medical clearance process. We strongly recommend having these tests done in your home country prior to your arrival to Qatar. Positive findings may result in immediate repatriation from the country.
For more useful information for international students, click here.
For questions please contact The Office of Student Life.
It is easy to buy a SIM card with a Qatar number in Doha. You can add time by buying 'top-up' cards or buy a monthly plan.  The two main vendors are Ooredoo and Vodafone.  Please review their Qatar websites before your arrival so you can get connected quickly. Both Ooredoo and Vodafone have dedicated kiosks in the Arrivals Hall at Hamad International Airport and in major shopping malls.
GU-Q will assist international students with transportation from the airport if you provide your arrival information. For this reason, you must keep all contact information up-to-date and inform us of any changes to your flight.
► All international students must fill out the Transportation Request Form and upload your flight itinerary to your Application Status Page.
Note: If you request assistance, instructions will be emailed to you at a later time.
Please note the following:
GU-Q assists with transportation for students only. If you are traveling with parents/siblings/companions, they will have to arrange their own transportation.
We will only be providing transportation from the airport to QF Student Housing.  If you plan to stay anywhere else besides QF Student Housing, you will have to arrange your own transportation.
For questions, please contact the Office of Student Life.
GU-Q hosts mandatory orientation sessions for international students during the orientation week from August 13- August 17. During the orientation we will host interactive information sessions and social activities on academic life, immigration regulations, health care and cultural awareness of living in Qatar.
We require you to be in Qatar to attend this orientation.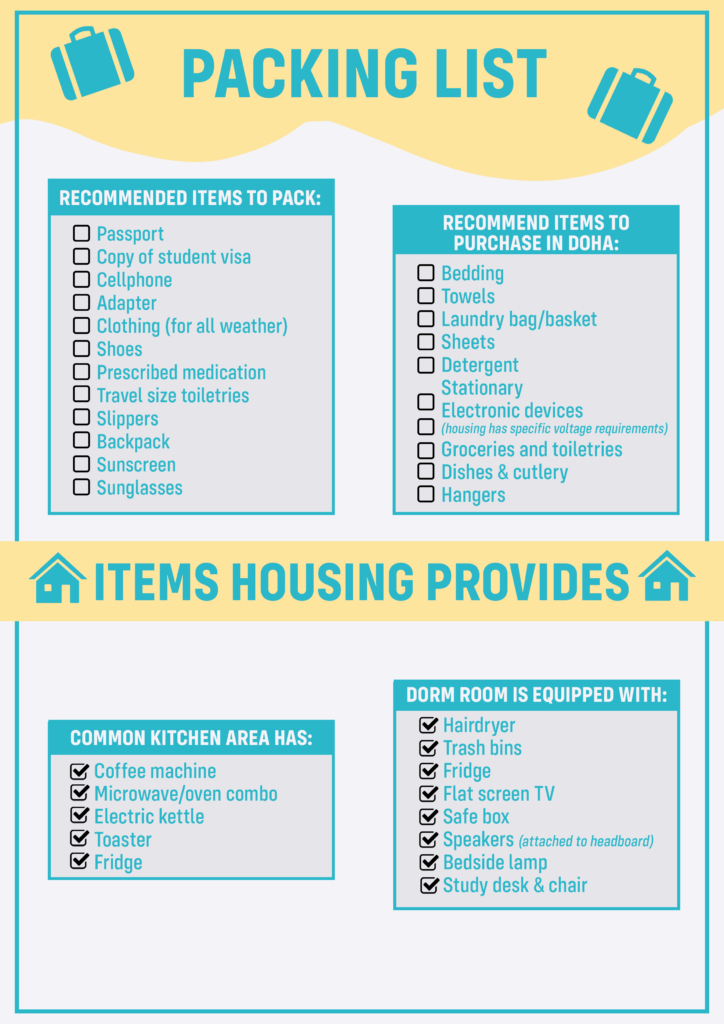 Academic Related Information
Academic Resources
---