Other
African Students Association Tackles COVID's Impact on Education in Africa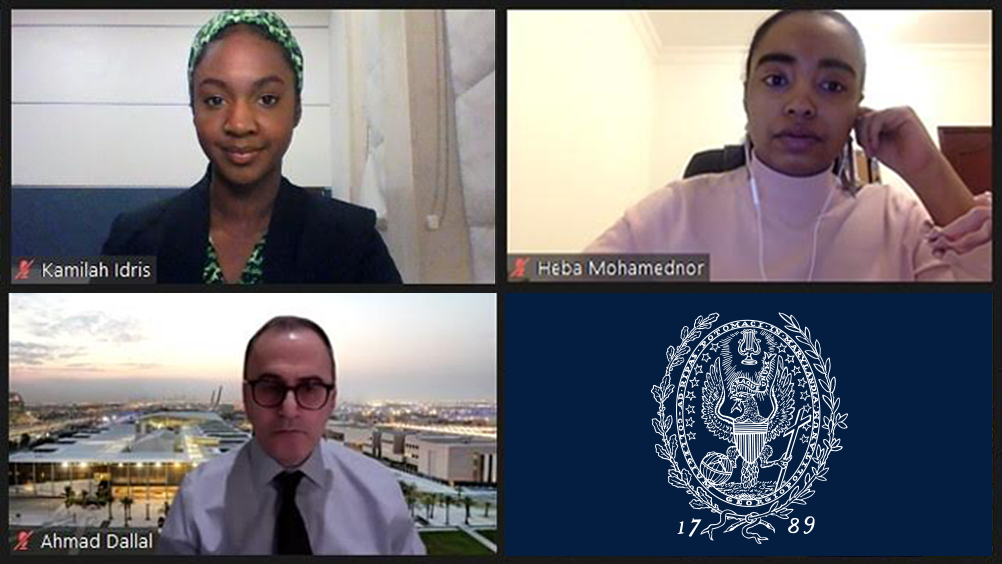 The African Students Association (ASA) at GU-Q organized a public webinar on "The Impact of Covid-19 on Education in Africa" featuring a panel of diplomatic heads of mission in Qatar to discuss the key challenges faced by African nations impacted by the pandemic, as well as to propose solutions for the future of education following COVID-19. 
Panelists included H.E Lang Yabou, Gambian Ambassador to the U.N., H.E. Foday Malang, Ambassador of Gambia to Qatar, H.E. Auwalu Jega Namadina, Charge d'Affaires at the Nigerian Embassy in Qatar, and Mubarak AlThani, Head of Advocacy Manager of Communication at Education Above All (EAA). The event was moderated by ASA board members Kamilah Idris (IECO, SFS'22) and Heba Mohamednor (CULP, SFS'21).
In his opening remarks, Dean Ahmad Dallal welcomed the speakers and credited the ASA for their leadership, saying: "It is important that we begin by recognizing that this discussion is being led by the African Students Association at GU-Q. Young people, empowered with the tools of education, and given the platform to engage and mobilize, have critical roles to play as peacemakers and community leaders for a sustainable future."
The pandemic has impacted education worldwide, with disadvantaged students from marginalized communities disproportionately affected by school closures, rising fees, and inaccessible virtual learning options, which all have long-term implications on the future of education in African nations.
In the webinar, panelists discussed protecting the right of education for girls and women, bridging the digital gap for communities facing energy shortfalls, the challenges of homeschooling and limited educational resources, and the long-term consequences of the pandemic on education in Africa.
The speakers agreed that a solution to the education crisis in African nations, which is deeply linked to other development challenges, requires a multidimensional approach. Proposed solutions included national and international efforts to address corruption, increased aid funding, and encouraging social growth and development from the grassroots level.
The idea for the event came to Kamilah in the early weeks of the worldwide lockdown, when she noticed the stark differences between her safe and secure experience as an international student living in Qatar Foundation accommodation, and the difficult reality faced by students across the African continent.
"Multiple aspects of my life which I had taken for granted remained relatively unaffected, and allowed me to think beyond the confines of my own community. Other members of Education City shared the same experience, which not only left us with feelings of gratitude for our circumstances but also perplexity regarding how to use our position to positively impact others."
She decided to use her position at ASA to shed light on the issues facing education in African nations, with her efforts supported by fellow student board members Heba Mohammednor, Abubakar Abdullahi, Amal Berrada, Tsendanya Girmay, and Lina Hajo, as well as faculty club advisors Dr. Phoebe Musandu and Dr. Akintunde Akinade and GU-Q graduate and former ASA member Ousman Camara (SFS'20).
Co-moderator and ASA board member Heba said: "Through this event we embodied the club's goal of facilitating the intellectual discourse of overlooked topics concerning the African continent. We are actively reconstructing the narrative and conversations about Africans and African people by showcasing their strengths in a positive light."
Kamilah also noted that discussion of issues around development challenges in Africa often fail to offer concrete solutions. "Africa is more than the 'hopeless case' that it has been projected by the media, It is a land that possesses great minds and great potential. Our purpose as a club is to raise awareness and promote the developments of the continent within our own communities, to create a continuous ripple effect that will erase negative stereotypes about Africa."
About the African Students Association
In accordance with its founding principles of facilitating unity and cultural awareness as well as establishing a social consciousness within communities, the African Students Association at G'U-Q is an organization where African and non-African students can come together in a combined effort to enrich their knowledge in all topics pertaining to Africa. Covering topics ranging from music, culture, and religion, to history, politics, and economics, this association encourages and promotes rigorous intellectual discourse by its African and non-African student body. Through educational, social, and cultural events and activities, the African Students Association aims to dispel misconceptions and negative stereotypes and portray the uniqueness and diversity of the continent that is home for many GU-Q students.