Alumni Spotlight: Atul Menon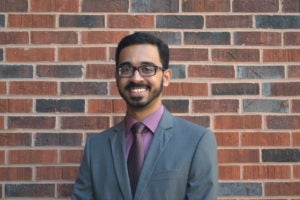 What are you doing now?
I am currently in my final year of graduate school. I am pursuing the Master of Science in Foreign Service (MSFS) degree at Georgetown University in Washington, D.C. I am majoring in global business and finance.
Looking back, what were some of your "takeaways" from your GU-Q experience?
The experience at GU-Q shaped my life. The diversity of the student body was unparalleled. I was also lucky to be on university trips to Timor-Leste, Vietnam, US-Mexico border, and Florida.
What advice would you give to current undergraduates who may want to follow in your footsteps?
I advise undergraduates to take initiative and seize opportunities. I strongly believe that you have to make things happen for yourself; they do not automatically come to you. I would also advise students to look and think beyond the immediate Education City world (which is great!). Try to intern off-campus even if it's unpaid!
What are some of your proudest achievements so far? Future plans?
Academically, I am proud to be studying and interacting with people from different walks of life. Being the youngest student in my program, I am privileged to rub shoulders with far more experienced individuals. Professionally, I have had some great experiences: I have worked at the World Bank and the Milken Institute this past summer. Currently, I am interning at the U.S. Chamber of Commerce. At the same time, I am one of the lead musicians at a performing arts company based in D.C.