Alumni Spotlight: Fatima Muneer
Fatima Muneer, Class of 2011, IPOL
International Journalist, Oman Observer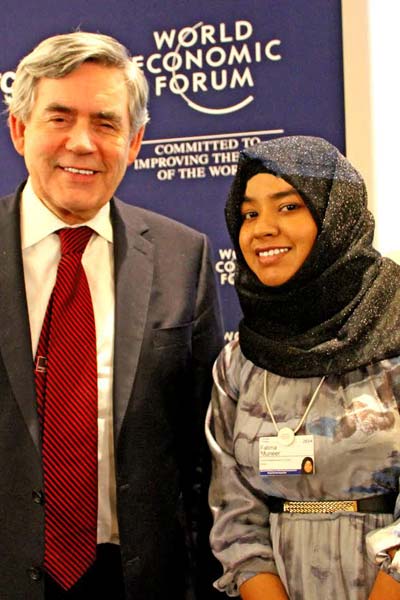 Why did you choose Georgetown University in Qatar?
I was excited about the unique prospects of studying international affairs in the startup campus of a school that was over 200 years old. Having lived in Oman since I could remember, attending the top program for international relations in the region itself was another attraction, especially in the unfolding political contexts of contemporary Middle East.
Give us a sense of the type of work you typically do during the course of day.
After graduating from Columbia University's Graduate School of Journalism, I was hired by the Omani government's only English news media, the Oman Observer. I don't have a typical day per se because as an international journalist, every day presents different challenges as I tackle issues unraveling on the ground. However, I can safely say that each day is not complete until I've read 50 articles, met at least one new person, come up with 10 new strategies and encountered yet another challenge.
What has been the most rewarding moment in your career so far?
Thankfully, there have been many. But highlights would have to be when I ran into the luck of interviewing celebrity international journalist; Riz Khan, Nobel laureate; Dr. Mohammed Yunus, India's first policewoman; Kiran Bedi, spiritual musician; Sami Yusuf and the inventor of the World Wide Web; Sir Tim Berners-Lee.
What was your most memorable experience at Georgetown?
My most memorable experience has to be my study abroad semester on the main campus in Washington D.C. over the fall of 2009. That one semester pushed me beyond the borders of self-development as I was exposed to a very different social and academic ecosystem relative to the Qatar campus. Simultaneously, I was able to appreciate the enormous privileges provided by the generosity of the Qatari government on my home campus. Each campus provided a great experience if one was resourceful.
What skills are needed in the current work environment and what prepared you the most for your career?
Both hard and soft skills are in demand at any workplace. Georgetown equipped me with critical thinking and analytical abilities. My involvement in extracurricular activities such as being the President of the SFSQ's Photography Society and frequently chairing Model United Nations' sessions helped me with event planning, organization and public speaking. I worked different student jobs around campus and they all taught me important people skills that I use till today. Columbia taught me valuable hard skills as I specialized in digital media journalism, in addition to the art of problem solving. I feel blessed to have attended the two top schools in the fields of international affairs and journalism as a lot of what I've been able to accomplish today is due to my education.
How did Georgetown influence your career path?
Georgetown provided me with a strong foundation to be a proactive world citizen as opposed to a reactive one. It gave me an identity and I'm proud to call myself a hoya. The brilliance of the Qatari government to establish highly privileged branch campuses like the SFSQ has paved way for so many opportunities, not just for me but for every single alumni of Hamad bin Khalifa University. Thanks in a significant part to Georgetown SFSQ, today I stand elected as a Global Shaper by the World Economic Forum and Vice President of Columbia Alumni Association in Oman, while simultaneously shaping my career in international affairs, media and technology. For all this, I'm indebted to the Georgetown experience.