Alumni Spotlight: Fatima Sanz
Fatima Ramadan Sanz, Class of 2013, IPOL
Talent Acquisition and Development Specialist, Teach for Qatar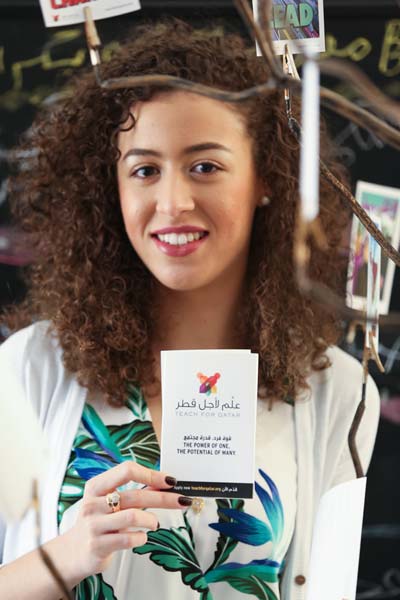 What is your most memorable experience at Georgetown?
It's really hard to pinpoint one memorable experience. The entire journey of my undergrad was memorable. If I had to choose something I would say the people I met and what I learnt from each of them is the most memorable aspect of my experience at GU-Q.
Give us a sense of the type of work you typically do during the course of day.
I work as a Talent Acquisition and Development Specialist. In the course of a day I reach out of potential candidates to the Teach For Qatar Fellowship and raise awareness of the program amongst them. On the back end, I also review applications and overview the selection process of Teach For Qatar. Along with these tasks, I conduct workshops directed at our target population – young, talented leaders – and work closely with various universities, such as Georgetown, and their student affairs and career services departments to strengthen the relationship between them and Teach For Qatar.
What is the best career advice you received?
I received the best career advice from a Georgetown alumna who told me about her experience and how she always took the opportunities life put in her way. She advised me to accept and embrace the chances life provides rather than trying to stick to a plan and I took her advice and it has been working great so far.
What advice would you offer to graduating Hoyas?
Do something you love and don't be afraid of taking up a job or a project that doesn't seem so well established or that is not what you had planned. Sometimes, it is the things we don't plan that turn out to be the best experiences.
How did Georgetown influence your career path?
Reflecting upon my GU experience I have become aware that I have internalized the ethos of GU without even realizing and they are very much a part of my values and my career path. My Georgetown experience and the people I have met through Georgetown have inspired me to aim high and to follow my passion and have taught me not to fear the unknown and to take on challenges in order to grow.