Alumni Spotlight: Kim Fernandes
Kim Fernandes, Class of 2011, IPOL
Ph.D. candidate, University of Pennsylvania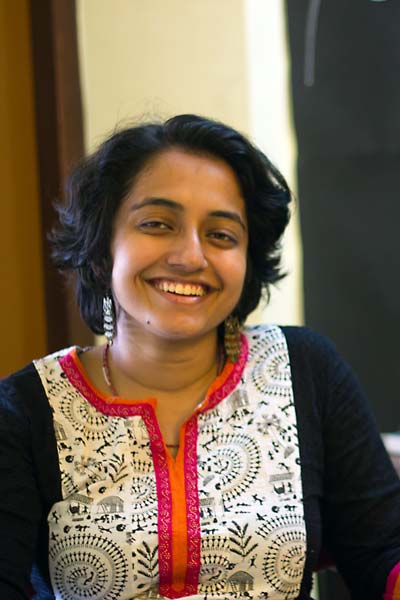 Why did you choose Georgetown University in Qatar?
I chose Georgetown because I thought the concept of a liberal arts education was incredibly interesting. Though I didn't yet know exactly what I wanted to do after my degree, I knew sort of by process of elimination that I didn't want to be a doctor, engineer, lawyer, banker or consultant – and so deciding to choose Georgetown because it allowed me to keep my options open.
Where did you work after graduation?
Right after I graduated, I started teaching 4th graders at a government school in Mumbai, India. I did a Teach for India fellowship for two years, through which I was able to understand first-hand some of the issues and challenges within the primary education space in India. It was hard to be teaching full-time in a context where very much of what I encountered each day was unfamiliar, but there is/was nothing I wanted more than to be a teacher. My students were also incredible about reminding me why being able to teach and to learn is such a privilege, and that kept me motivated on really difficult days.
After my fellowship, I wanted to start working in the education policy realm, and so went on to do my Ed. M. in International Education Policy from Harvard's Graduate School of Education. Through the course of my time at graduate school, I saw that many of the solutions to problems plaguing education – primary, secondary and higher – began very early on, and so started to develop a deep interest in early childhood education. I graduated in May and moved to Bhubaneswar, India to work with the Poverty Action Lab (J-PAL).
As a field research associate, I worked on the implementation of a randomized control trial evaluating an early childhood development program that Pratham, an Indian NGO, is implementing in three districts in rural Odisha. Last year, I worked at the Ministry of Rural Development, Government of India, in Delhi, as a consultant on monitoring and evaluation for a rural vocational skills program.
What is the best career advice you received?
Every time I wonder if I'm taking the right step or if I could be something better for my own career, my parents have pointed out that I should just do what I'm most passionate about and everything else will follow. This is a huge cliché, but has probably also been the one thing that has done me most good when making career decisions.
If you could have another career, what would it be?
I don't think I'd ever want to be anything other than a teacher.
How did Georgetown influence your career path?
Georgetown gave me a lot of space to explore what my interests might be, and accommodated them as they grew and changed. From being able to teach English to migrant workers freshman year to knowing that I could somehow drag the topic of education into my thesis senior year, I always had opportunities to explore different aspects of the education space and to see what might interest me the most. The Georgetown community – both in Doha and D.C. – has always been incredibly supportive and welcoming, and even as an alumni, I am often able to find or make connections in different parts of the world with fellow Hoyas.
Looking back, what were some of your "takeaways" from your GU-Q experience?
One of my biggest takeaways from my time at Georgetown was the power of community, both with my peers and with faculty. The size of the school is a blessing in that there are many available resources and opportunities to be a part of a variety of interesting things, and looking back, those were easily four of the most incredible years I've had in school. Part of the reason why I went into teaching was because I had so many fantastic professors and mentors at Georgetown.
What advice would you give to current undergraduates who may want to follow in your footsteps?
Do whatever you're interested in, even if it doesn't sound like the right job title or isn't in a convenient location, because it's always worth being able to pursue your dreams to find out what interests you.
What are some of your proudest achievements so far? Future plans?
Some of my proudest achievements so far have been moments in the classroom where I was challenged by my students to see—and was able to see—that learning is more than grades or time spent on tasks. In the future, I hope to work for an international organization or as a consultant to a government on early childhood program development and evaluation, and to be teaching at a university.