Alumni Spotlight: Leena Zahir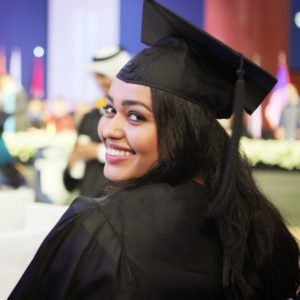 What are you doing now?
I work as an impact and research specialist at Teach for Qatar.
How long did it take you to find your first job? How did you stay motivated?
I started working at GU-Q as a research associate about five months after graduation. I was motivated by the time-bound nature of the job and my interest in the research project I was a part of.
Looking back, what were some of your "takeaways" from your GU-Q experience?
The biggest takeaway would have to be that your time at college is what you make it. I'm glad I took advantage of several opportunities presented to me as a student, but I wish I was more involved!
What advice would you give to current undergraduates who may want to follow in your footsteps?
I would urge undergrads to start thinking about the skills they will need for a career in research/monitoring and evaluation and try to develop them as much as possible right now by taking relevant classes, interning in research/evaluation departments, etc.
What are some of your proudest achievements so far? Future plans?
I'm proud of how much I have grown professionally over the last couple of years and my ability to balance work-life demands, although this remains a work in progress!