Alumni Spotlight: Sarwar Sultani
G. Sarwar Sultani, Class of 2011, IPOL
Adjunct Faculty and Student Development Specialist, American University of Afghanistan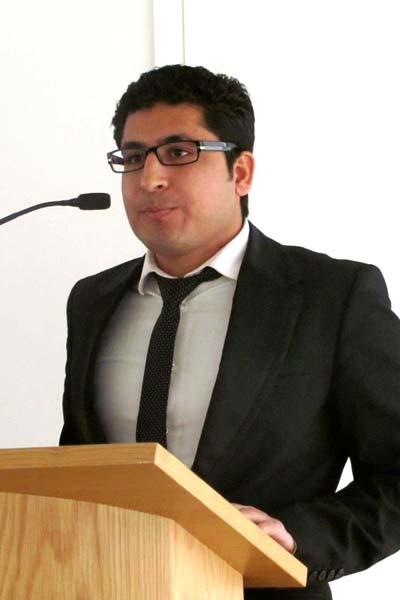 Why did you choose Georgetown University in Qatar?
As a student of the Academic Bridge Program, I had the opportunity to attend several Georgetown University events and lectures. I was fascinated by discussions on regional and global issues and challenges. I discovered about Georgetown history of training leaders who have contributed on local and international levels. I wanted to study in Georgetown because I wanted that training.
Give us a sense of the type of work you typically do during the course of day.
With regards to my current job, I am a full time employee of the American University of Afghanistan. I provide academic advising to nearly 150 students, manage the Student Government Association and all student events and activities on campus. I am also an adjunct faculty member teaching in the Political Science and Public Administration Department at the University. Besides my work at the university, I am also in close collaboration with the Liechtenstein Institute on Self-Determination (LISD) in Princeton University. I recently participated in an LISD colloquium on "Grand Strategy" attended by several senior experts, diplomats and politicians. I helped organize an LISD conference on Afghanistan in August 2013 and continue to work closely with the institute. I am an active member of several youth organizations. Throughout 2014 presidential elections in Afghanistan, I also worked as the Deputy Committee Chair of the Young Technocrats Committee, assisting President Ashraf Ghani's team in its campaigning effort.
What is the best career advice you have received?
Someone once told me not to hesitate from "taking the road less traveled." A successful career may require taking risks that others would not and facing challenges that others might not.
How did Georgetown influence your career path?
My academic background has highly influenced my career. Being an alumnus of Georgetown University has been a great privilege. It would probably have been impossible to achieve what I have so far without being associated with Georgetown University.
What skills are needed in the current work environment and what prepared you the most for your career?
I am working in a very diverse academic environment where good communication skills can be very useful. Having studied at both Georgetown University and the University of York (Postgraduate Study), I had the opportunity to interact, study and work with people from very diverse backgrounds. This exposure has been very helpful for working in groups and building personal and professional networks.