Alumni Spotlight: Tala Hammash
Tala Hammash, Class of 2014, CULP
Community Outreach Coordinator, ‎New York University Abu Dhabi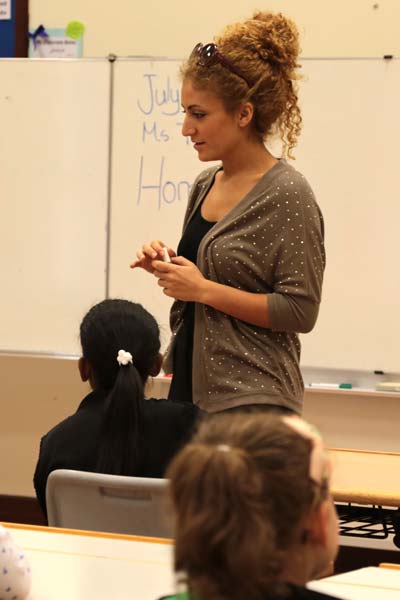 What is your most memorable experience at Georgetown?
There are two most memorable experiences during my years of study. The first is having the chance to take multiple classes with my favorite professor and mentor, Karine Walther. The conversations I had with her inside and outside the class actually changed my life (no exaggeration). The second is presenting my American Studies thesis. I had worked on my thesis for about two years before I was satisfied enough with it to submit and present it. It was a topic that concerned me almost personally, and it was very enlightening to pursue it in a purely academic manner. I was more nervous before my presentation than I was for my graduation!
How did Georgetown influence your career path?
Georgetown has had a tremendous impact on the way I make my decisions. One thing that truly resonated with me is something that professor Elizabeth Andretta mentioned during her final lecture. She discussed with us some scenarios to demonstrate that, often, we are faced with a crossroads and we have to choose the lesser of two evils. She talked to us about how, as Georgetown students, we should not accept that (and should not be intimidated by it) and that we should create our own paths and or own options. It is something that I find myself thinking of very frequently. I keep the handout she gave us that day in my wallet.
What skills are needed in the current work environment and what prepared you the most for your career?
Resilience and working under pressure are definitely two things that are needed at my work. The workload at Georgetown has certainly benefitted me because I learned how to organize my time and stay focused even with enormous amounts of work. Communication skills are also very central to my work, and I had the chance to develop them during my time as a Hoya. Leadership skills are absolutely necessary for making palpable change in an environment that desperately needs it.