Other, Students
Georgetown Student's Innovative Startup Uses Inclusive Technologies to Bridge Digital Divide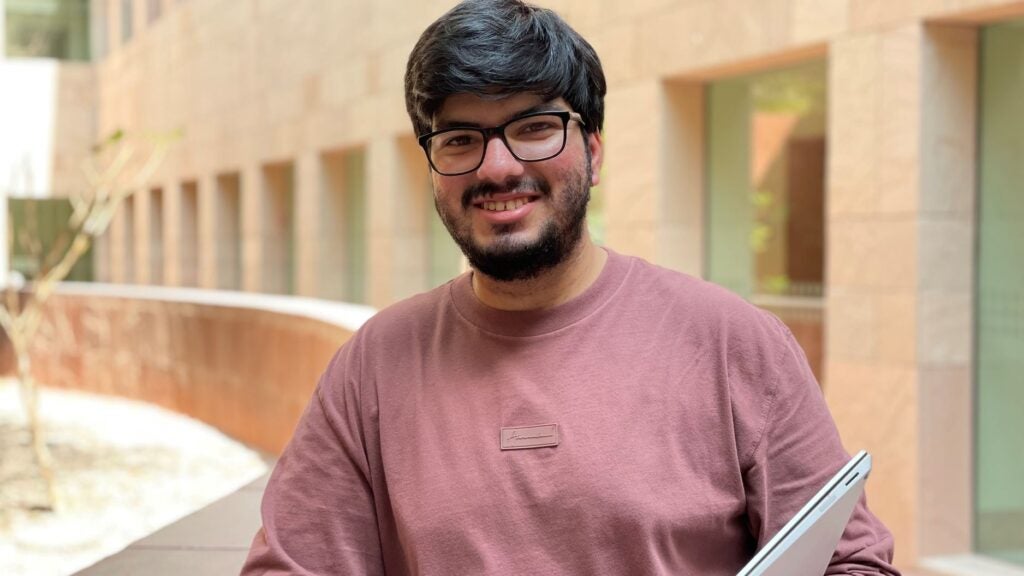 Inspired by the remote learning possibilities developed in response to the pandemic, Kartikeya Uniyal, a student at QF partner Georgetown University in Qatar (GU-Q), is launching Access Labs, an innovative ed-tech platform that aims to provide access to digital learning opportunities using a mix of web and chatbot technology that helps bridge the digital divide.
The educational service startup was founded by Kartikeya and his partner Stuti Tanotra at the University of Delhi, and aims to develop accessible, engaging, and outcome-oriented skills training for students grades 8-12. The first phase of the program launch is a website and online delivery of courses, with plans to expand into offline access using popular text-based messaging apps. That's where chatbots, conversational tools used to automate communications, come in.
"We are reinventing online training content for chatbot delivery systems. That means a student who doesn't have access to the internet or a laptop can still take a valuable skill building course using their phone and the same messaging service they use to keep in touch with their friends and family," explained Kartikeya, who received support from the Peace Innovation Institute and the Peace Innovation Lab at Stanford University on the project.
The internet has seen a proliferation of online learning opportunities. But you still have to either pay to receive a certification, or have a computer or digital device, reliable access to the internet, and an understanding of how to find and benefit from these resources, explained Kartikeya.
"This is why for many communities, even free training is inaccessible. Most knowledge is currently hidden either behind paywalls or infrastructure that is designed to be suitable only for a select few. We want Access Labs to close this gap through digital delivery methods that overcome barriers, helping to create a more decentralized and democratized learning ecosystem."
With a focus on skills for the future, Kartikeya and his partner plan to introduce programs on topics such as sustainability, entrepreneurship, social and cultural awareness, and data science, which outdated public school curriculums aren't providing to underserved communities. His project has already received over $2,500 USD in award funding from Georgetown University in Washington, DC, including a Penner Family Experiences Award and a Social Innovation and Public Service (SIPS) Fund grant. The project is also recognized as a Clinton Global Initiative University approved solution for making education accessible.
The challenge for the startup is in adapting already available content to chatbots that use machine learning to provide an engaging experience for the user. To do that, Kartikeya and his partner conducted extensive research into futuristic models of delivery for people with low tech resources or who aren't very familiar with digital tools "I even did a test run with my mother and grandmother, and I found that what works best is if the training content is delivered in a conversational style and uses contemporary methods of education delivery like gamification which are missing from traditional classrooms. That's very different from conventional learning models."
The skills taught by Access Labs in particular, explained Kartikeya, are well suited for automated delivery systems. "When it comes to 21st Century skills, you can't take the same rote learning approach that is used in many classrooms. Our focus is not simply to create a top-down method of instruction, but to involve the student in the learning process by increasing engagement through experiential learning. The future of education emphasizes how you learn, how you adapt, not just the content. Learning isn't just an outcome, it's a process."