Peer Career Advising Program
The Peer Career Advising Program at Georgetown University Qatar provides an opportunity for juniors and seniors to provide personalized career advice and support to their fellow undergraduate students as they navigate their career trajectories.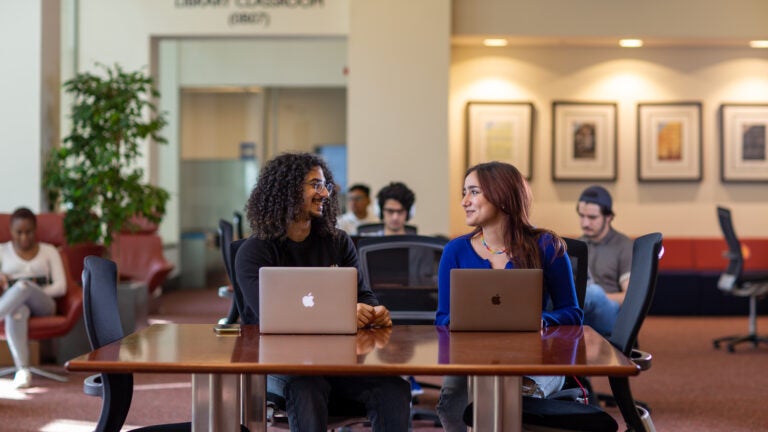 Become a Peer Career Advisor
Peer Career Advisors (PCAs) are current students who are trained to assist with a variety of areas in the career planning process, to understand the resources made available by the Career Services Center, and to help guide students with their career-related needs including resume writing, cover letters, skill development and interview practice.
Purposes of the Program:
To provide more ways GU-Q students can receive career support while on campus through feedback on applications and mock interviews
To provide an opportunity for students who have experience in the world of work (through internships and part-time jobs) to share their knowledge and help others as they follow a similar path
To train selected students in the know-how of Career Development
Benefits to selected students:
Selected students will have the opportunity to provide career advising support to their peers
Students will receive extensive training on how to advise their peers and in the process become experts in writing job applications and giving feedback.
Students will have access to exclusive training workshops organized by the Career Services Center to advance their knowledge about the world of job applications and recruitment.
Application Requirements:
Resume
Cover Letter
Contact details of one reference (academic or professional)
Interested applicants can seek assistance from the Career Services Center as they apply for this opportunity.
Selection Process
Applications are due one week from the day of the call for applications
Applicants should expect to hear back from the Career Services Center one week after the due date about the status of their application.
Shortlisted students will be invited for an interview
Candidates selected for the program will be notified of their favourable selection
Students can accept their offers and enroll in the Peer Career Advisor training program
Training Plan:
Selected student advisors will receive training in career planning and preparation
This is done through 10 synchronous and asynchronous sessions with varying lengths of 30-60 minutes each.
Selected applicants will have access to the training schedule and must attend at least 8 sessions to fully transition into their Peer Career Advisor role.
Training Modules
Working with University Students, Understanding the impact of Peer Career Advising, Career Exploration and Assessment, Resume Analysis: The First 6 Seconds, Cover Letters and their role in recruitment, Feedback Strategies, Professional Code of Conduct, and Job Application Roleplay, Labor Market Research and Analysis.
Frequently Asked Questions
The time will vary depending on demand, however, we estimate that volunteers will be able to meet at least 2-3 students a week in 30-minute sessions (1-2 hours/ week).
This program is designed to have participants who have had a bit more experience at Georgetown as students, at other organizations as interns or part-time employees. We found that this is usually Juniors and Seniors as some have gone ahead to have academic internships too.
Our current planning stipulates that students will be advisors for one semester.
Training schedules vary each semester/ selection cycle. Selected students will be notified of their training timeline and schedule at least one week before the training starts.
Yes, this counts towards your professional experience and development. You will also receive extensive training which will be highly beneficial for your professional profile and career.
Your support to students who need help with Career Planning will have a lasting impact on the Georgetown community. By the end of this program, you would have become your own expert at writing Resumes and Cover Letters. You would have familiarized yourself with the job hiring process and the tips and tricks of the trade. You will sharpen your feedback skills through consistent communication with others, and exercise empathy and emotional intelligence, skills which are important to learn now more than ever.
Yes! This is the best reason to apply. Let us know in your application why this program is important to you and how best, using your current skill set, you will contribute to the program. This program is largely more about communication skills than it is about work experience.