Google Meet and Google Hangouts
Google Meet (formerly Hangouts Meet) enables users to hold video conferencing meetings with up to 250 participants from a web browser or mobile app.
Although Zoom is the University's designated software for video conferencing and collaboration, Google Meet can also be used to hold meetings, particularly in a scenario when Zoom is experiencing a service outage.
Google Hangouts is a unified communications service that allows users to initiate and participate in text, voice or video chats, either one-on-one or in a group. Hangouts are built into Gmail and mobile Hangouts apps are available for iOS and Android devices.
The following instructions demonstrate how to set up Google Meet meetings, Google Hangouts and describe any limitations of the service that you ought to be aware of.
In order to create a meeting with Google Meet let us open our Google calendar.
Let's click on the Create + button in the top left corner.
Now  Add video Conferencing and choose Google Meet as in the following Screenshot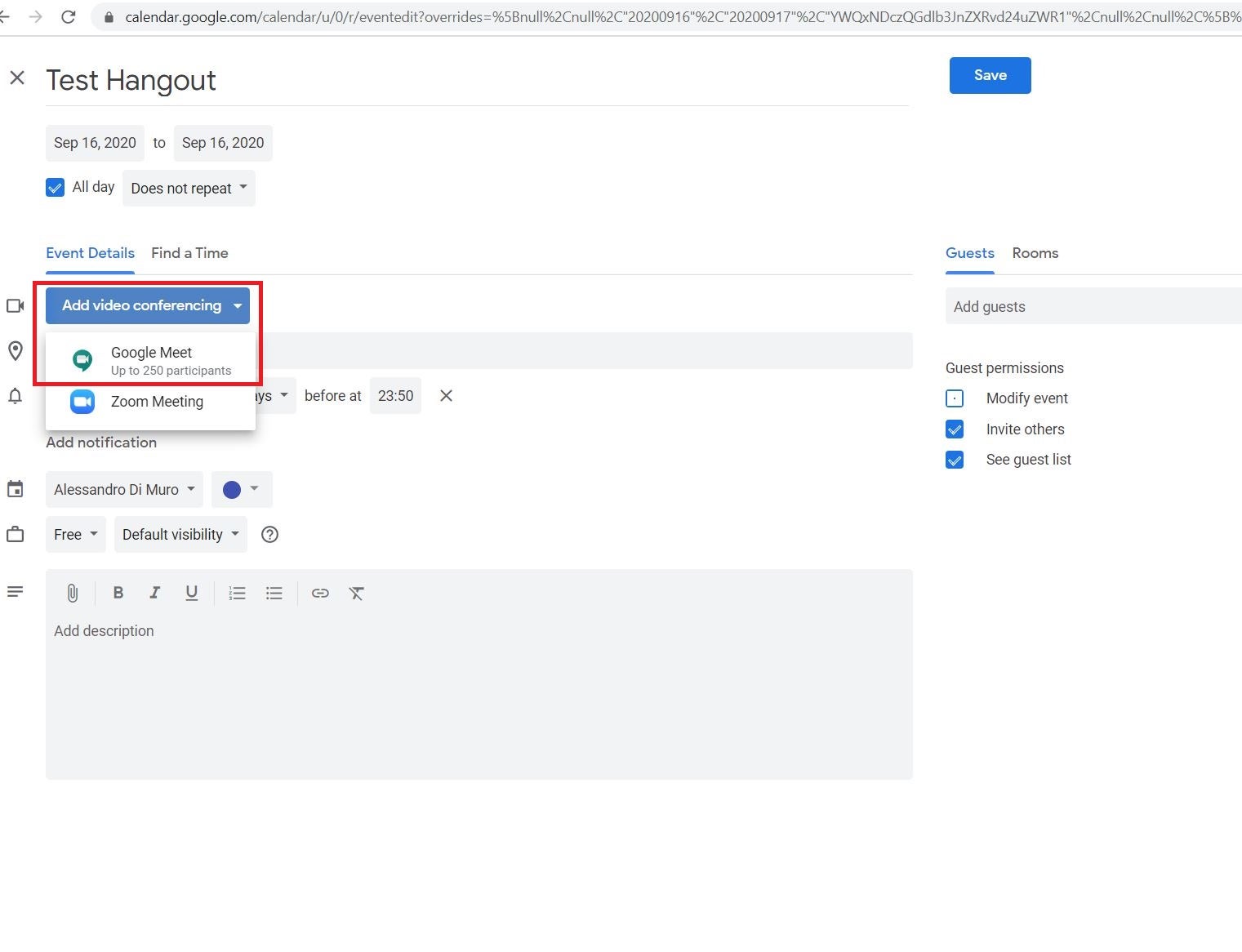 IMPORTANT: Google Meet does not allow to set a password for the created event.
Now we can add the details we want, i.e. time, description, and  invite  guests.
Important: you can invite participants from outside Georgetown University, although they cannot join until the organizer allows it. The organizer must be inside the meeting in order to allow others to join.
To join the meeting click on Join with Google Meet.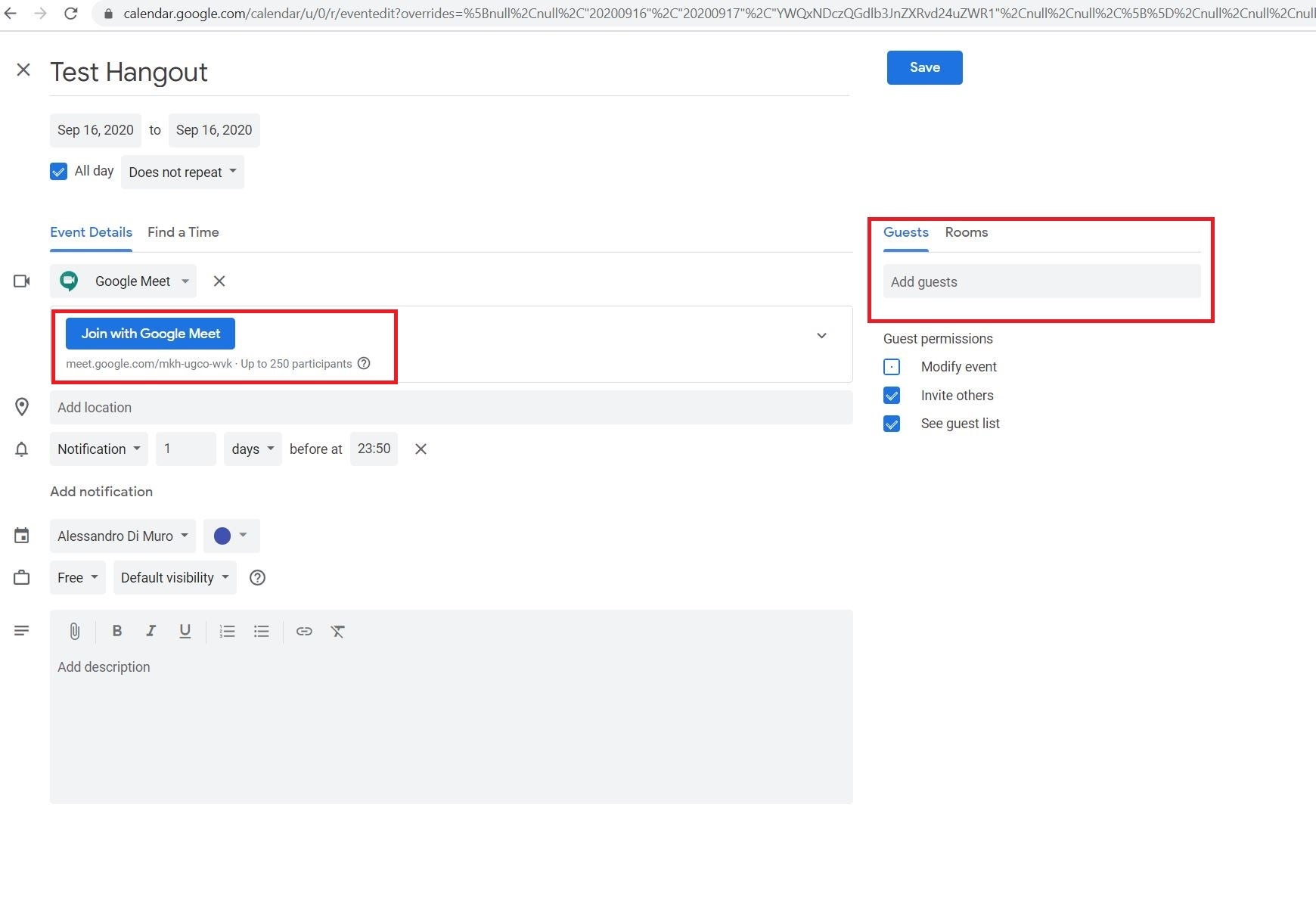 The following screen will appear. Let us click on Join Now. IMPORTANT: it is NOT possible to set a virtual background in Google Meet!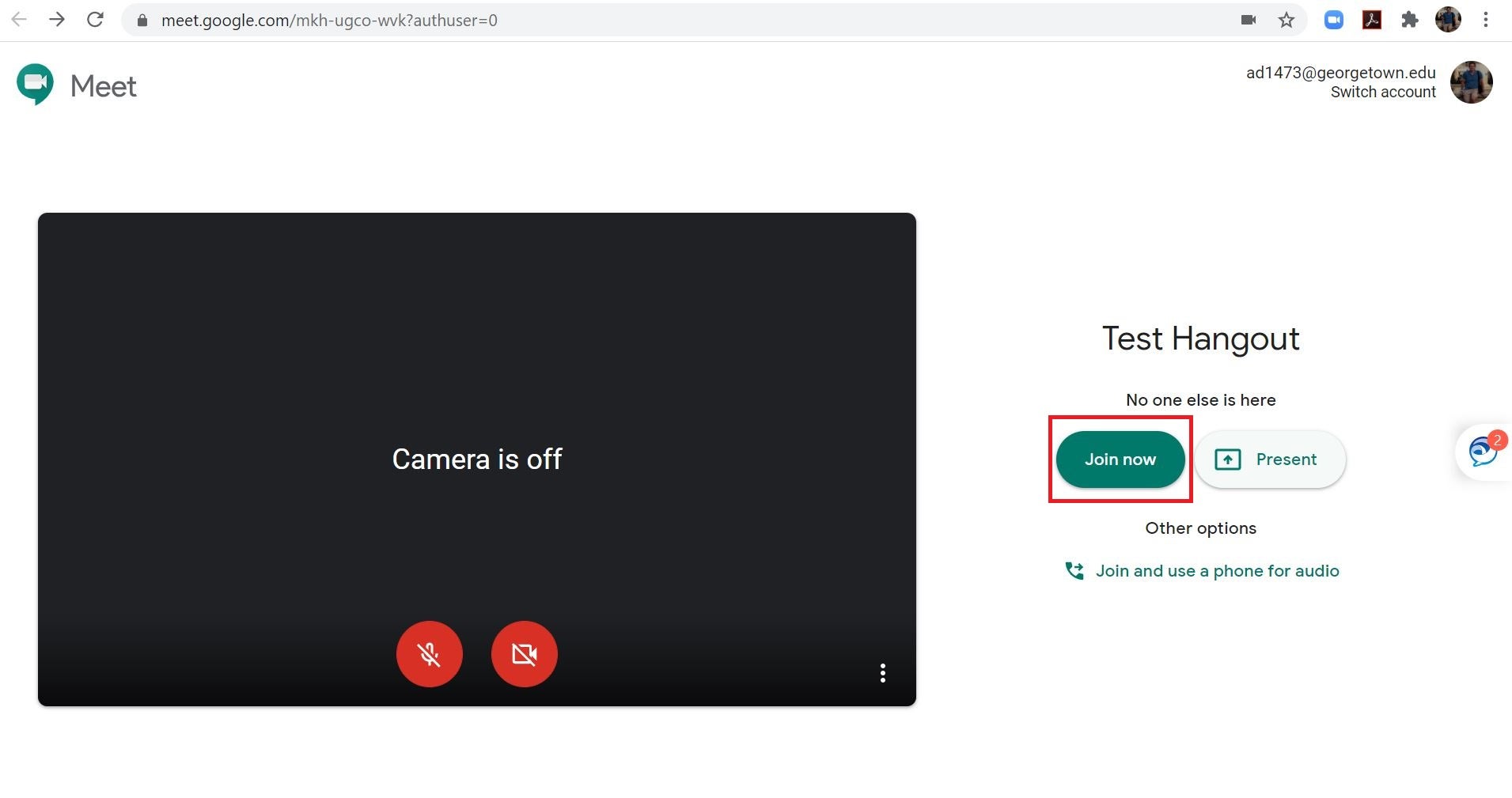 Now we are finally in the meeting. On the bottom-left side, when we click on the event Name, we will find the event information. We can also copy the joining info, as link, and send it per email.
On the upper-right side, we can see the participants or enter the chat.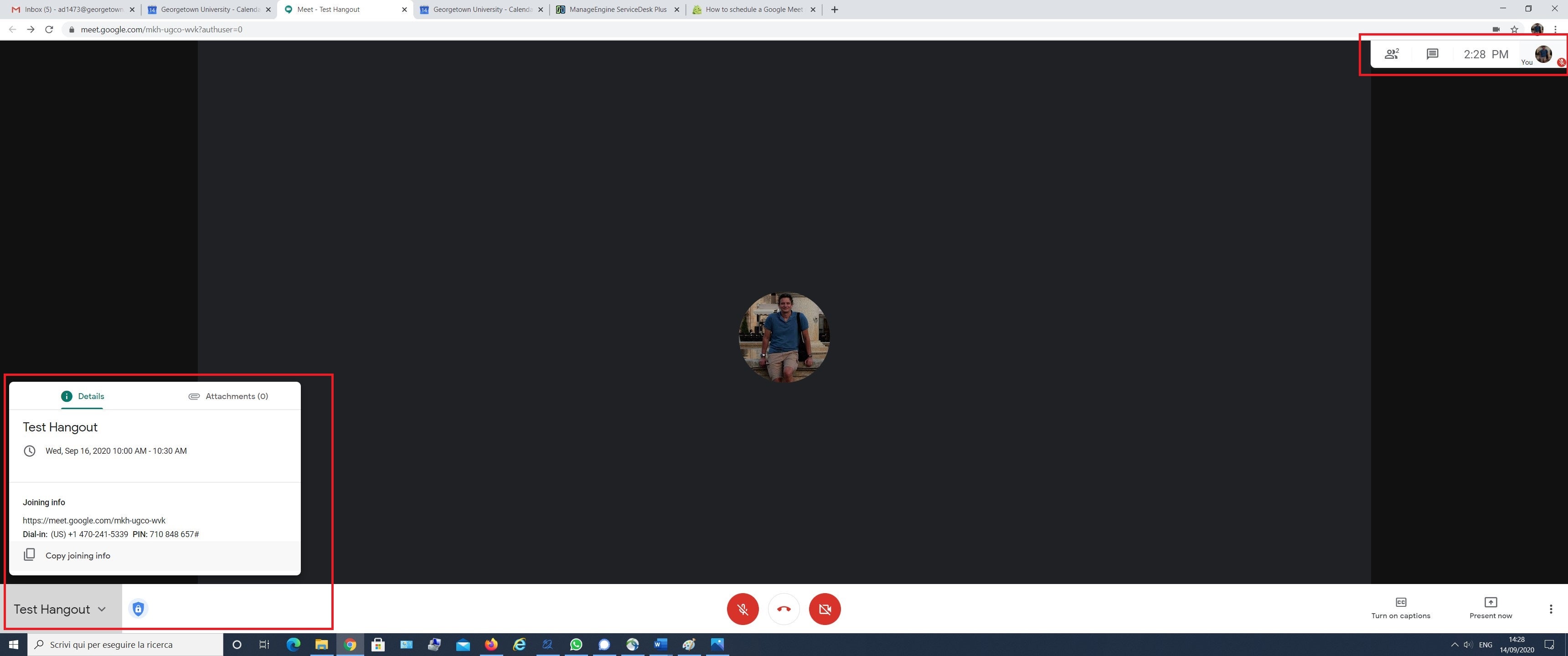 On the bottom-right side, when we click on the three dots, more options will appear.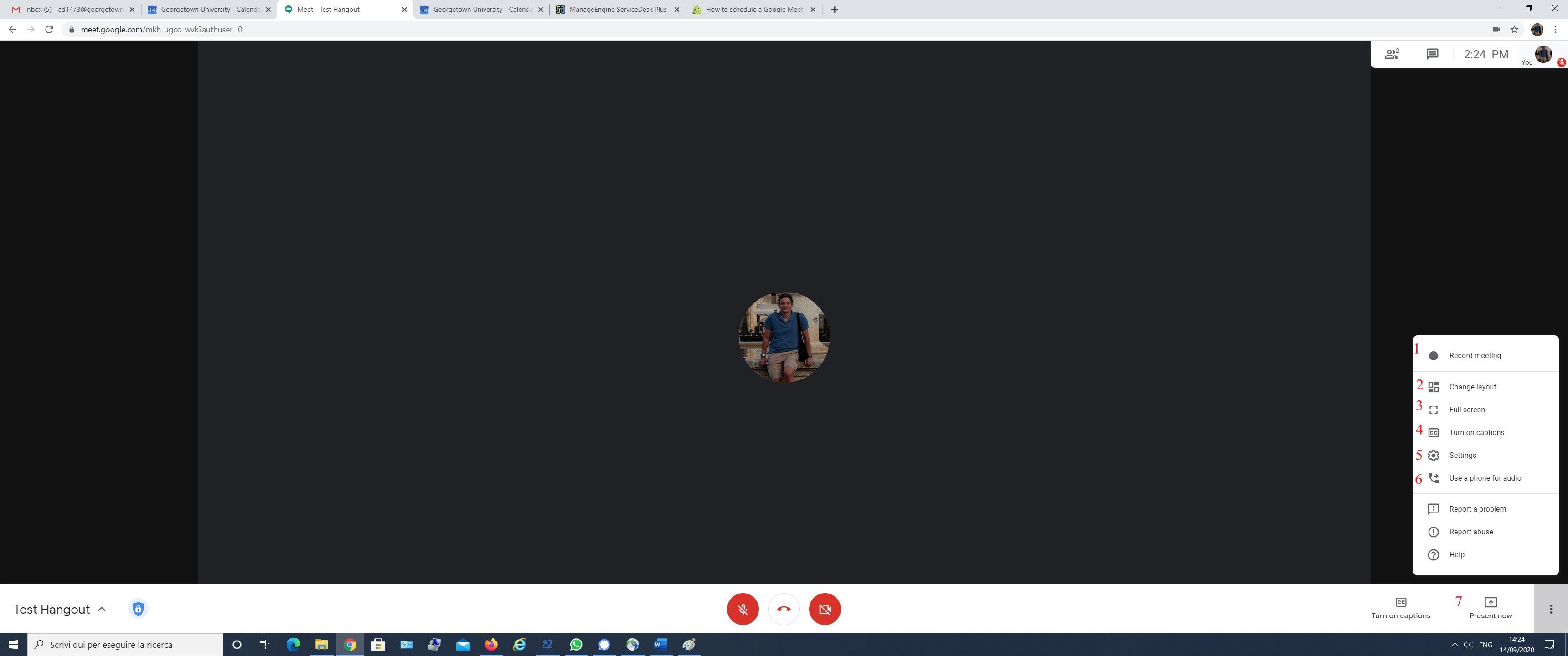 1) Record meeting: click here if you want to record the meeting.  You can only record a Google Meet call if you are its organizer, or if you are in the same organization as the person who created the meeting. Once you are finished, the Google Meet recording will be saved to the organizer's Google Drive.
2) Change layout: you can use it for different layouts, here the options:
Auto—Allows Meet to choose the layout for you.
Tiled—Shows up to 16 people when there is no presentation:
Move your mouse to see participant names.
If a new person joins after the meeting starts, they are added to the bottom of the screen.
Presentations are shown in a large tile, with the most active participants to the side.
Spotlight—The presentation, active speaker, or pinned feed fills the window.
Sidebar—You see the active speaker or presentation with additional participants on the side.
3) Full screen: self explanatory
4) Turn on Caption: When you turn on captions, they will only be visible on your device. For other participants in the meeting to see captions, they will have to individually turn it on for their devices. Currently, live captions are only available in English. Finally, captions will not appear in a recording of a meeting.
5) Settings: here we can choose the camera and the resolution, the microphone, and the option Host control. By Default, every participant can share their own screen, although the host can turn off this option.
6) Use a phone for Audio: To speak and listen on your phone while in a video meeting, you can have Google Meet call your phone. Google Meet can also dial into a meeting from your device.
7) Present now: use it when you want to share your screen. You can share your entire screen, only a window or a Chrome tab.
Step 1: Install Hangouts from the App Store or the Google Play Store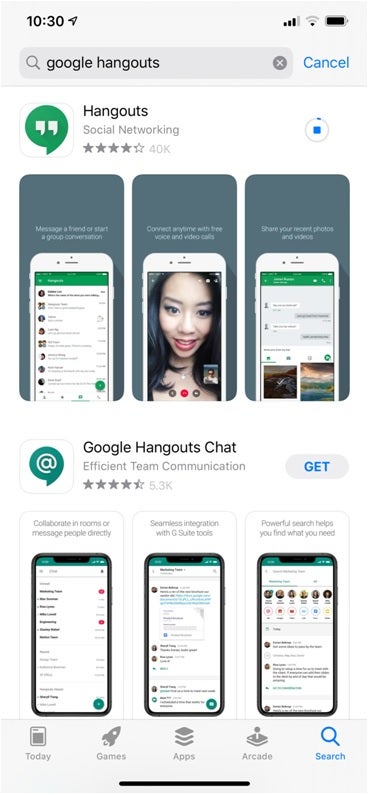 Step 2: Click on Get Started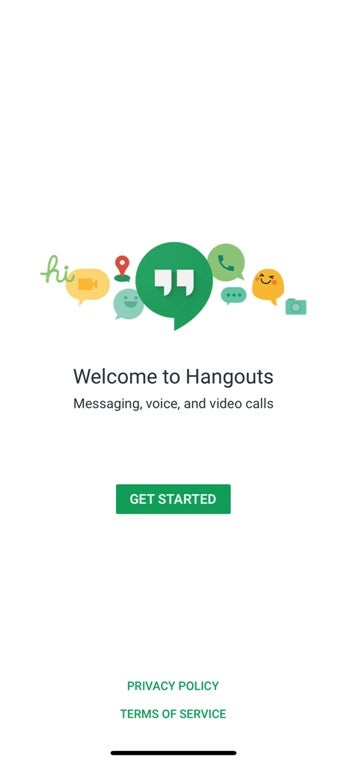 Step 3: Hangouts will ask you to use you Google account, please allow it.

Step 4: Select your Georgetown account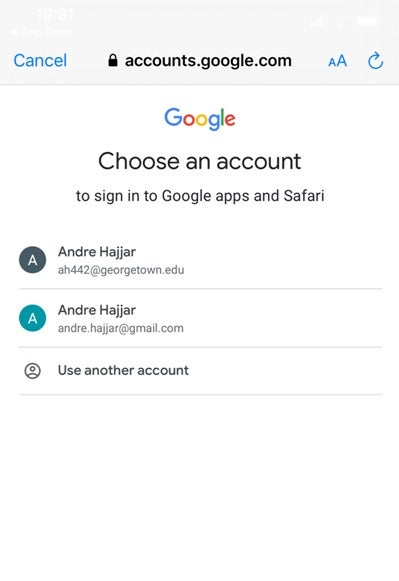 Step 5: Authenticate using your NetID and password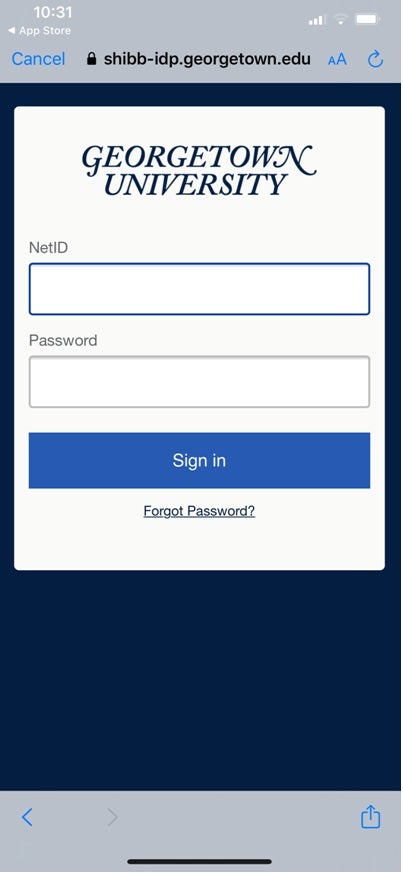 Step 6: Find the person you want to chat with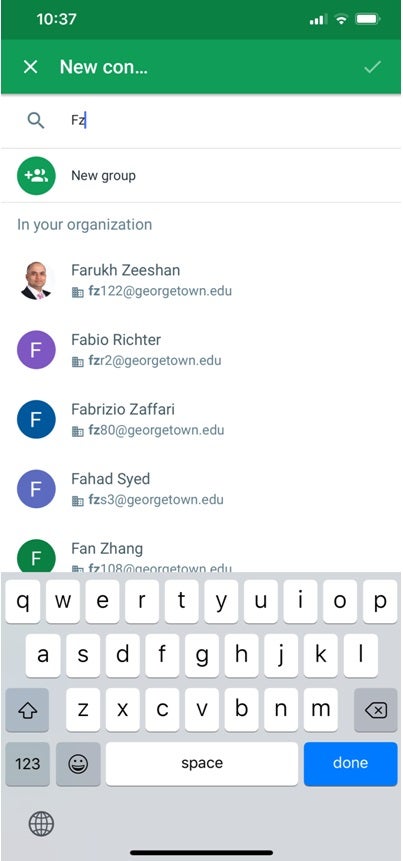 Step 7: Type your message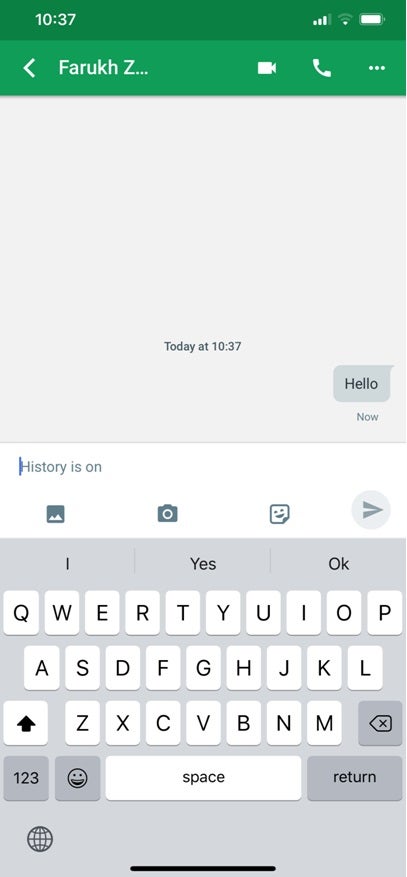 Step 8: Create a group by clicking on the + sign and name it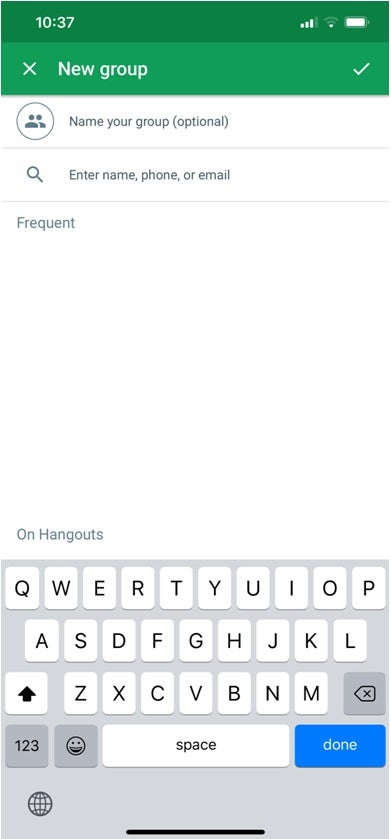 Step 9: Add people to the group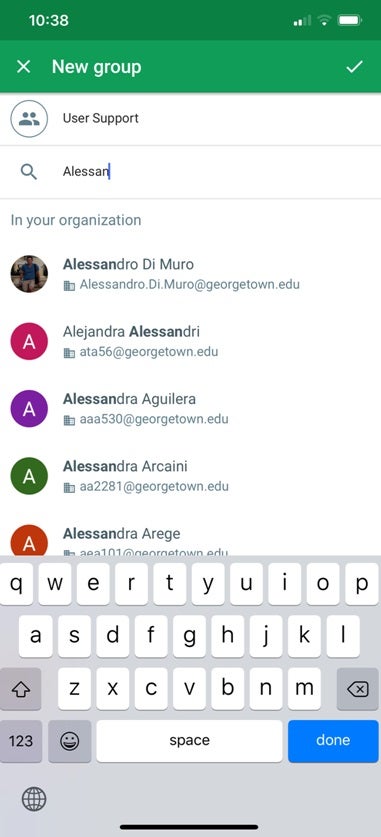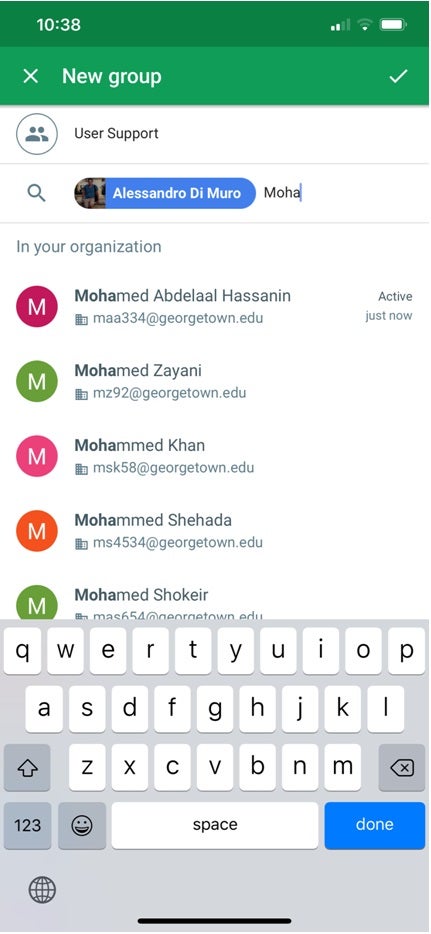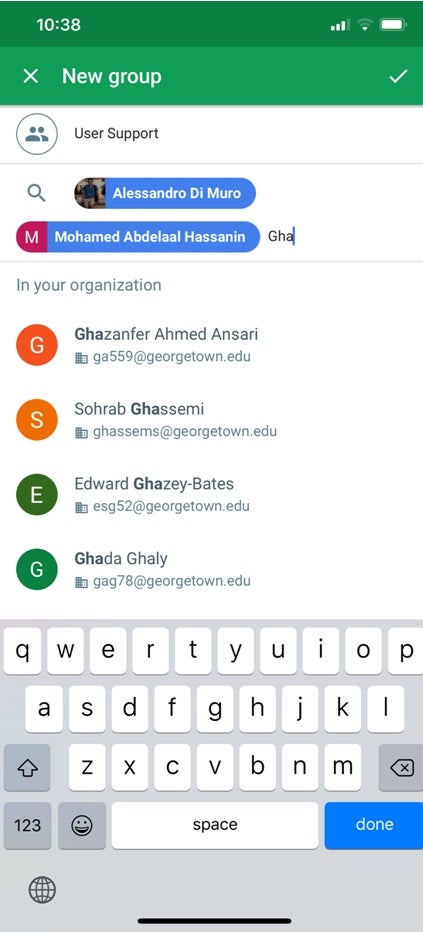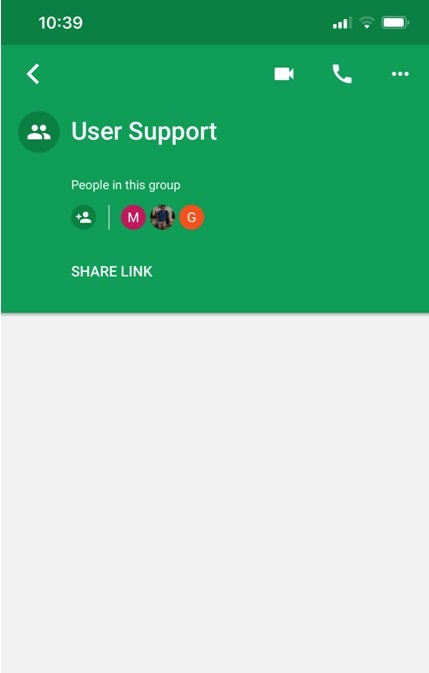 Step 10: Start Chatting with your group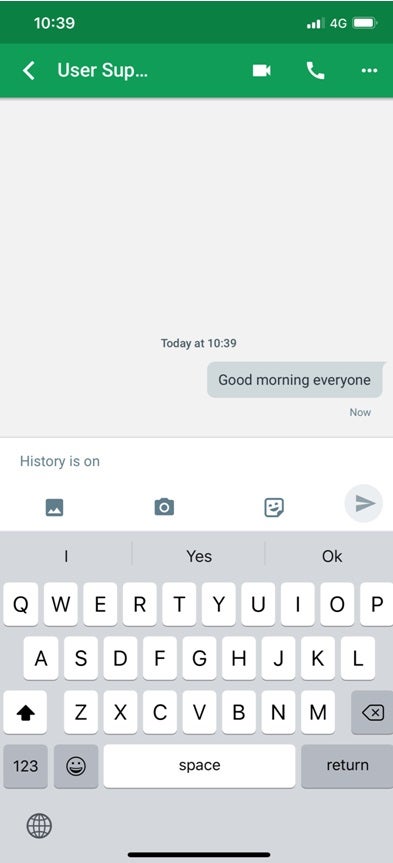 Step 11:  You can call a contact by clicking on the telephone or video sign