A number of exciting events and activities occur throughout the year at Georgetown's Qatar campus. From cultural activities to student-run events, to volunteer opportunities, there are countless ways you can have fun, make friends and be part of the vibrant community life at Georgetown.
Qatar National Day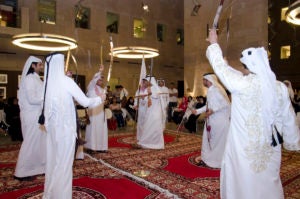 Dances, food and an abundance of white and maroon. The Qatar National Day festivities are an annual public event at Georgetown, attended by hundreds of people from all over Education City. Students, faculty and staff all join together to celebrate the national heritage of the country through dances, performances and other traditional activities.
Qatar National Sports Day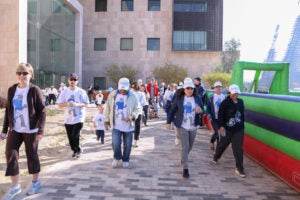 A recently launched national holiday, the main objective of National Sports Day is to promote a healthy lifestyle nationwide. GU-Q has enthusiastically embraced this holiday through special physical activities and festive programing that combine the objectives of Sports Day with our commitment to Educating the Whole Person through athletics.
Open Mic Night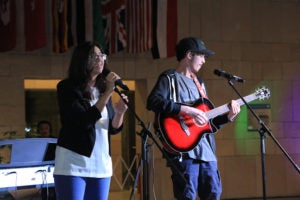 So you think you can dance? Think you're funny? Can you play the electric tambourine in ways no one else can? Well here's your chance to prove yourself! The Open Mic night at Georgetown provides everyone an opportunity to showcase their talents in front of a roaring crowd.
Jesuit Heritage Celebrations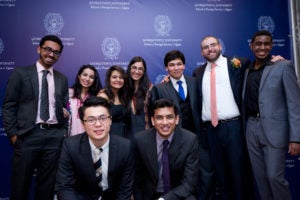 Originally a week-long celebration of Georgetown's Jesuit heritage, values and identity, this year the events and activities have been spread out across the spring semester. Jesuit Heritage Celebrations provide an opportunity to explore the foundational principles of Georgetown and explore these universal values in the context of our Middle Eastern location and the diversity of our student body. The celebrations consists of talks from professors, pastors and individuals that help further our understanding of what makes Georgetown such an inviting and distinctive educational community.
One Georgetown Day
The happiest day of the year! A day of fun, food, family, and friends, this event brings the entire Georgetown community and their families together to celebrate in the Hoya Spirit.
Diwali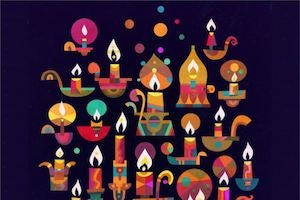 Celebrating Indian culture, the South Asian Society annually hosts a large-scale event for the traditional festival of Diwali. The program consists of cultural performances, lights, dancing, and ethnic food. Each year, members of the Georgetown community – students, faculty and staff alike come together to join in the festivities.
Planet Georgetown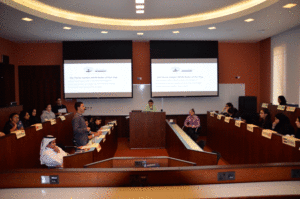 Aimed at helping local high school students succeed academically and prepare them to become successful university students and lifelong learners, these regular workshops offer students a chance to volunteer and give back to their community.
Model United Nations at GU-Q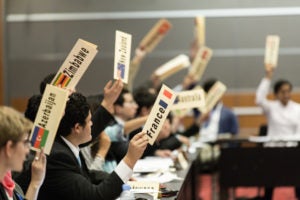 A tradition established from the foundation of the Qatar Campus, GU-Q's annual Model United Nations (MUN) conference is a forum for engaged high school students to debate current global issues and gain insight into the world of international politics and policy-making. Georgetown students help organize the conference and facilitate the development and growth of the high school students.
Georgetown Pre-College Summer (GPS)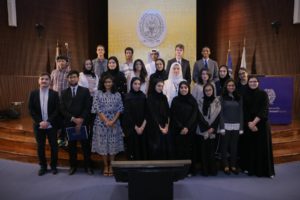 Designed for those high-school students that wish to gain a competitive edge when it comes to university applications, this program helps students prepare for college. Each student takes three-week long courses that fill gaps; whether they are courses in math or economics, the program helps polish their skills in all areas, encouraging personal growth.