What is Jesuit Heritage Week?
The GU-Q Jesuit Heritage Week (JHW) is an annual, week long celebration of Georgetown's Jesuit heritage, values, and identity. Based on an ongoing tradition from Main Campus, JHW in Qatar provides the wonderful opportunity to explore our Georgetown identity in the context of our Middle East location and uniquely diverse student body. The week is filled with a wide variety of special events that celebrate the history and identity of Georgetown University.
Jesuit Heritage Week 2016
Jesuit Heritage Week 2016 took place from January 20 – 28, and it focused on having student clubs and organizations take the lead in creating programming designed by and for the students. We also welcomed Fr. Jerry Rosario, an Indian Jesuit priest, theologian, writer, lawyer, and social activist, best known as "The Barefoot Priest" for his choice to stop wearing shoes in solidarity with the Dalit people who are denied the right to wear them under caste traditions in India.
Highlights of the week:
Alternative Tour of Doha
Lunch & Learn on "Being a Lifelong Teacher & Learner" with Fr. Jerry Rosario
Half-day inter-faith spiritual retreats led by Fr. Jerry for faculty, staff, and students
Discussion on "Debunking Religious Myths" led by the Human Rights Club
Mass & Interfaith Prayer
A discussion on faith and disability led by student club Amal
Keynote Address by Fr. Tom Michel on "My 50 Years of Interfaith Dialogue"
Jesuit Heritage Week 2015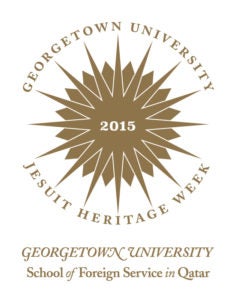 Jesuit Heritage Week 2015 took place from January 25th-29th, and it featured a schedule of events and activities to celebrate Georgetown's Jesuit heritage, with a specific focus on the Jesuit value of "Educating the Whole Person". This year we welcomed Father Victor Assouad, former Provincial Superior of the Jesuits in the Middle East and the Maghreb, and soon-to-be head of Campus Ministry at St. Joseph University in Beirut.
Highlights of the week:
Welcome Mass & Interfaith Prayer
Lunch & Learn on the Work of the Jesuits in the Middle East by Father Victor Assouad
Panel on Disability & Faith with the student organization Amal
Keynote Address by Fr. Victor: "Jesuit Education in the Context of the Arab World"
Lunch & Learn Poster Session with Student Leaders in Service
Film Screening of "The Mission"
Jesuit Heritage Week Closing Reflection
Jesuit Heritage Week 2014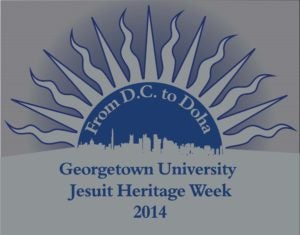 The 2014 Jesuit Heritage Week marked the first official Jesuit Heritage Week at GU-Q. The opening Mass featured special guests from the Alwaleed Center for Muslim-Christian Understanding and Woodstock Theological Center, followed by an Inaugural Interfaith Prayer on Faith and Justice. The week's events included a dialogue about the meaning of a Jesuit education called "The Spirit of Georgetown in DC & Doha" between Hoyas from Main Campus in Washington, D.C., and Hoyas in Qatar, made possible through video-conference technology.