Celebrating the Traditions of Jesuit Heritage at Georgetown University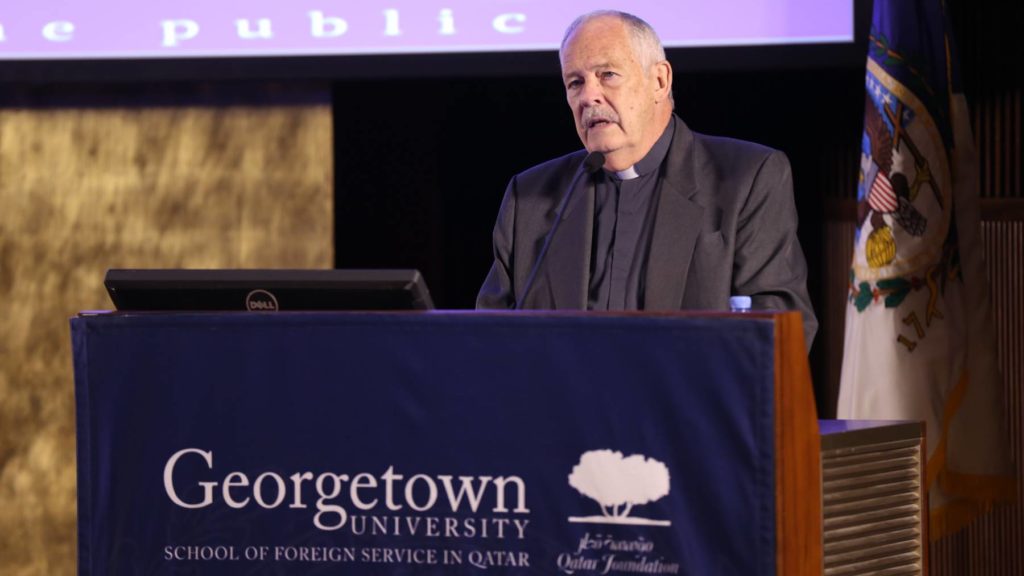 A packed schedule of events marked Georgetown University in Qatar's Jesuit Heritage Week (JHW), an annual tradition where the campus community explores and celebrates the university's Jesuit heritage, values, and identity. Based on an ongoing tradition from Georgetown's Main Campus in Washington, D.C., JHW in Qatar provides the opportunity for the community to explore the Georgetown Jesuit identity in the context of its Middle East location and uniquely diverse student body, with a focus on interfaith dialogue.
This year's JHW included a wide variety of activities hosted by different student clubs and groups to encourage the campus community to delve into the values that underscore the Jesuit commitment to community-based service and an ethical responsibility to human development. 
Amal, a student club that advocates and raises awareness for social inclusion of people with special needs in Qatar, organized an event called "Faith > Cure". "Amal's event focused on how faith and religion can help people with special needs and their families cope with their condition," said Sherif Elgindi, the student founder and current president of the club. "We had a panel of three people who told their stories on how faith helped them deal with their special needs and those of their family members."
Other clubs that took part include the Film Society, which hosted a screening of the independent film titled "Thirteen Conversations About One Thing", and the Human Rights Club, which organized an interfaith dialogue. Brainfood, a student clob that helps to foster an active community of academic engagement outside the classroom, hosted an engaging dinner and discussion
A keynote address titled "My Fifty Years of Interfaith Dialogue", was delivered by GU-Q's professor of religious studies, Fr. Tom Michel, S.J., where he shared insights gained over his five decades working and engaging Muslims and people of other faiths. His work earned him the International Tschelebi Peace Prize from the Central Islamic Institute of Germany in 2008, and  the Ali Shir Navai Award from the International Turkish Olympiad in Ankara, Turkey in 2009.
"The defenseless, marginalized, refugees, and victims of violence, get first priority of our intentions. How to make society more attentive and responsive to the demands of justice remains an integral part of our Jesuit mission. But this is a task that we can't do alone," he said, describing the many social service projects, such as establishing schools and medical clinics in struggling communities, that have emerged from interfaith cooperation. "Only from working together and learning from each other can the human endeavor move forward," he explained.
A highlight this year was the participation of Fr. Jerry Rosario, S.J., an Indian Jesuit priest, theologian, writer, lawyer, and social activist, best known as "The Barefoot Priest" for his choice to stop wearing shoes in solidarity with the Dalit people who are denied the right to wear them under caste traditions in India. Fr. Jerry led retreats for faculty, staff, and students, and he participated in many of the week's other events, sharing his unique perspective and story.
The Jesuits are known worldwide for their work in promoting social justice and education through the founding and running of schools, colleges, universities and seminaries, as well as for promoting intellectual research and cultural activities. "Educating the Whole Person", "Faith and Justice", "Community in Diversity", and "Interreligious Understanding", are just a few of the foundational values that this year's schedule of events sought to highlight.