Closing Ceremony for Nakilat Custom Leadership Program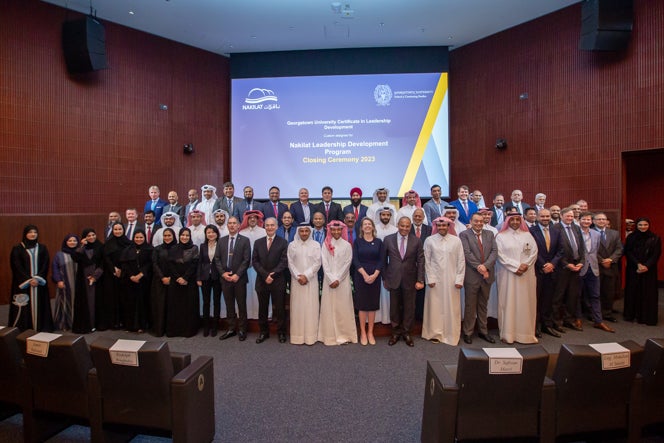 A closing ceremony held at Georgetown University in Qatar (GU-Q), a QF partner, celebrated the completion of a leadership education program for 44 participants designed to provide energy executives at Nakilat, a global leader in energy transportation and liquefied natural gas (LNG) carrier fleet operations, the tools needed to lead in a rapidly evolving industry.
Offered by Georgetown's School of Continuing Studies (SCS) in Washington, DC, with the support of GU-Q, the customized program saw participants awarded a "Certificate in Leadership Development" from Georgetown University and a trophy from Nakilat at the ceremony.
Eng. Abdullah Al-Sulaiti, the CEO of Nakilat, said: "We are excited to see you reflect the learnings of the program and bring confidence in your actions and decisions at work. Leadership plays an important role in the success of any organization, it is crucial to understand that leadership is not only about making decisions, but also the ability to foster mutual relationships between team members and to act as an ideal role model and a source of inspiration to achieve the best results."
The ceremony represented a shared milestone that exemplifies the university's deep commitment to global engagement, according to the dean of SCS, Dr. Kelly Otter. "Georgetown's Certificate in Leadership Development Program for Nakilat is truly ground-breaking, because it represents the best of Georgetown in so many ways," she said, attributing its success to its collaborative design and novel approach to integrating executive coaching into the curriculum. "Not only does this program meet the high standards of excellence that Georgetown has maintained since its founding in 1789, but it also engages deeply with Nakilat's needs as a partner organization."
In his remarks, Dr. Safwan Masri, the dean of GU-Q, also expressed pride in the role of GU-Q's Executive and Professional Education and praised the participants' dedication to personal and professional development. "By investing in yourselves, you have also invested in your teams, your organization, and the industry as a whole. You have become stronger, more effective leaders, capable of inspiring and empowering others, and of driving success and growth at every level. Congratulations."
Across ten individual modules and ten one-on-one leadership coaching sessions, three cohorts of participants in the custom-designed program explored topics including values-based leadership, leading teams, communication in organizations, change initiatives, innovation, strategic thinking, decision-making, and negotiation. In between the modules, participants were tasked with individual and group assignments relevant to real business challenges faced by Nakilat. For their final capstone course, participants reflect on their learning and development as leaders and present plans for the company's continued growth.
Program participants also benefited from access to Georgetown's extensive learning resources, including the SCS Writing Lab.