Other
Connections and Opportunities between 2022 and 2026 FIFA World Cup Tournaments the Focus of GU-Q and USQBC Expert Panel at QF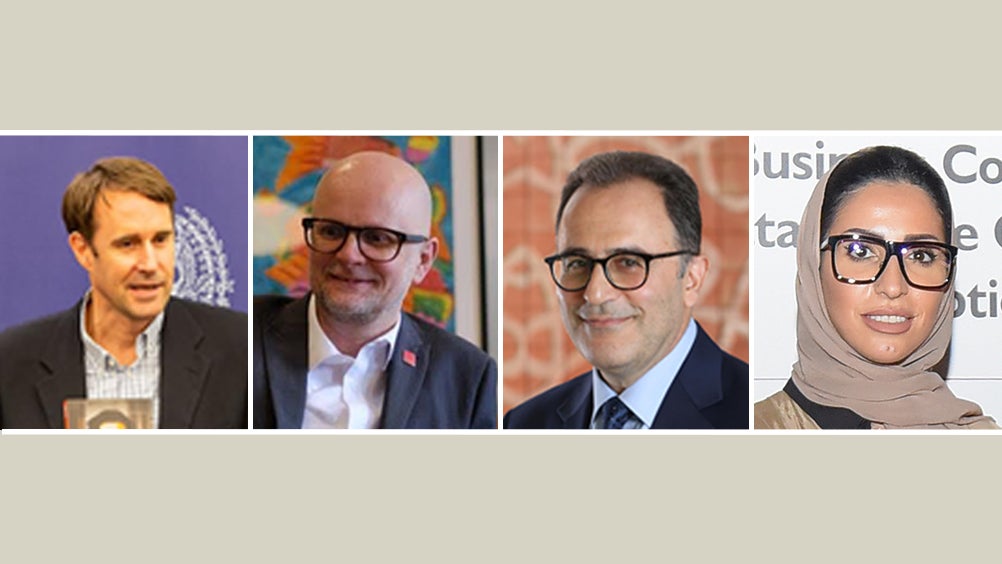 Top sport scholars discussed the social, political, and economic impact of hosting the world's most prestigious football tournament at a public webinar on February 8, 2021, titled "From Qatar 2022 to the Americas 2026: Creating Connections and Opportunities between FIFA World Cup Tournaments." 
The event was a collaboration between the US-Qatar Business Council (USQBC) and Qatar Foundation partner Georgetown University in Qatar (GU-Q), and featured Professor Danyel Reiche, Visiting Associate Professor at GU-Q, and Professor Simon Chadwick, Director of Eurasian Sport at Emlyon Business School in France.  
Large-scale sporting events continue to offer host nations unprecedented opportunities for political engagement, economic development, and expressions of national branding. At the webinar, Professor Reiche explored similarities and differences between the 2022 FIFA World Cup in Qatar and the 2026 FIFA World Cup in the Americas, and Professor Chadwick shared his insights into the economic impact and business opportunities of hosting the FIFA World Cup.
"Qatar sets a very high standard when it comes to the quality of stadiums, infrastructure, accessibility and sustainability, and an exemplary legacy program, investments which have also played a major role in the nation's national development strategies," noted Dr. Reiche, who heads GU-Q's Building a Legacy: Qatar FIFA World Cup 2022 research initiative at GU-Q's Center for International and Regional Studies (CIRS).
"The research we are doing at CIRS on Qatar's role as host will be beneficial for future work on the intersection of global sporting events and society, for example as related to the FIFA 2026 World Cup in the Americas," he added. 
The Dean of GU-Q, Dr. Ahmad Dallal, said: "For a nation-state, the sports policy decision to host a mega-event like the FIFA World Cup represents a major strategic decision. Through our CIRS initiative, we hope to make important contributions to the body of literature on the impact and outcome of these investments, and we are pleased to offer the public an opportunity to engage with some of the scholars supporting this effort."
The U.S., a co-host of the 2026 FIFA World Cup along with Canada and Mexico and a key partner in Qatar's economic growth, will also seek to capitalize on the business opportunities the games provide, explains Dr. Chadwick.
"Global sports events create jobs, generate export earnings and often raise tax and other excise revenues. Whether its tourists visiting a host country, steel manufacturers manufacturing parts for a stadium or consultants working with official sponsors, events can be a major driver of economic, industrial and commercial activity," he said. 
The Qatar-U.S. relationship has grown steadily and is now worth more than $200 billion. The U.S. has been a key partner in Qatar's rapid economic growth and diversification with over 850 U.S. businesses operating in the country. As Qatar aims to build a $20 billion sports sector before the 2022 World Cup, U.S. companies are expected to play a key role in attaining this target. Similarly, with Qatar set to ramp up investments in the U.S., lessons from hosting the 2022 FIFA World Cup will help Qatari businesses identify key opportunities in the U.S.
"The U.S. is Qatar's single largest investor and has been a key partner in preparations for the upcoming 2022 FIFA World Cup," said Sheikha Mayes bint Hamad Al-Thani, Managing Director of USQBC Doha Office. "With Qatar's continuous infrastructure developments and target to build a vibrant and dynamic sports sector in the country, there will be many additional opportunities for U.S. businesses. Upon the conclusion of the 2022 FIFA World Cup in Qatar, we expect the U.S. to benefit from the many learnings and experiences shared by their Qatari partners."