Executive Education Challenges Professionals to Lead without Limits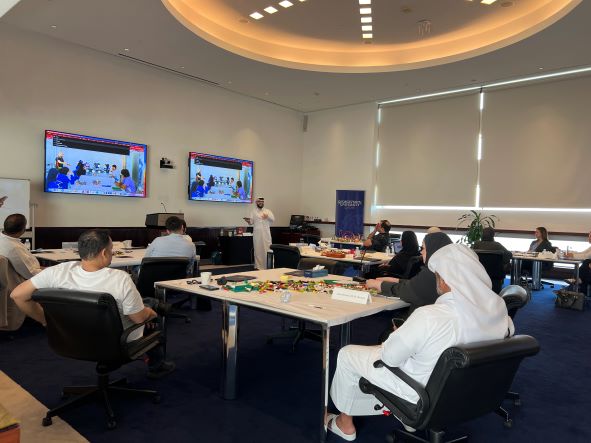 The excitement and praise for a well-organized World Cup tournament has drawn international attention to Qatar's investments in its national development. In the education sector that has been key to Qatar's emergence on the global stage, QF partner Georgetown University in Qatar's (GU-Q) Lead Without Limits master series on leadership offered working professionals an opportunity to further their career goals while contributing to increased institutional capacity in Qatar.
With a curriculum that covered communications and digital strategy as well as transformational leadership and influence, the four-course program furthered the skills of participants representing Qatar Foundation, Qatar Investment Authority, Qatar Environment and Energy Research Institute (QEERI), Weill Cornell Medicine-Qatar, and other institutions. Participants were welcome to register for individual courses or for the complete series, based on their personal interests and professional development needs.
Rodolph Boughaba, the associate dean for Executive and Professional Education at GU-Q, said: "Organizations in Qatar are increasingly turning to leadership development programs that benefit the company as well as the individual. At Georgetown, we are proud to offer the essential education needed to build capacity and drive continued growth across all sectors of Qatar's economy."
The four workshops included the highly interactive and hands-on "Strengthening Workplace Relationships" course taught by Karen Curnow, a faculty member at Georgetown's School of Continuing Studies in Washington, DC, and "Building Transformational Leaders," taught by Mohamed Evren Tok, Assistant Dean and Associate Professor at HBKU.
Digital marketing expert Nino Kader led the course on "Digital Strategy Essentials," which took a design thinking approach to problem-solving in successful leadership, and Joelle Majdalani, an assistant professor at Lebanese American University, offered the skills to generate confidence and positivity in the workplace in the "Emotional Intelligence: A Road to Leadership" series course.
"The series was developed in collaboration with industry experts to provide an essential toolkit for industry leaders," added Boughaba. "That collaboration ensures an effective and transformational executive education program that takes into consideration both short-term and long-term goals, identifies and addresses learning gaps, and aligns the program with market demands and projected industry growth."
In Education City, GU-Q offers a wide range of development programs that leverage Doha-based expertise and the resources of the nine Georgetown University schools in Washington, DC, including custom training, certificates, and graduate degrees. Information about registration and topics of upcoming workshops can be found on the university's website.