Faculty, Students
Georgetown Celebrates its Tenth Graduation Ceremony in Qatar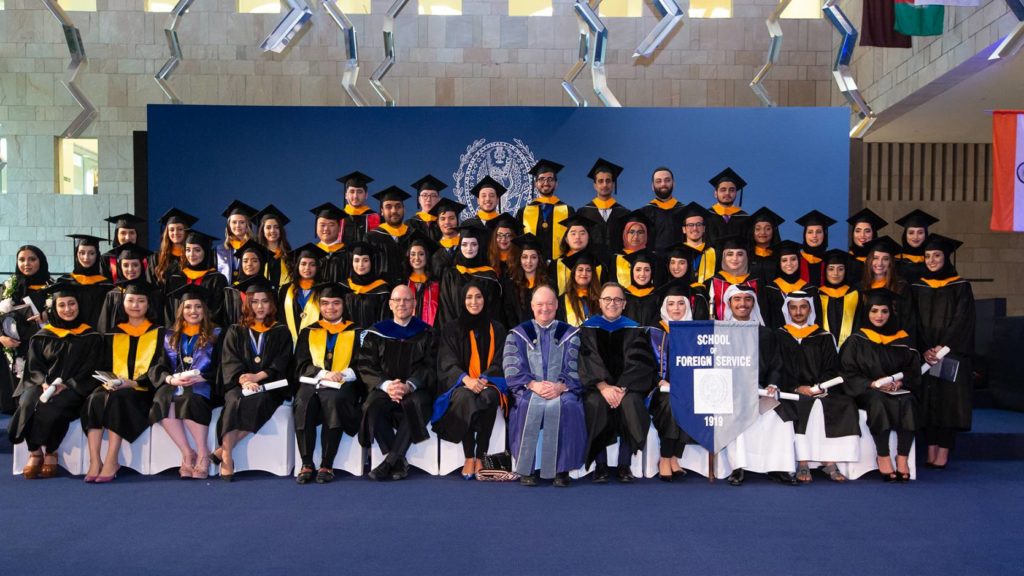 The Class of 2018 donned their academic robes and gathered together for the last time on May 3, as Georgetown University in Qatar (GU-Q) celebrated the graduation of its tenth class at a traditional commencement ceremony. Fifty-one seniors were awarded their Bachelor of Science in Foreign Service (BSFS) degrees at the event, which was attended by high level dignitaries, members of the diplomatic and international community, and proud families.
This year's graduating class comprised 36 women and 15 men representing 22 nationalities, who obtained the same globally recognized BSFS degree that is offered on Georgetown's Main Campus in Washington, D.C. The degrees were conferred by president of Georgetown University, John J. DeGioia, who was among the members of Georgetown University leadership who travelled to Doha to take part in the ceremony.
"Commencement is a time when we reflect on the many achievements of our senior students, their four-year long journey of growth and development, and the amazing possibilities that lie ahead," said GU-Q Dean Ahmad Dallal. "The Class of 2018 is graduating at a remarkable time in history in a rapidly transforming world, but they have the benefit of a Georgetown education that has prepared them to deal with the challenges of today and to contribute and help shape a positive future. We are excited to see where they go from here and what they achieve next."  
The address to the Class of 2018 was given by Aysha Al-Mudahka, CEO of the Qatar Business Incubation Center and board member at INJAZ Qatar, who was named among the top 100 of most powerful Arab woman women by CEO Middle East magazine. Al-Mudahka advised the graduates to be "steadfast internationalists" who persist in the face of diversity and those who may attempt to hinder their success.
"Today, when insularity and indifference are flaunted like virtues, I call upon you to keep building bridges, with both compassion and dignity," she said in her speech. "In the long run, no reprisal retaliation is sweeter than saying this: we never gave up."
The members of the Class of 2018 join more than 440 GU-Q alumni from 52 countries who have graduated from the University since it opened its doors in Qatar in 2005. These graduates now work in a diverse range of industries in Qatar and abroad, from energy and finance to education, media, diplomacy, and healthcare.