Professional Education
Georgetown Ceremony at QF Celebrates Newest Graduates of the International Executive Master's in Emergency & Disaster Management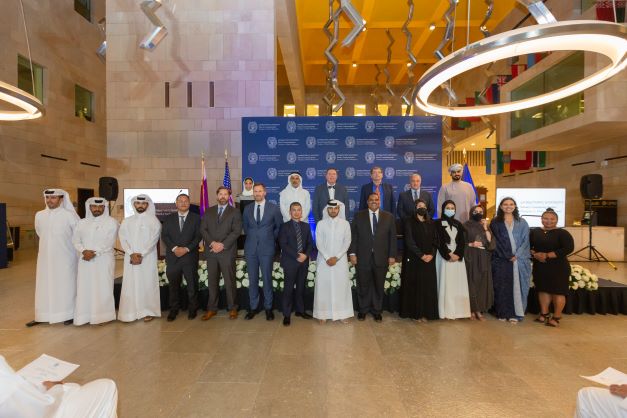 A closing ceremony held at QF partner Georgetown University in Qatar (GU-Q) honored 14 graduates of the International Executive Master's in Emergency and Disaster Management (IEDM) degree program. As part of the day's programming, an exhibit of student capstone projects contributing original research on key issues in global incident management underscored the critical need for emergency response education to keep communities safe when disaster strikes.
The IEDM program is offered through Georgetown University's School of Continuing Studies (SCS) in Washington, DC, and supported by the Office of Executive and Professional Education at GU-Q. This year's fifth cohort of graduates, drawn from diverse fields including healthcare, engineering, law enforcement, and social services, gained the skills and knowledge necessary to prepare for and respond to a wide variety of natural, technological, and man-made disasters through hands-on experience and engagement opportunities with leading experts in the field.
This year's guest speaker was H.E. Dr. Hassan Al Thani, Head of Trauma and Vascular Surgery Sections of Hamad General Hospital and a 2019 IEDM graduate. Dr. Kelly J. Otter, Dean of SCS, also addressed the newest IEDM alumni. "As graduates of this program, you have learned how to manage evolving complexities and make decisions in the face of much uncertainty," she said. "And as the last few years have demonstrated–especially in the wake of a global pandemic–your leadership and expertise are needed now more than ever."
Dr. Otter also thanked the Ministry of Public Health and the Ministry of Interior for their leadership, saying: "Throughout the years, they have demonstrated an extraordinary commitment to partnering with us to create and promote the IEDM program. Their invaluable support has enabled many of their outstanding employees to participate in the program, further elevating the level of academic discourse."
The dean of GU-Q, Dr. Clyde Wilcox, praised the students for their achievements, adding: "Today is also an important day for our university, in furtherance of our desire to contribute to the continued growth and development of the people of Qatar and the broader Middle East Region."
Georgetown faculty director Dr. Tim Frazier, said: "It has been a personal privilege getting to know each and every one of these students. I have been impressed with their intellect, their hard work, and their kindness toward each other and me."
Before the ceremony, a gallery walk of capstone projects showcased the complexity of preventing and responding to emergencies and disasters. Project topics with real-world consequences in the region included cybersecurity, drought management, and healthcare capacity building and emergency planning for the FIFA World Cup in Qatar 2022.
Students also tackled the Fukushima nuclear disaster, artificial intelligence in wildfire management, humanitarian assistance, global healthcare collaboration and capacity building, transnational terror networks, women in disaster response leadership positions, and healthcare resilience in the wake of disasters like the pandemic.
Earning special recognition for their research, nursing affairs specialist Ebtesam Abdulla Jassim received the Outstanding Capstone Thesis Award for "Increase Patient Surge Capacity at Primary Health Care Centers During the FIFA World Cup 2022: A Quantitative Study." In addition, federal law enforcement agent Matthew Murray was presented the Outstanding Capstone Impact Award for "A Strategy for Building Foreign Law Enforcement Networks to Defeat Transnational Terror Networks through Tailored Capacity Building Programs."
The IEDM program offers a blend of virtual learning and on-site international residencies designed to shape the next generation of leaders in government, the private sector, and nonprofit organizations. With a global focus, this program prepares emergency management professionals to effectively apply preparedness principles, mitigate potential threats, and manage response and recovery efforts within an international context. Information about the program and how to apply can be found on the Georgetown University website.