Georgetown Data Portal Launches to Support COVID-19 Research at QF and Globally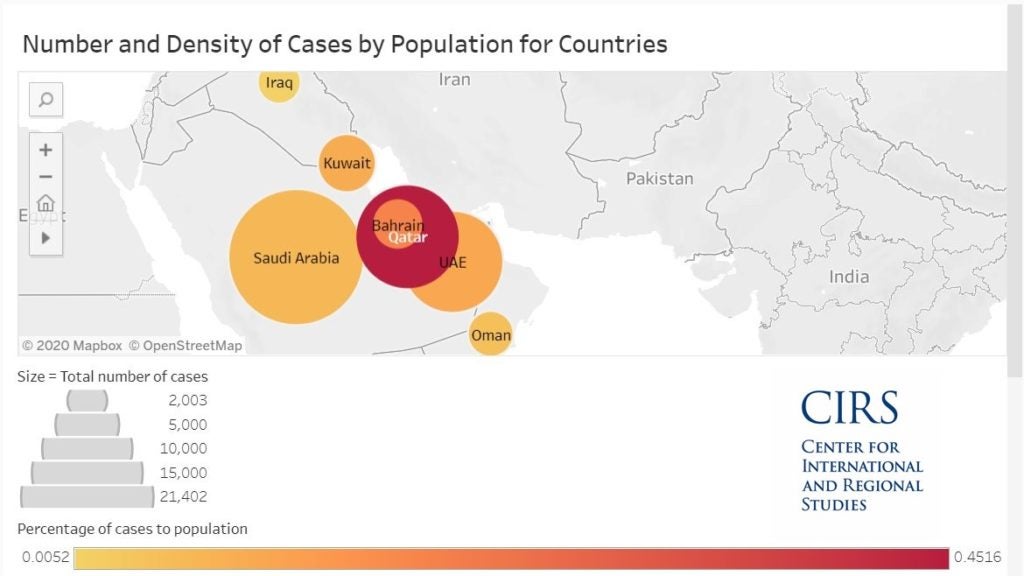 The Center for International and Regional Studies (CIRS) at Georgetown University in Qatar (GU-Q), a QF partner institution, has launched the Covid Project, a data portal to support research into the societal, economic, cultural, religious, and political consequences of the pandemic in Qatar and the region. The portal will serve as an important tool for analysis and a deeper understanding of how the pandemic is being experienced in real time, with updates made on a regular basis to a crisis that continues to unfold.
This digital compilation of data and statistics on COVID-19 provides a focused understanding of how the six countries of the Gulf Cooperation Council, as well as Iraq, are being affected by and responding to the ongoing global crisis. Through dynamic graphs, the site presents aggregated data on each country's health system that builds a profile of their health capacity. In addition, the portal includes a collection of the various policy measures these seven states are undertaking to limit the spread of COVID-19 and offers a way to view these from a comparative perspective.
Dr. Mehran Kamrava, the Director of CIRS, said: "As part of Georgetown here in Education City, the Center has built its scholarship on the region and is ideally placed to undertake a project focused on the experience and the needs of Qatar and the Gulf."  The regularly updated data portal will also feature expert analysis by GU-Q scholars and global experts in economics, political science, health and social policy, through a series of analytical articles, panel discussions, and podcasts.
"The unprecedented impact of the current crisis will require a multidisciplinary approach to the complex issues that will continue to emerge over time," explained Dr. Kamrava. "And by leveraging our in-house expertise as well as GU-Q's network of regional and international scholars, we hope to draw attention to the issues that will become increasingly important in the coming period." Key areas of interest include the state of the health sector, challenges for Gulf migrants, Islamic ethics, the impact on family life, marriage, birth and death, and national development plans.
The COVID Project can be viewed on the CIRS website, and on GU-Q's COVID-19 microsite, which includes health guidance, contact information, and academic updates for the school community.