Georgetown Graduate Wins Platinum at Education Excellence Award Day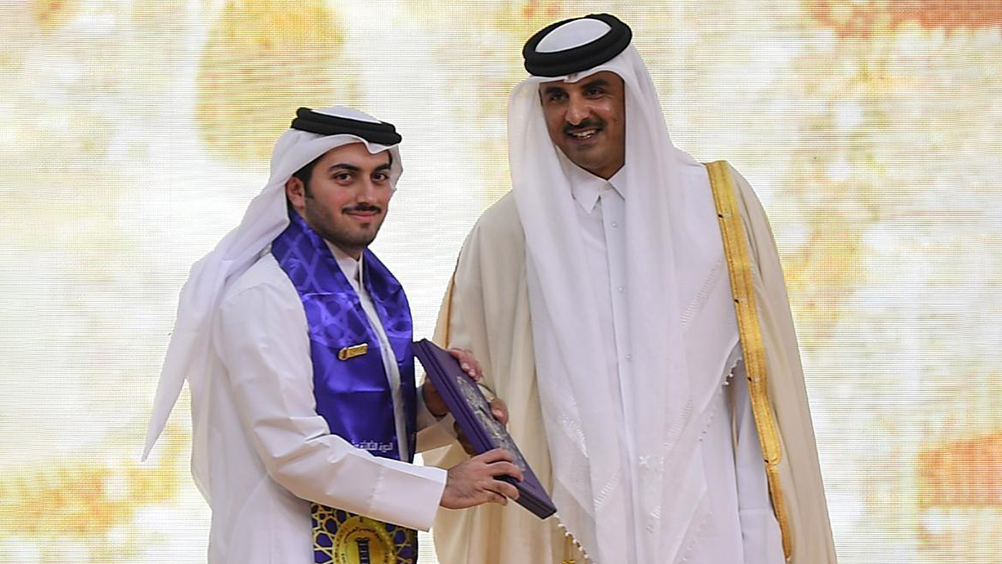 Khalid Abdulhamed Marafi, a graduate of Qatar Foundation partner Georgetown University in Qatar (GU-Q), won the platinum Education Excellence award at the 13th Education Excellence Day Award ceremony. Held under the theme "Excellence Builds Generations," the award ceremony honored exceptional Qataris who have made an important impact through academics and community service.
Khalid, who graduated with a degree in International Economics from GU-Q in 2019, accepted the award from the Amir, His Highness Sheikh Tamim Bin Hamad Al Thani, and took part in a majlis where His Highness praised the gold and platinum award winners for their hard work, and encouraged them to continue making a positive difference in the country's future.
Now working at HSBC as part of the bank's global graduate program where he engages with international banking clients, Khalid credits his GU-Q education for his successful career start. "The Georgetown curriculum provided me with rigorous training in economics, as well as in global perspectives, and gave me an understanding of the relationships between countries, cultures, and people. So now I know how to interact with people of different backgrounds, and how to make those connections. That has really been a valuable asset for me in my current role."
His longer term goal, he says, is to contribute to the diversification of Qatar's economy. "I feel strongly that we can enhance financial markets, bring in international investors, and empower Qatar's economy in innovative ways for sustainable development." He's also keeping the possibility of pursuing a Ph.D. open, "because I enjoy teaching, and I want to give back to my community since so much has been invested in me."
A dedicated student while an undergraduate earned acceptance into Omicron Delta Epsilon, the international honor society for economics. Khalid also took on various leadership roles, helping organize major conferences and events. As a rising scholar, Khalid was part of a student group that won a research grant from the Qatar National Research Fund for an Undergraduate Research Experience Program project proposal titled "Baladna: Everyday Articulations of Qatari Self-Sufficiency in the Wake of the Siege."
The 13th Education Excellence Day Award ceremony 2020 took place at Doha Sheraton Hotel and was attended by key government figures, senior officials in the education and research sector, and families of the honored students. Qatar celebrates the Education Excellence Day every year, with winners recognized in each school category, including primary, preparatory, secondary, university graduates, master's degree holders, and doctoral degree holders, as well as nominations for Outstanding Teacher, Outstanding School, and Outstanding Scientific Research awards.