Alumni, Students
Georgetown Graduates Take Bold Next Steps in Their Lifelong Pursuit of Knowledge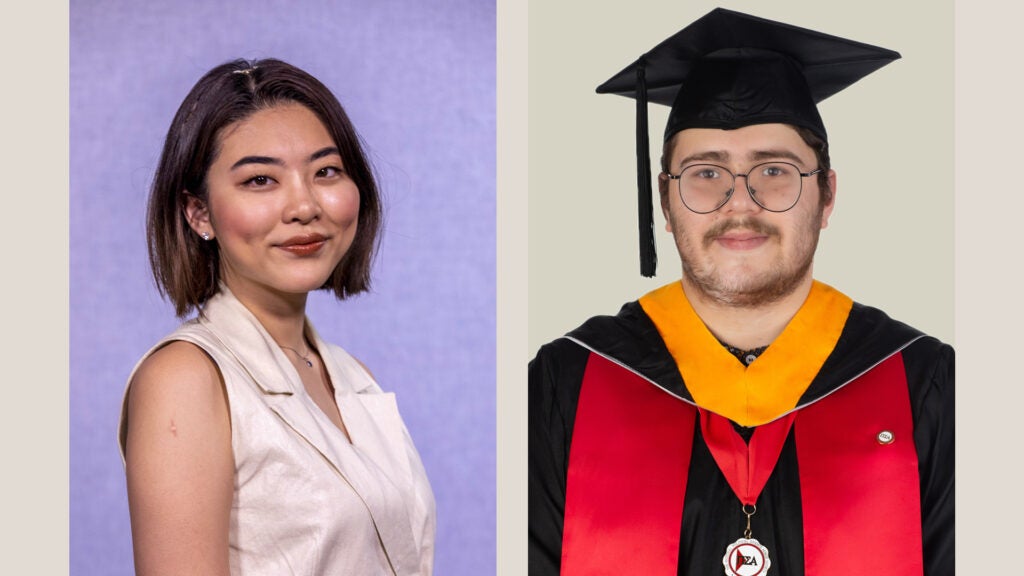 Georgetown University in Qatar (GU-Q) Class of 2022 graduates have just finished their celebrations and put away their caps and gowns, but they remain committed to accomplishing great things in their communities, inspired by the values and goals that marked the start of a remarkable college experience studying international affairs in a country at the epicenter of global politics.
For Bothaina Jassim Hamad Al-Thani, one of the 41 Qatari students in this year's cohort of 87 graduates, planning for an undergraduate degree began early. "Ever since I was young, I've had a five year and ten year plan, and pictured what I wanted for my life in the future. Since my father was in the foreign service, Georgetown felt like a natural fit." Determined to attend the school of foreign service, Bothaina applied, and secured admission to QF partner university GU-Q.
Majoring in International Economics with a minor in Government, Bothaina excelled in her courses and research efforts, winning honors in her major for a paper exploring the rise of private tutoring in Qatar. "I decided to study the determinants of demand for private tutoring in Qatar because the phenomenon has changed greatly in my lifetime. I wanted to add to the body of knowledge on a global phenomenon that is understudied in Qatar."
Even with the added responsibilities of preparing to become a new mom, Bothaina graduated magna cum laude, a Latin honor of great distinction, and was awarded the International Economics Outstanding Student Award at GU-Q's annual Tropaia senior award ceremony. She attributes her success to her own mother, who taught her to believe in herself and dream big. "I have always aspired to serve my country. Applying my degree to a career in public service, I hope to return some of the bountiful privileges my country has offered me."
International Politics major and honors graduate, Syed Taha Kaleem's undergraduate studies were centered around the religious dimension of political conflicts, an area of study he has experienced first hand as a Kashmiri. When in High School, a local lecture delivered by a GU-Q professor introduced Syed Taha to the Qatar campus, "and when I learned more about the small student to professor ratio, I was convinced this was the school for me." That decision put him on a path of scholarly exploration that has ended with his acceptance into Brandeis University's Ph.D. program in sociocultural anthropology straight from his undergraduate studies.
Earning a distinguished 2021 Berkley Center-Pulitzer Center international reporting fellowship in his junior year, Syed Taha returned to Kashmir to study the connection between Sufi shrines, conflict resolution, and the newly added complications of the pandemic. "I decided to go into this project without preconceived conclusions, letting the field work tell the story instead," he said, producing journalistic reports that aim to capture the complexities of issues that are often misreported or underrepresented.
He also received funding from the Undergraduate Research Experience Program (UREP 28-303-5-035) for an ethnographic study of Hamad International Airport as a social, economic, and political institution, and expanded his curricular focus by pursuing an independent Certificate in Religion and Politics. "Pursuing a certificate under the mentorship of a GU-Q professor taught me how to find a good mentor, what a good mentor is like, and how a mentorship relationship works. This is so important for me as I prepare to begin an eight year Ph.D. program where I'll be working with peers, advisors, and a doctoral committee."
A global perspective is also what drew Korean international student Sooin Jessica Choi to pursue a Georgetown degree in Culture and Politics in a region of the world she only knew through news headlines. "I've always wanted to attend Georgetown. And when I realized they had a campus in the Middle East, I applied."
Doha, a vibrant city at the crossroads of politics, business, and culture, offers GU-Q students unique opportunities to engage with leaders and decision makers. Sooin enjoyed one of those opportunities when she was invited by the Embassy of the Republic of Korea to be an interpreter at an event to promote shared business interests between Korea and Qatar. "It was challenging because I had to become familiar with the language of business, and to ensure I communicated accurately." Throughout her studies, she continued to serve as a bridge between her home country and Qatar by working at a Korean firm that designed leadership training courses for senior professionals in the GCC.
A natural ambassador, Sooin tutored writing and geography to her peers, and co-founded a running club to inspire students, professors, and staff to enjoy the benefits of exercise no matter their skill level. As a global correspondent and content creator for a South Korean online platform, Sooin shared her experiences in Qatar with her home audience, documenting her life abroad through articles and YouTube videos.
Sooin graduated early, and is currently pursuing a Master's in Urban and Regional Planning at Georgetown University in Washington, DC, and cites her CULP training as foundational to her research in creating knowledge economies by empowering local and migrant communities in a rapidly urbanizing world. During her time at GU-Q, Sooin worked with the Indian Ocean Working Group to write about Doha's vibrant migrant businesses and has been presenting her research projects at conferences in Doha, Toronto, and Washington, DC. "I am so grateful for GU-Q, and my friends, professors, and experiences on the Doha campus. Those years prepared me for my graduate studies and shaped me into the person I am today."