Other, Students
Georgetown Hoyas at the QF Townhall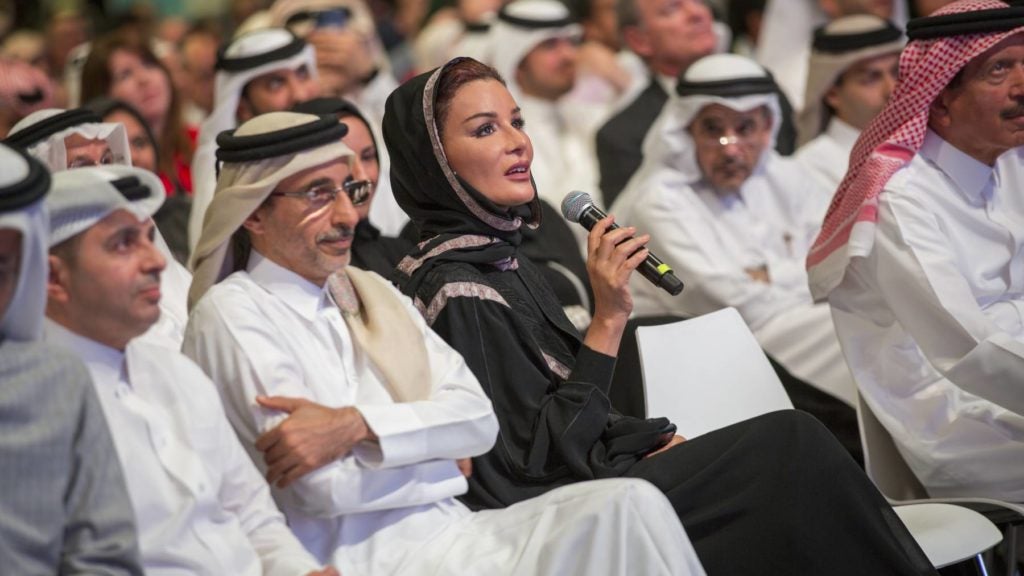 On February 4, 2020, our diverse community of students, faculty, and staff at GU-Q joined the entire Qatar Foundation family at the "I AM QF" townhall, in recognition of our shared contributions to the impact and achievements of QF, and to take part in the launch of the celebration of the foundation's 25 year anniversary.
The event highlight was a talk featuring H.H. Sheikha Moza bint Nasser, Chairperson of QF, and H.H. Sheikha Hind bint Hamad Al Thani, Vice Chairperson and CEO of QF. The event, held in the Qatar National Convention Centre, was also an opportunity for the QF community to connect with each other, learn more about the foundation's work, and find new ideas for collaboration.
Between attending lectures or relaxing in the Chill Zone, I AM QF guests also had a chance to meet some of the students who are having an impact on their communities and making contributions to scholarship through the support of Qatar Foundation. From GU-Q, one student ambassador, one research project, and one student group were chosen to showcase Georgetown University's values of academic excellence, Men and Women for Others and Community in Diversity, in action.
Student Ambassador
Chaïmaa Benkermi (SFS'21), International Politics
CIRS Undergraduate Research Advancement (CURA) Fellow
"As students, we often think of ourselves as a member of a class, or part of a program, and we sometimes hide behind those groups without realizing that we have so much potential as individuals. But we each have the capacity to bring our own unique contribution to everything we do. And that's really important to remember." – Chaïmaa Benkermi
Chaïmaa served as the GU-Q Student Ambassador for I AM QF. Through her many personalized and engaging Instagram stories, she kept the entire student body informed about the events, promotions, competitions, and activities before and during the event, starting with the I AM QF truck that visited each partner university, offering fragrant coffee and a collector's stamp for students participating in the competition.
"You Make All This Happen" Student Presentations
Undergraduate Research Experience Project: "Humanizing Resources: Analyzing Employment Opportunities for the Disabled in Qatar"
Khansa Maria (SFS'21)
Abdul Rehmaan Qayyum (SFS'21)
"We can all do more on an individual level to increase inclusionary policy implementation, so it was especially valuable to interact with QF employers and decision-makers at the townhall. When we say 'I am QF', we have to include everyone." – Khansa Maria
Khansa Maria and Abdul Rehmaan won a research grant from the Qatar National Research Fund for this UREP project that aims to study employment challenges facing disabled individuals in Qatari society, and offer evidence-based solutions and strategies for policymakers and future researchers. For Khansa, who is blind and works as an advocate for disability issues, the research focus resonates for her on a personal level. Through an interactive presentation, she engaged visitors in conversations about the perceptions and the realities of employment challenges for people with disabilities.
"The Future is Female" Student Initiative
Lolwa Al-Saigh (SFS'20), Culture and Politics
Lina Noureldin (SFS'20), International Politics
Dana Darwish (SFS'21), Culture and Politics
Jawaher Al-Shamari (SFS'22), Culture and Politics
Saoud Al-Ahmed (SFS'21), Culture and Politics
"It's so important to get more people involved in this initiative because empowering women is a QF-wide priority." – Lolwa Al-Saigh
Launched by Asma AlJehani (SFS'19) while an undergrad at GU-Q, the Future is Female (FIF) is a student initiative that works to inspire the next generation of women to assume prominent roles in the workforce and public sphere. At the booth, current GU-Q student board members shared information about the group's efforts in promoting gender equality, and offered opportunities for visitors to engage and participate in future activities. They also shared information about the upcoming FIF conference, which will be held on March 21 under the theme of sustainability, entrepreneurship, accessibility, and mental health, and co-organized with the World Economic Forum's Global Shapers, a network of over 7,000 inspiring young people under the age of 30 from 171 countries, who are working to address local, regional and global challenges.