Georgetown Provides Coronavirus Info Session for QF Community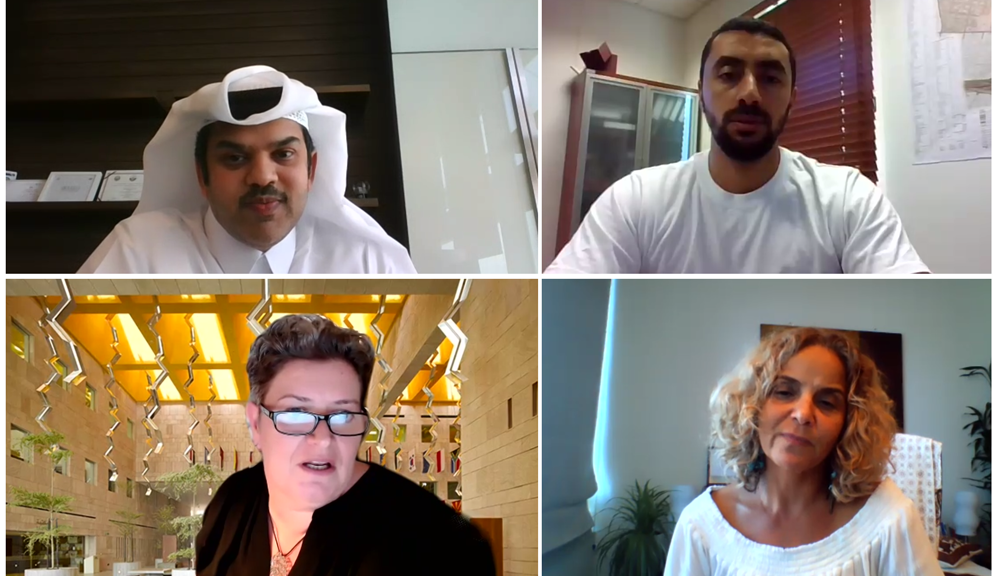 Experts from the front lines of the Coronavirus pandemic in Qatar were featured panelists for Georgetown University in Qatar's recent online event titled "Dealing with Covid-19 in Qatar: A Panel Discussion." The Qatar Foundation (QF) partner institution's event was hosted by the Georgetown Women's Alliance Qatar (GWA-Q), and attended by an audience representing universities across Education City and QF partner institutions, and other members of the public.
The panel discussion was organized and co-hosted by GWA-Q Secretary Clare Wait, Chief Facilities Management Officer at GU-Q, who said: "Social media can be a great source for trusted information, but unfortunately, there's also a lot of misinformation out there. By hosting this event with figures directly involved in Qatar's pandemic response, we hope to provide a valuable and needed resource for the community."
Co-host Dr. Mahnaz Mousavi, Director of Student Wellness & Counseling Center at GU-Q and Co-Chair of QWA-Q, helped introduce the event and moderate the question and answer session that concluded the event. "This event falls in line with Georgetown's dedication to providing a platform that connects decision-makers with the community, for dialogue and discussion on the issues that directly affect all of us," she said.
Panelists included Abdulaziz Murad, Head of Emergency Planning in the Health, Safety, Security and Environment Department Directorate at QF, who described the situation as a long term crisis that requires planning for both the short and long term. Speaking in his capacity as a Red Crescent volunteer in disaster response and management training, he shared details of a future Red Crescent project to promote social distancing awareness at grocery stores.
Panelist Faruk Mohammad Azad, Assistant Executive Director for Business Development at Hamad Medical Corporation, presented an overview of the Qatar government's key efforts to control the spread of the disease through swiftly implemented precautionary measures such as travel restrictions, official quarantines, and stay-at-home directives. He also detailed the robust efforts to expand and fortify medical capacity, including the creation of a 24/7 hotline and new quarantine facilities. Both Murad and Azad are graduates of Georgetown's Executive Master's in International Emergency & Disaster Management.
The final panelist, Dr. Lamyaa Bani-Murad, is the Director of the QF Primary Health Care Center. She described the important safety precautions taken in the clinic in line with ministry guidelines. Most recently, she noted, the clinic had introduced telemedicine, or appointments conducted over the phone, to protect the community and ensure social distancing protocols. Dr. Bani-Murad also thanked GU-Q for providing an opportunity to engage directly with the community, and to give needed assurance that best practices have been instituted for the best possible outcomes.
GWA-Q is a forum dedicated to innovative ideas and strategies that enhance opportunities for women in the community. The GWA-Q facilitates sustained conversation, interaction and networking, aggregation and communication about events and programming, and leveraging of resources.