Learning Real-world Diplomacy from the Assistant Foreign Minister for Regional Affairs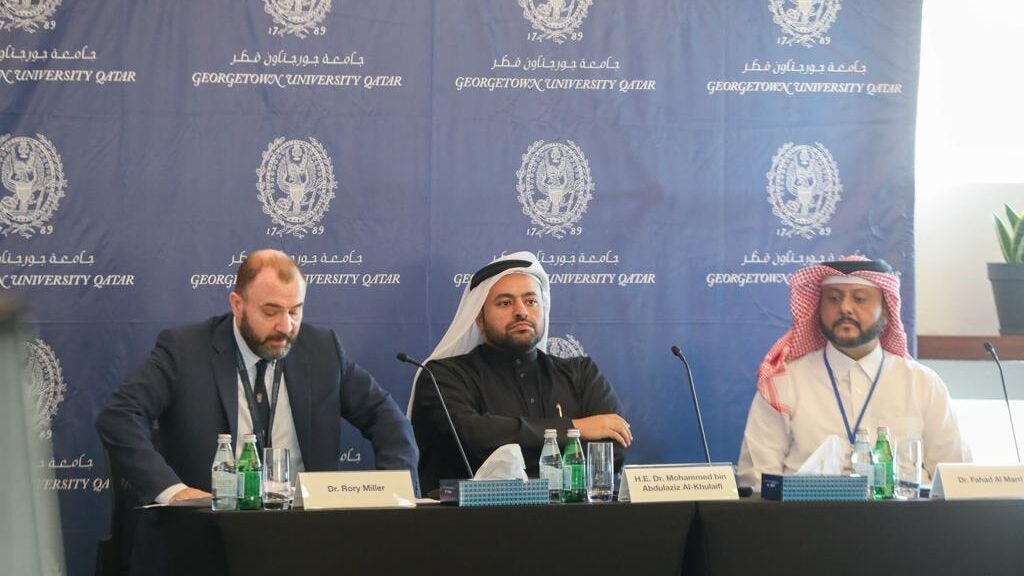 At Georgetown University in Qatar (GU-Q), Qatari diplomats and government officials enrolled in Georgetown University's Executive Master's in Diplomacy and International Affairs (EMDIA) program welcomed H.E. Dr. Mohammed bin Abdulaziz Al-Khulaifi, Assistant Foreign Minister for Regional Affairs at the Qatari Ministry of Foreign Affairs.
The event was part of an EMDIA course on "Small States and Alliances" co-taught by Dr. Rory Miller, Professor at GU-Q, and Dr. Fahad Al-Marri, Postdoctoral Fellow at GU-Q, who are also the co-leads of the Small States Research Program.
The topic of His Excellency's presentation was "Qatar's Dispute Resolution Role in Regional Cases." The talk was followed by an engaging and illuminating question and answer session. Students also had the opportunity to discuss a hypothetical scenario in regional dispute resolution as a way to further develop their skills in dealing with real-world situations.
"We were very honored to host His Excellency Al-Khulaifi. He provided our students with invaluable real-world insights on some of the key issues in regional diplomacy in the contemporary era," said Dr. Miller.
Dr. Fahad Al-Marri further commented, saying: "We are grateful that His Excellency took time out of his busy schedule to contribute to our goal of providing Qatari diplomats and other students with both the practical and theoretical knowledge to help them in their professional roles".
The EMDIA master's degree program is open to highly qualified Qatari diplomats nominated by the Ministry of Foreign Affairs, Qatari officials engaged in foreign or national security policy nominated by their ministries, and other practitioners from the Middle East region nominated by their governments.
Through the program, students and working professionals gain a deep understanding of the complex global issues facing governments, organizations, and individuals, as well as the tools and strategies needed to navigate these challenges. Information about the program and how to enroll is available on the website of Georgetown University in Washington, DC.