Academics, Research
Georgetown Student's Research at QF Finds International Recognition in Top Journal Publication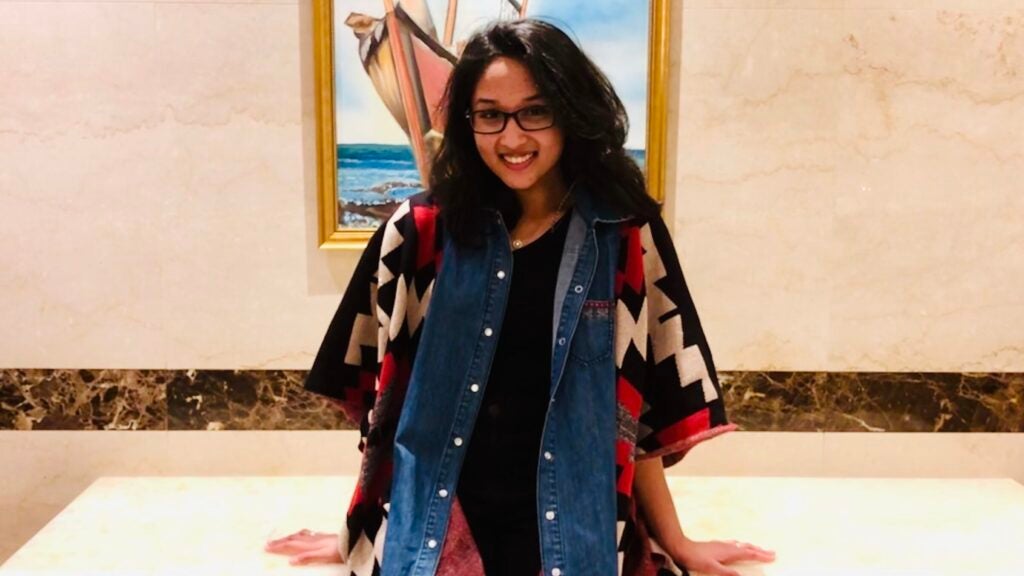 An ethnographic study of Qatar's South Asian community conducted by Georgetown University in Qatar (GU-Q) student Irene Promodh has been published by the peer-reviewed Journal of Ethnic and Migration Studies, marking an impressive scholarly achievement that is usually reserved for graduate students or established scholars.
Top tier academic journals have their choice of research from highly qualified researchers, which is what makes Irene's publishing success so significant, explained Dr. Reza Pirbhai, Associate Professor of History and Faculty Chair at GU-Q. "Only the originality and quality of Irene's research can explain this exceptional achievement."
The article is titled "FM Radio and the Malayali Diaspora in Qatar: At Home Overseas," research she conducted as part of her work on a Certificate of Media and Politics, a program GU-Q offers in collaboration with Northwestern University in Qatar that allows students to pursue specialized coursework on a particular region.
Irene, a senior majoring in International Politics at the QF partner university, spent a year researching and interviewing listeners and producers of the primary Malayalam-language radio station in Qatar that replaced the UAE-based channels disrupted by the blockade.
Radio, she argues in her paper, is the most affordable and accessible form of migrant media in the Gulf, making it a particularly important source of entertainment and news while also creating a sense of belonging for migrants overseas. "The active interweaving of work and leisure in the everyday lives of migrants in the Gulf has been largely overlooked by researchers, especially the role of FM radio which is often deemed to be something of the past. But it is very much alive and in frequent use by a large demographic of the migrant population," she said.
Assistant Professor of Government Dr. Uday Chandra served as Irene's mentor, providing extensive guidance throughout the writing and revision process. "The primary strength of Irene's paper is its basis in original fieldwork and data on diasporic media in the GCC. It is also exceedingly well-written: the life narratives of her interlocutors are expertly woven together with insights drawn from scholarship on history, anthropology, media studies, and migration and diaspora studies."
For Irene, the support and guidance of faculty mentors were essential in completing the project. "The people who have come along the way, especially my mentor Dr. Chandra, made this study possible."
Dr. Pirbhai noted that GU-Q's faculty members are "committed to mentoring students, providing both their time and expertise," contributing to a strong research ecosystem that supports high quality outputs. "We offer a program taught by the best in their fields, that intellectually and technically equips students to produce work of this calibre."
The recognition Irene has received as an emerging scholar will have a significant impact on her future career, but the experience and opportunity to conduct research have also changed the way she understands her university experience. "College is way more than the courses offered. It's what you do to take what you've learned and apply it to research, work that can take up months and months of intensive fieldwork. But I wouldn't have realized that if I hadn't done this project."