Alumni, Other, Research, Students
Georgetown University announces partnership with newly launched Josoor Institute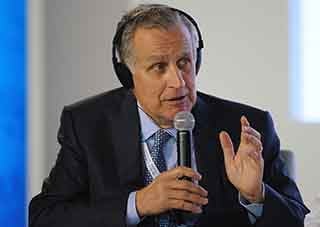 Georgetown University announced their role as the institutional academic partner of the Jasoor Institute, a sports and events industry-focused centre of excellence designed to provide world-class training facilities and education programs, at the press conference held for the launch of the institute.
The partnership announcement took place during the Doha GOALS Forum at Aspire Academy in Doha, Qatar, on Tuesday, 10 December 2013, and was attended by H E Salah bin Ghanem bin Nasser Al Ali, Qatar's Minister of Youth and Sports, H.E. Sheikh Abdulla Bin Ali Al Thani, President of Hamad Bin Khalifa University, and Hassan Al Thawadi, Secretary General of the Qatar 2022 Supreme Committee, a founding partner of the Josoor Institute, who provided details on how the institute will transform the sports and events industries in Qatar and the Middle East.
As the institutional academic partner, Georgetown University will be working with Qatar 2022 to design in the coming year to develop and deliver a variety of courses for a wide spectrum of positions and programs associated with the sports and events management industry, including the upcoming FIFA World Cup.
Paul Tagliabue, Chairman of the Georgetown University Board of Directors, and former Commissioner of the National Football League (NFL), said, "This initiative will have a tremendous impact on three main components of sports: competition, community, and communications. The human development aspect is a very real part of sport, and here we have an opportunity to make a major contribution to the Qatar National Vision by developing the human capital needed for the growth of a sports and events industry which in turn will sustain Qatar and this region's efforts in moving towards a sustainable knowledge based economy, as well as giving people business experiences which will enable them to be working beyond sports."
Commenting on Georgetown's expertise in the industry, Christopher J. Metzler, Senior Associate Dean of the School of Continuing Studies at Georgetown, said "It's an amazing relationship for Georgetown to really work together as the primary academic partner with the Josoor Institute for a number of reasons. If you look at what we do from a sport standpoint, we have some of the most cutting-edge sport content that there is. We also have the opportunity to work with faculties across the globe who are going to bring exciting new programs and expertise that we don't have in-house."
Jimmy Lynn, Visiting Assistant Professor in the Sports Industry Management Program at Georgetown University, Washington D.C., said "In our travels to London, and Brazil, and Asia over the last six years, we're clearly seeing that there's a need for sports and events management and expertise. We're trying to teach the next generation of sports executives, and I think it's great to be able to take the best practices in the U.S. and share it with emerging markets that are going to be hosting large global sports events such as the World Cup and Olympics."
Paul Tagliabue also shared his insights and expertise at an introductory Josoor Institute Short Course on Running Major Events held on the 11th and 12th of December. The design and delivery of successful sporting events is a key component of Georgetown University's Master of Professional Studies in Sports Industry Management program, which was ranked 6th among graduate programs worldwide by SportBusiness International magazine and 4th among those offered in North America.