Multiversity Initiative is Building the Future of Education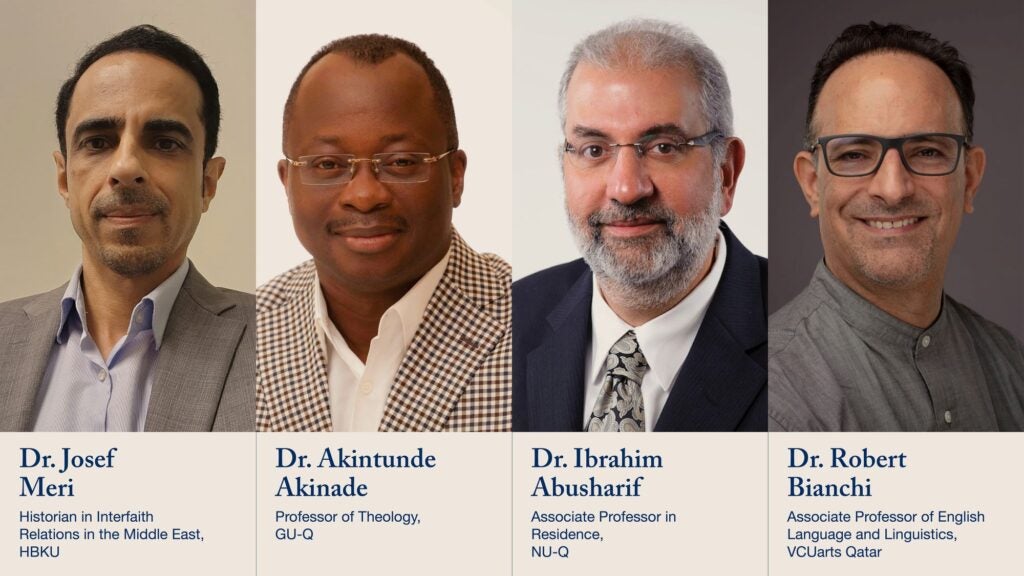 In recognition of the need to prepare students for the challenges of the 21st century, scholars at GU-Q, Hamad bin Khalifa University (HBKU), VCUarts Qatar, and Northwestern Qatar are collaborating to develop a comprehensive curriculum that can be adapted by universities and religious institutions across the region to teach students about religious diversity, tolerance, and coexistence in the Arab and Islamic world using real-world case studies.
Funded by a multiversity grant from the Higher Education Division at Qatar Foundation, the "Education City Religious Pluralism Case Study Initiative" is being led by Dr. Josef Meri from HBKU in collaboration with project team members Dr. Akintunde Akinade from GU-Q, Dr. Ibrahim Abusharif from Northwestern Qatar, and Dr. Robert Bianchi from VCUarts Qatar.
Speaking about the project, which is an adaptation of Harvard University's pluralism case study model, Meri noted that the idea and practice of religious pluralism, or peaceful coexistence, is becoming increasingly relevant both in a university context and in Arab and Islamic societies. "The Arab and Islamic world is home to a rich diversity of religious beliefs and practices within Islam, Christianity, and other religions. Merely acknowledging and tolerating differences is not enough. Through active engagement with historical and contemporary texts and contexts, students have the opportunity to study this diversity in a way that is relevant to their cultural and religious backgrounds."
Akinade highlighted how the study of pluralism promotes policies and practices of peace and justice in diverse societies. "We want students to understand what it takes to foster sustainable peaceful coexistence by delving deeper into the role and impact of religious institutions, political conflicts, and individual experiences from different religious communities," he said. His research for the project is focused on exploring lessons and case studies from Africa.
Abusharif examines the nexus between journalism, religion, and narrative-construction with case models that apply to media and religious studies. "The media play a significant role in shaping public perceptions of religious diversity. Understanding the intersections of religion and media is essential for recognizing how the quality of public discourses affects the possibilities and acceptance of high ideals, such as mutual understanding and ethical coexistence. And one of our objectives is to help students critically examine the mighty nexus between media and religion."
As a scholar of language and identity in the Arab world, Bianchi will focus on the critical role language plays in shaping religious identity and promoting interfaith understanding. "We want to develop a curriculum that effectively uses language to teach complex concepts and ideas related to religious diversity and tolerance to students across the region."
Student researchers are key to the success of the project, and three small grants will be available to participating students. As part of a collaborative teaching arrangement, Meri, who is also an adjunct associate professor at GU-Q, is currently teaching an interdisciplinary course at GU-Q about pluralism in the region, with the best projects to be featured on the QF website. 
Project outcomes will also include a database for the study of religious pluralism in Arab and Islamic countries, published book chapters and journal articles, and research presentations at a workshop for policymakers and government representatives. The project team also has plans to host an Education City-wide conference to share the importance of the project and explore areas for future collaboration.