Georgetown Workshop Gives QF Students the Tools for Academic Success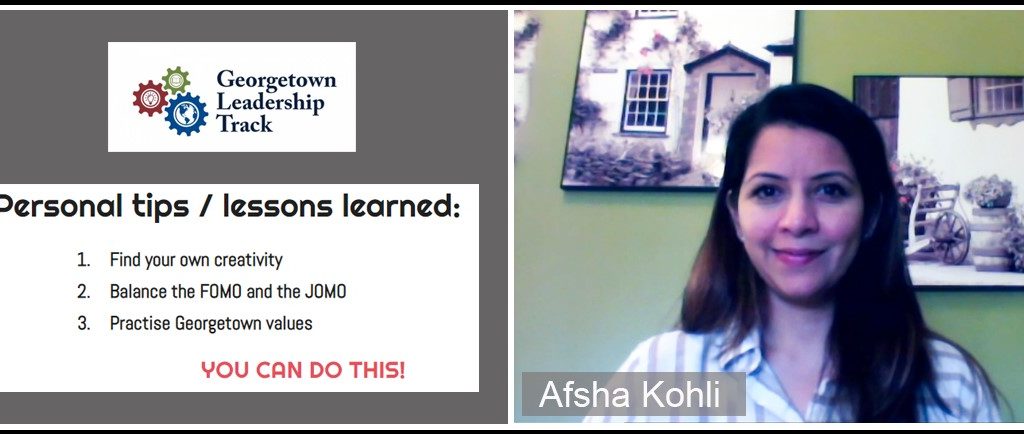 For busy college students, time management is already a challenge, but the coronavirus pandemic is making it even harder. To give students at QF-partner Georgetown University in Qatar the self-management tools they need to succeed, a Georgetown Leadership Track (GLT) workshop was organized called "Finding the Rhythm" on how to get the best out of technology without getting distracted in an online world. 
The workshop was led by Afsha Kohli, associate director for student development and GLT program organizer, and attended by students enrolled in the GLT program, as well as other students, faculty, and staff at GU-Q. She provided practical techniques on how students can take back control of their time and their attention by understanding the psychological triggers that lead to technological distractions. By understanding those triggers and using technological tools like online calendars to schedule all activities in the day, she explained, students will be better equipped to take on the added challenges of the current crisis. 
"Practicing physical distancing means so much of our time is spent virtually online," said Kohli. And it's not only school work and staying in touch with loved ones that keeps us online. "There is so much news and information streaming across our screens, whether that's Facebook, or Instagram or Twitter. And there is a pressure to stay informed and on top of all of that. While it's important to know what's going on, it's also important to know where to draw some boundaries, because otherwise we won't have the time or energy to focus on life priorities." 
Kohli's advice to students is simple and effective. "Our time is still precious and valuable, just be mindful and make wise choices, on what you choose to spend your time on. Get control of your time, else someone else will."
International Politics major and Leadership Track participant Khushboo Shah (SFS'22) said she signed up for the session because of the benefit of previous workshops. "The past workshops have helped me to improve my soft skills such as communication and time management, and have also helped me gain insights into new topics such as financial literacy and social media management." Learning a new skill is important, she emphasized, but noted that the benefits of the workshops goes beyond that. "A feature I love about these workshops is to meet with other Hoyas and Student Life members virtually. For me, this is a recognition and re-emphasis on the sense of community and collective work we continue to do, despite these challenging and unprecedented times."
The workshop was partly based on the book "Indistractable: How to Control Your Attention and Choose Your Life"  by Nir Eyal, an international bestselling author and former Stanford lecturer and behavioral design expert. The Georgetown Leadership Track program is a dynamic four-year program based on foundational Georgetown values that aims to develop leadership and career skills through workshops, activities, and engagement opportunities. Learn more at: https://www.qatar.georgetown.edu/campus-life/experiential-learning/georg…