GreenGulf Shares their Commitment to Renewable Energy with Georgetown Energy Students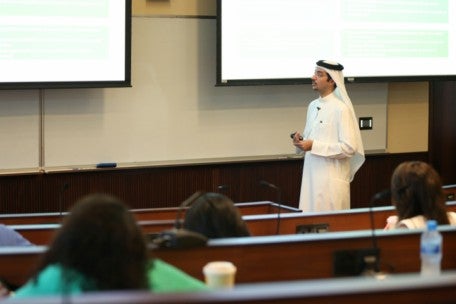 The realities and opportunities of renewable energy was the focus of a guest lecture presented by Mr. Al-Kuwari, the CEO of GreenGulf, at Georgetown University Qatar (GU-Q) during an energy economics class on Tuesday, November 5th. GreenGulf is a clean technology and renewable energy advisory business focused on the development and management of renewable energy in the Middle East, North Africa and Asia. Headquartered in Doha, Qatar, they demonstrate the initiative GCC nations are taking to address climate change and meet the needs of clean power generation through large-scale investment in renewable energy.
Highlighting the investment issues facing the industry in the GCC and globally, such as cost, pricing and sustainability, the lecture compared Qatar's progress in the transition to renewable energy with its neighbors in the GCC, in the light of the ongoing climate change conference, UN COP19, in Warsaw, Poland.
He provided an overview of the energy demand mix in the GCC and their renewable energy targets, the incentive policies needed to sustain and advance investments, and highlighted the many renewable energy initiatives Qatar has already invested in, including solar panels throughout Education City.
"Mr. Al-Kuwari spoke to students of GU-Q's Energy Economics class, the first undergraduate course in Energy and Natural Resources to be introduced in Qatar, where our students develop a comprehensive understanding of energy industries and are equipped with economic tools for analyzing and addressing energy issues," said Professor Obindah, the course instructor. "The opportunity to hear about the issues directly from a professional with extensive renewable energy experience is an invaluable educational opportunity. It also helps to illustrate the kinds of jobs available to our students in a field typically associated with science and technology majors."
Omran Al-Kuwari, who is also the co-founder of GreenGulf, concluded his presentation by reaching out to the students, inviting them to contact him with any further questions they still had, as well as, encouraging them to pursue internships at GreenGulf. "Approximately 60% of our employees are graduates of Education City and the critical thinking skills and global perspectives of Georgetown students are a great asset to the advisory and policy development arm of the energy world. So speaking to the students today was a wonderful opportunity to both share our expertise on renewable energy, as well as to introduce them to our industry as a dynamic career path option."
Following the events at COP19, Professor Obindah's students will be discussing the impact of any outcomes of the conference, in relation to the key issues and challenges presented at the lecture, in a continued effort to understand the complex and dynamic nature of energy production and use in the region, and beyond.