Alumni
GU-Q Alumni Return to Campus to Share Career Highlights and Advice for Georgetown Leadership Track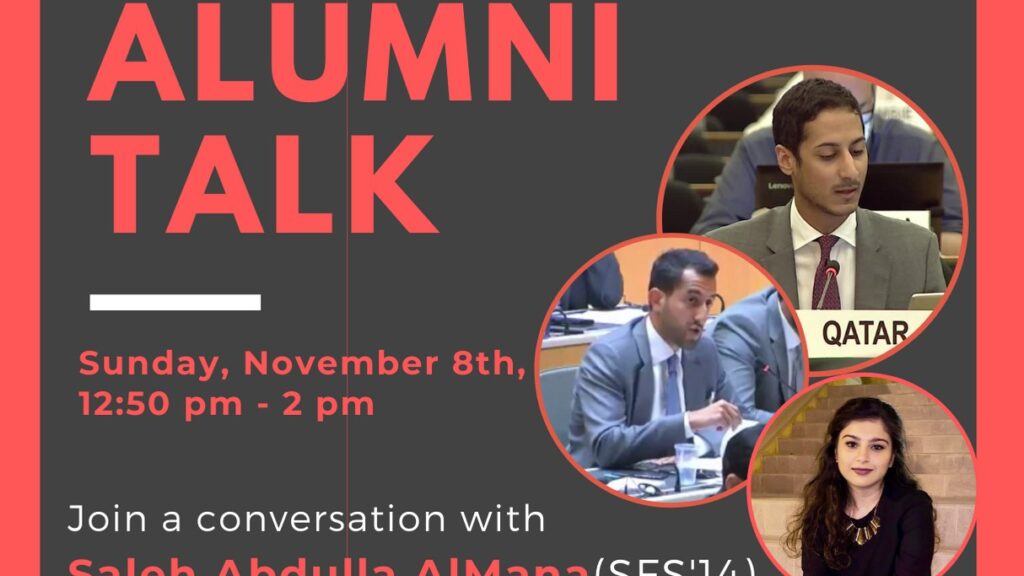 Georgetown University in Qatar alumni Saleh Abdulla AlMana (SFS'14), Director of the Office of the State of Qatar to the WTO in Geneva, and Talal Al-Naama (SFS'15), Second Secretary of the Permanent Mission of Qatar to the U.N.'s Office in Geneva, took time from their busy schedules to give back to their alma mater and engage with current students at a recent talk hosted by the Georgetown Leadership Track (GLT) program.
At the virtual Alumni Talk, which is part of the Leadership Reflection Circle portion of the program, the prominent Hoya graduates shared their career experiences and life after GU-Q with sophomores, juniors, and seniors enrolled in GLT.
Saleh shared his career pathway and experience leading the team that successfully pursued an international trade dispute in Qatar's beIN Media Group's intellectual property rights claim. The landmark case resulted in a recent WTO ruling that has been hailed globally as a victory for the State of Qatar.
Talal also shared his life after Georgetown, which includes his role representing Qatar at the Human Rights Council meetings since 2017. He also talked about his work experience with several U.N. organizations based in Geneva including the World Health Organization, the International Parliamentary Union, and the U.N. Agency for Refugees.
For event moderator, Culture and Politics major and GLT participant Fariha Iqbal (SFS'23), the opportunity to hear directly from GU-Q graduates about their lived experiences and the ways they overcame challenges along the way provided assurance in a time of uncertainty for many college students.
"Right now, it's easy to lose sight of what's to come in the future. We are going through this current experience, but they have already gone through it and come out of it successfully. There are lessons for us to be learned there."
One of the key takeaways from the conversation for her, she said, is that learning never stops. "Once you're out of university, it's clear that it's a much more hands-on experience. Another piece of advice that stuck with me was to always try as many things in university as possible, whether you're good at it or not, to utilise all the opportunities that come my way in the best way possible."
Fariha, who was nominated to serve as moderator by GLT program organizer and Associate Director for Student Development Afsha Kohli, said she worked through her public speaking nerves by focusing on the benefits of the experience. "This was something that was out of my comfort zone. But I thought that this would be a great opportunity to do something different, get involved in the Georgetown community, and also do something that I wasn't entirely sure I could do. But I'm glad I did because I really enjoyed moderating."
The Georgetown Leadership Track is a four-year program that is designed to channel a student's inner leader, and is based on the Georgetown values of Ad Majorem Dei Gloriam, Contemplation in Action, Academic Excellence, Education the Whole Person, Cura Personalis, Faith and Justice, People for Others, Interreligious Understanding, and Community in Diversity.
Learn more about the Georgetown Leadership Track program and the kinds of enrichment programs and activities offered please click here. Students interested in joining can send an email to guqleadershiptrack@georgetown.edu.