H.E. Lolwah Al-Khater, Assistant Foreign Minister, MOFA Spokesperson, and GU-Q Advisory Boardmember, Surprises Georgetown MOFA Interns at International Affairs Internship Class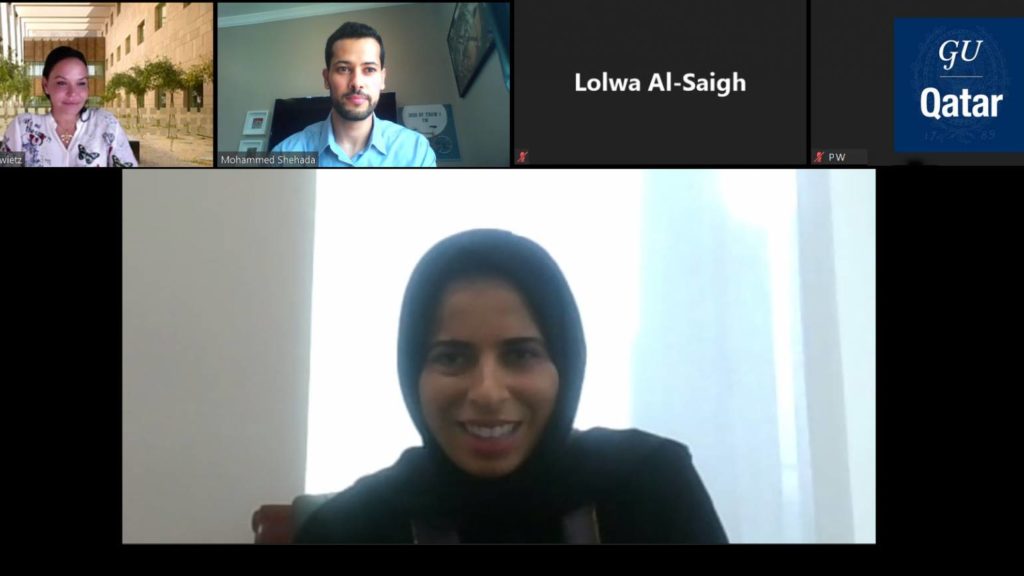 H.E. Lolwah Rashid Al-Khater, Assistant Foreign Minister and MOFA Spokesperson paid Georgetown University in Qatar (GU-Q) student interns at the Ministry of Foreign Affairs (MOFA) a surprise virtual class visit. Her Excellency, who is also a member of the Joint Advisory Board of GU-Q, was an invited guest at the online class presentations of four students who had taken on responsibilities at MOFA's Department of International Organizations and at Her Excellency's office as part of the rigorous Georgetown experiential learning program, where second and third year students are placed at internships with the university's academic internship partners for real world experience and learning.
Students enrolled in the internship program concluded this semester's class with a presentation reflecting on their work experience.  Supervisors from MOFA also joined the session and attended their student intern presentations. This is the first time GU-Q, a QF partner, invited Academic Internship partners to attend these presentations. Fourteen students took part in the Spring 2020 Academic Internship class this year.
H.E. Lolwah Rashid Al-Khater, who joined the online presentation remotely, gave remarks on the students' determination and dedication, and encouraged them to continue on their education and service mission. "Education is the key to Qatar's future development, and the answer to many of the challenges facing the world today. This group of students showed remarkable enthusiasm and personal initiative, and I wish them the best in their future, which will no doubt be bright." 
Ibrahim Al-Hashmi, who oversees the student internship program at MOFA, said "These interns have demonstrated many admirable qualities such as maturity, professionalism, commitment and a high level of responsibility, flexibility, and critical thinking, often working late nights and early mornings. An internship is a chance for students to train. However, through their dedication and service, the students were not only able to train but to serve Qatar in times of crisis." 
Graduating senior Lolwa Al-Saigh, who is majoring in Culture and Politics, said: "The internship was an incredible opportunity to interact and learn from a woman who has so much experience within the field of politics and represents the country internationally." Remarking on the impact of the mentorship of a leading figure in Qatar, Al-Saigh said: "Her Excellency was highly invested in ensuring that our time in the internship was well spent by making sure that we were completing a variety of tasks and making us constantly feel like we were part of the team. The internship solidified my in-class learning and highlighted how our everyday learning is applicable to an institution such as MOFA.
The internship course at GU-Q is co-taught by Dr. Christine Schiwietz, Assistant Dean for Curricular and Academic Advising, and Mohammed Shehada, Associate Director for Student Professional Development. Remarking on a Georgetown education which goes beyond academics to prepare students for a professional career, Shehada said "Through the internship program, our students learn to apply what they are studying in school through interacting with seasoned professionals at work, emulating their work habits and refining their own skills through on the job training. Her Excellency's continued encouragement is a big boost for our students, and a reflection of Qatar's enduring support for education and human development."