Other
Head of Building a Legacy CIRS Research Initiative Shares Insights on U.S. Embassy Webinar on Sports Diplomacy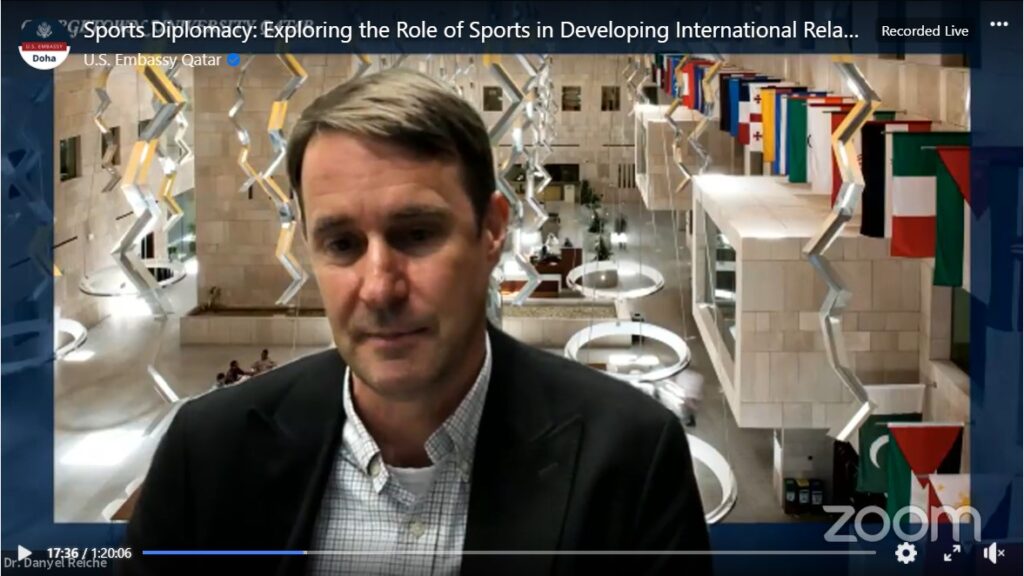 Visiting Associate Professor Dr. Danyel Reiche, who heads the "Building a Legacy: Qatar FIFA World Cup 2022" CIRS research initiative, was a featured guest at a webinar hosted by the U.S. Embassy in Doha on "Sports Diplomacy: Exploring the Role of Sports in Developing International Relations." He was joined by co-panelists Craig LaMay from Northwestern University in Qatar, Kathleen Bates from Qatar Foundation, and Amal Mohammed Saleh, the Captain of the Qatar National women's basketball team, as well as the first FIBA Woman referee in Qatar's 3×3 basketball and the first woman to referee in a local men's basketball league.
Around 1.7 million people are expected to visit Qatar for the 2022 World Cup. This will have far-reaching consequences for the future of sports in Qatar and in the Middle East. Discussing these issues, panelists touched on a range of topics, including their personal interest in the field of sports and where it began, the unique attributes of sports in bridging linguistic and cultural divides, and the ways that sports can bring communities together, strengthen families, and define national narratives.
In his offered insights, Dr. Reiche highlighted the role of sports in international affairs, citing examples of both unity and division. One case study he noted is the Honduras v El Salvador football match that kicked off a war in 1969. In contrast, he added, table tennis became a tool in international relations through "ping pong diplomacy", the exchange of table tennis (ping-pong) players between the U.S. and China in the early 1970s that resulted in a thaw of Cold War tensions.
Dr. Reiche stressed the need to study mega events through history to understand the significance of Qatar's sports investments, work he is leading through the CIRS Building a Legacy research initiative exploring the implications of staging one of the world's largest sporting events on the social, political, and economic development of Qatar as well as on regional and global affairs.
Inclusion of women and marginalized groups, including people with disabilities, was also a major focus of discussions. Dr. Reiche offered his own examples to highlight the importance of inclusive sports. This included the experiences shared on the Building a Legacy podcast by four Qatari women, current and former GU-Q students, who played for GU-Q's women's football team, and the Refugee Olympic Team which competed at the 2016 Summer Olympics in Rio de Janeiro, Brazil. The Refugee Team has been inspirational for bringing global attention to the refugee crisis.
"Sport is linked to nationality, so to qualify for the Olympics, athletes need to compete and win in their national championships. But what if you are a refugee? This refugee team closed an important gap in global sports for people who have been forced to leave their homes due to conflict or for other critical reasons," he said.
The event was moderated by GU-Q senior Khansa Maria (SFS'21). After a successful internship in the U.S. Embassy in the Spring semester of her junior year, Khansa returned to the Embassy this academic year and works to organize monthly webinars on topics of shared interest between the U.S. and Qatar, with a particular focus on youth and disability rights.
Khansa, who is a recipient of a Rhodes Scholarship and plans to pursue a master's degree in evidence-based social intervention and policy evaluation at the University of Oxford in the Fall, said: "When it comes to the field of sports and its impact on individual health, as well as community and national development, it's clear that there's a lot to learn, and there are a lot of stories that need to be told."
Visit the GU-Q website for more information about the Building a Legacy CIRS research initiative, which includes a lecture series, blog, and podcast. This CIRS project builds on the center's previous research initiatives related to sports and society in the region. "Sport, Society and the State in the Middle East" and "Football in the Middle East" both resulted in edited volumes containing original research: Sport, Politics, and Society in the Middle (Oxford University Press/Hurst, 2019) and Football in the Middle East (Forthcoming).