Other
Hoyas Explore Qatar's Mangroves through the Georgetown Leadership Track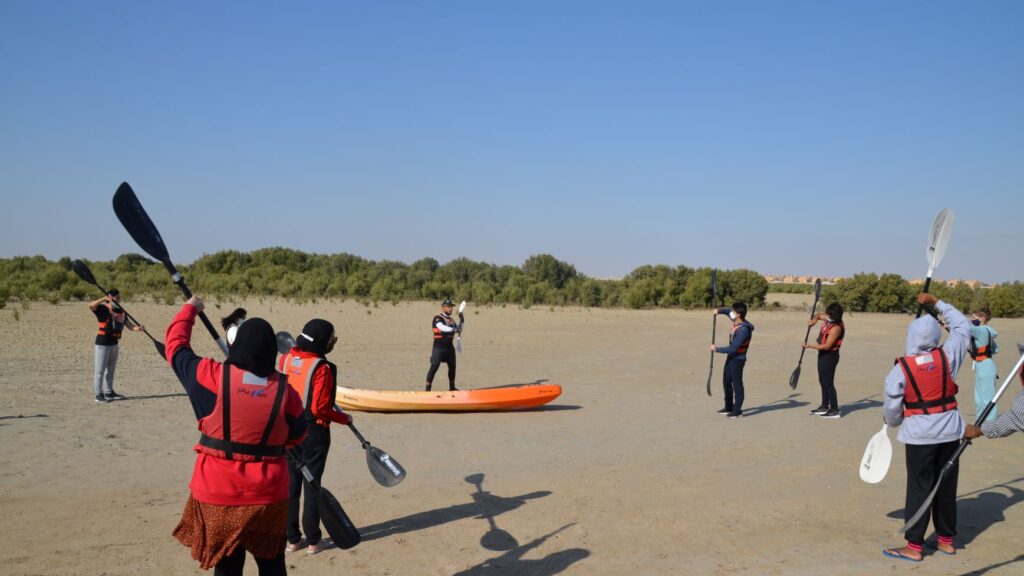 Through the Georgetown Leadership Track (GLT) program, 20 first-year Hoyas led by five staff members had the chance to enjoy the Al Thakira mangrove reserve at Purple Island, one of Qatar's most beautiful natural sites, through a professionally guided kayak expedition along the forest's salt-water channels on January 23, 2021.
The reserves that dot Qatar's northern coast are teeming with a wide variety of wildlife including migratory birds like flamingos and herons. Strictly following all physical distancing and safety protocols, the GLT participants took a break from screen time in order to gather as a community, and to marvel at the endurance of a natural habitat that defies the high salinity of the Persian Gulf waters.
After receiving their sanitized kayaks and life jackets, students were briefed by tour company guides before beginning their trek. Following their adventures, students safely gathered in reflection circles on the beach to share their experiences.
Anwaar Malik (SFS'24) said: "It was an amazing experience. I loved it and everyone I talked to loved it. It was refreshing and I'm ready to head into next week with so much positivity. Hopefully, we can have more activities like this soon. Also it was super safe and everyone was careful about COVID safety measures."
The kayak activity wasn't the first in-person school experience for first year student Renee Mutare (SFS'24), but it was her first trip to Purple Island, named after a prominent site for dye production using the thais savignyi sea snail. "I was really surprised to see so much vegetation as I always assumed that Qatar is more of a desert. Also, we traveled to the other side of the country in little over an hour, which is unusual for me as I come from a large country," said Renee, who joined the Georgetown campus at Qatar Foundation from Kenya as an international student.
"I arrived at GU-Q at the beginning of winter break and so I never got the opportunity to meet many of my classmates. Events and activities like these allow me to meet a number of the people in my class in a relaxed setting while also experiencing the best parts of Qatar. It is also beneficial on my part as it gives me a breather from my academic work and busy lifestyle."
The outdoor expedition was a resounding success, explained Afsha Kohli, Associate Director for Student Development and program organizer, and there are plans to organize another cohort of first year student kayakers, soon. "It was amazing to be able to offer our students a chance to really get to know each other, and to bond in a safe environment. The reflection activity also allowed them to express gratitude, enhance awareness, and encourage motivation at a time when pandemic fatigue can start to become a challenge for students."
The kayak adventure was a reflection activity for first year students as part of the Georgetown Leadership Track, a dynamic four-year program based on foundational Georgetown values that aims to develop leadership and career skills through workshops, activities, and engagement opportunities.