Other, Students
IMF Chief Kristalina Georgieva Engages Georgetown Students at QF in Dialogue About Key Global Issues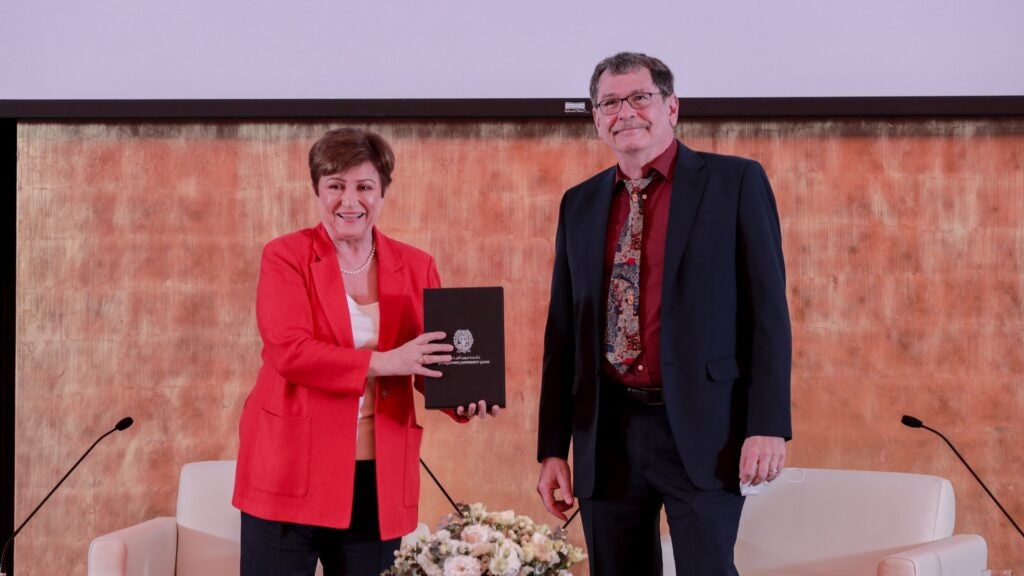 Advancing youth financial inclusion and boosting employment in the Arab world as a driving force for sustainable economic growth should be a top priority for the region, said International Monetary Fund (IMF) Chief Kristalina Georgieva, during a town hall discussion at QF partner Georgetown University in Qatar (GU-Q).
The Managing Director of the International Monetary Fund (IMF) spoke to students from GU-Q and across Education City about their crucial role in the global economy, the opportunities offered by new technologies, and the dangers of rising inequality. "What we see is a world that is quite unequal and unfortunately during the pandemic the inequality has grown; inequality within countries, inequality across countries," said Georgieva.
The town hall began with a warm welcome and introduction from the dean, Dr. Clyde Wilcox. "As an institution deeply engaged with teaching and learning about foreign affairs, we were honored to host the head of the institution that has been charged with overseeing the international financial system," said Dean Wilcox. "This was a rare and valuable opportunity for our students to engage with one of the most powerful women in the world, and to ask their questions about the evolving work of the IMF and their own roles in the global economy."
Answering student questions about the challenges and opportunities facing youth in the region and globally, Georgieva said: "As a financial institution, we are concerned about access to finance for young people." While digital technologies have expanded access to financial products and services, she said, challenges remain.
"The pandemic is helping to open up more channels for everybody including young people to become part of the financial system. But it is still much more difficult for young people to be recognized as credible entrepreneurs, and more broadly, for small and medium sized enterprises (SMEs) to be rewarded the capacity to apply their entrepreneurial skills."
Representing 96 percent of all registered enterprises, SMEs are crucial for a nation's economy, and should be supported to drive growth, she said. "They employ 60 percent of those that get jobs; but they only get 7 percent of financing. So obviously, this is something that we as IMF, we work with our members in the region to try to change."
As part of the IMF's mandate to ensure macroeconomic financial stability, growth and employment, Georgieva identified the need to boost employment in order to capitalize on the demographic dividend of the region's young population. "A very youthful region – from the perspective of deploying the smarts of young people – first and foremost needs jobs for all of them."
Job insecurity among young people in the region is around 30 percent, she said, a stark contrast to the high employment rates for graduates of QF. "You're very fortunate because you have this incredible Education City to build yourselves, your networks, and your aspirations. This is not the fate of many of the young people in this region. When you don't have a job or the prospect for a job, that clouds your life and your aspirations."