Research, Students
Improving Inclusion for Disabled Adults Aim of New Georgetown Student Research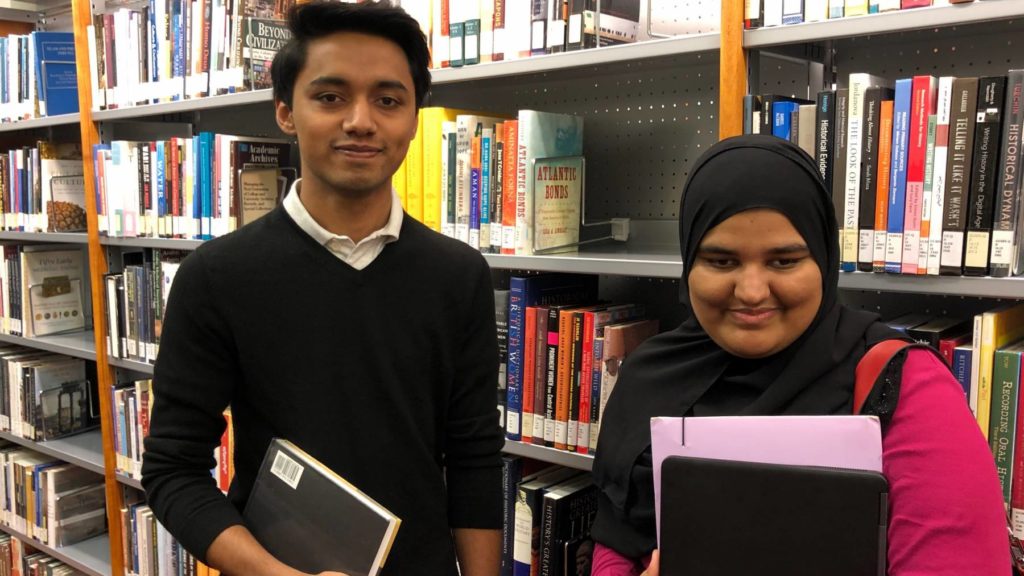 In Qatar's competitive job market, securing the perfect job can be a challenge for anyone. And for applicants with disabilities, those challenges are even greater. Recently, two Georgetown University in Qatar (GU-Q) students won a research grant from the Qatar National Research Fund's Undergraduate Research Experience Program (UREP) for a project titled "Humanizing Resources: Analyzing Employment Opportunities for the Disabled in Qatar." Their project aims to study these employment challenges in order to offer evidence-based solutions and strategies for policy makers and future researchers.
Khansa Maria, a third-year student majoring in International Politics, and Abdul Rehmaan Qayyum, a third-year student majoring in International Economics, will be using their UREP grant to collect data on the current level of inclusion of disabled individuals in society, investigate the implementation of current inclusion strategies, and finally, set the stage for further research on the issue of inclusive hiring practices in Qatar.
"Qatar's leadership has taken many steps to protect the rights of people with disabilities, including laws that protect against discrimination in the hiring process," explained Khansa, referring to Law No.2 of 2004, the main law governing the rights of persons with disabilities and commonly referred to as the Special Needs Act. "But what people may not know is that there is a lag between policy and practice."
For Khansa, who is blind and works as an advocate for disability issues, the research focus resonates for her on a personal level. "There is a long road ahead when it comes to inclusion, so I am really pleased to see the commitment of the Qatar National Research Fund in support of the nation's human rights priorities and in line with the social and economic pillars of the Qatar National Vision."
Highlighting the need for research into disability rights, as well as the challenges the students will face as researchers, Abdul Rehmaan said: "What we've already found out is that there is no research on the policy and implementation gaps on disability inclusion."  That means the team will need to do a lot of the data collection work themselves. But they won't be working alone. GU-Q faculty members Dr. Sonia Alonso and Zahra Babar will serve as mentors to ensure that students are on the right track, and receiving all of the support they need.
"The first step for a state that cares about offering public goods to its society is to gather knowledge and data about a particular situation and then to decide the best ways to address that situation," said Dr. Alonso,  an Associate Professor of Government at GU-Q and the main faculty support for the project. "This data will help state officials to assess the situation and to decide on the best ways to improve it."
The second goal of the project, she explained, is to make a contribution to the development of a research infrastructure in Qatar by encouraging young scholars to engage in solving real-world problems. "During their UREP year, these students will become young social researchers, and will acquire the skills necessary to produce high quality research. I also hope that they will get an academic publication out of this project and that they will be able to present their results to the wider academic community. The whole team is very excited about this project," she said, and "very committed to bringing it to success."