Professional Education
Inaugural Class of Georgetown Degree Program for Diplomats Graduates in DC Ceremony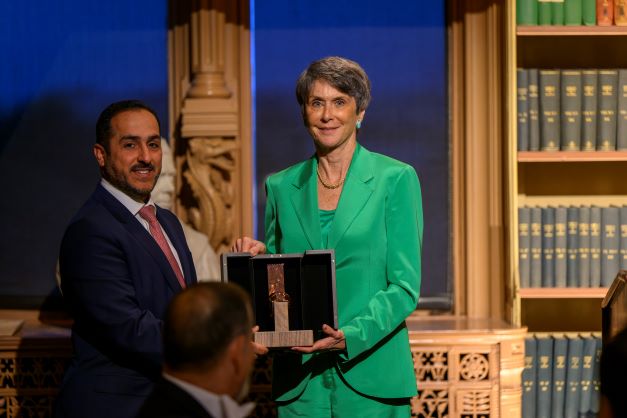 After a year of intensive classes held at QF partner Georgetown University in Qatar (GU-Q) and a capstone visit to Washington, DC, 12 Qatari diplomats and government officials in the inaugural class of the Executive Master's of Diplomacy and International Affairs (EMDIA) program took part in a graduation ceremony that highlighted the increasing relevance of diplomacy as a tool of international relations for Qatar.
Held at Georgetown University's historic Riggs Library, the ceremony began with a warm welcome from Jim Seevers, the Director of the Institute for the Study of Diplomacy (ISD) at Georgetown's School of Foreign Service, where he noted the historical significance of celebrating the first EMDIA graduates in the university's history. "This ceremony marks a personal milestone for each of our graduates. We are honored to work with this talented new generation of Qatari diplomats and to play a role in fostering the knowledge and skills that are needed to promote global understanding and respect between nations,"said Seevers.
The week in Washington, DC, was also the final residency in the program focused on global issues, institutions, and policy-making. Students met with leading Georgetown scholars and faculty and with senior officials from the State Department, United Nations, and U.S. Institute of Peace to learn more about their work in Washington and around the world.
For EMDIA graduate Maryam Saad Alrumaihi, the head of the Social Media unit at the Information Office at MOFA where she helps lead the Ministry's communications network and manage its website, the final capstone was a perfect conclusion for the program. "Physically being present in learning policy making, enhanced my knowledge and experience as a diplomat and encouraged sharing ideas and expertise amongst the colleagues and fellow students. "
The program's residencies in Doha are managed through the Office of Executive and Professional Education (EPE) at GU-Q. Associate Dean for Executive Education at GU-Q, Rodolph Boughaba introduced the event's student speaker, Jawahar Abdulla Almal, a Second Secretary at MOFA and a Technical Cooperation Section Head and Political Officer for the International Cooperation Strategy for Qatar National Vision 2030. "Most special to us, is that Jawaher joins us today as a graduate, but also an alum, holding a Bachelor's of Science in Foreign Services from our very own Georgetown University in Qatar," he said.
Addressing her graduating class, Jawaher said: "This program came at a unique time in regional and international events, with the integral importance of diplomacy at its center. It allowed us to interact with key policymakers from our country in Chatham House classroom settings, and to benefit from shared experiences."
Dr. Elizabeth Grimm, Associate Professor and Director of Teaching in the Security Studies Program, was also a featured speaker. She told graduates that they were chosen as the first cohort because of their "dedication to the work that animated the Georgetown School of Foreign Service more than 100 years ago and continues to animate it today—to use theory and practice to address the world's greatest needs."
The first graduating class of Qatari officials engaged in foreign or national security policy were nominated to enroll in the program by their government ministries, and included country specialists, heads of social media, public relations, and information security, members of the International Cooperation Strategy for Qatar National Vision 2030, and researchers with the Amiri Diwan.
The EMDIA degree program was custom designed through a collaboration between Georgetown's School of Foreign Service Institute for the Study of Diplomacy (ISD) and the Diplomatic Institute at the Ministry of Foreign Affairs, and seeks to provide practitioners of diplomacy in Qatar and the Middle East region with the knowledge, skills, and tools necessary to tackle current and emerging regional and global challenges.