Joint Georgetown and Community College Cyber Security Initiative Launch Event features UK Defense Intelligence Expert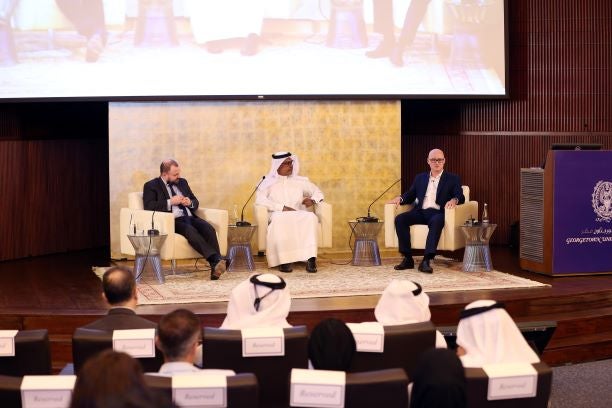 As stories of cyber security attacks grab global headlines, understanding the risks and preventing future disruption is becoming a priority for individuals, organizations, and governments alike. To address these challenges, Georgetown University in Qatar and the Community College of Qatar have partnered to co-found the Cyber Security Research Group (CSRG), which will officially launch at a public lecture sponsored by Commercial Bank of Qatar and featuring a panel of experts discussing "Cyber Security in a Small State: Protecting the Homeland" on Tuesday, October 1, 2019 at 6pm at GU-Q.
Explaining why the launch, and all future events of the CSRG, are open to the public, Dr. Rory Miller, Professor of Government at GU-Q and CSRG co-organizer, said: "Cyber security isn't an issue anyone can afford to ignore. Malicious system and network attacks and data theft are increasingly important when it comes to economic, political, and security challenges at both the national and international level. Individuals, businesses, and state institutions all have a critical and vested interest in understanding how and why these threats are devised, and most importantly, how to minimize the consequences."
The launch event will focus on the key cyber security issues faced by smaller nation states and  will feature keynote speaker Wil Wilson, a cyber security industry expert based in Edinburgh, UK, with over three decades of experience as a military officer and security consultant. He will be sharing his personal insights and perspectives gained while working at the highest levels in UK Defence Intelligence and through his current role at the Ahmed Bin Mohammed Military College Officer Training Institute in Doha, where he leads on global strategic trends, information warfare and operational planning. 
The expert panel will also include the CSRG's co-chairs, Dr. Rory Miller and Dr. Mohammed Al-Dorani, Chair of the Information Technology Department at CCQ. "Cyber security is one of the defining issues of our time, which is why this partnership between GU-Q and CCQ is such an important initiative," said Dr. Al-Dorani, who is also a professor of cyber security at CCQ. "By bringing together our two institutions' extensive expertise in the complex geopolitical and technical issues surrounding this field, we hope to have a substantive impact on the understanding of cyber-risks and cyber-strategies for Qatar, the GCC, and beyond."
The group plans to host an international thought leader in the relevant field twice a year and also host regular Doha-based experts at smaller events. Future speaking topics will expand to cover cyber security concerns across different sectors, including business, banking, and the military. Outcomes of the research group include the commission, publication and distribution of key research findings to maximize the benefits to key stakeholders. Doors open at 5.30pm for the public launch event on October 1 at GU-Q in Education City.