Faculty, Research
Literature Professor Nadia Salem Discusses Upcoming Book on Mythic Structure for Qatar Reads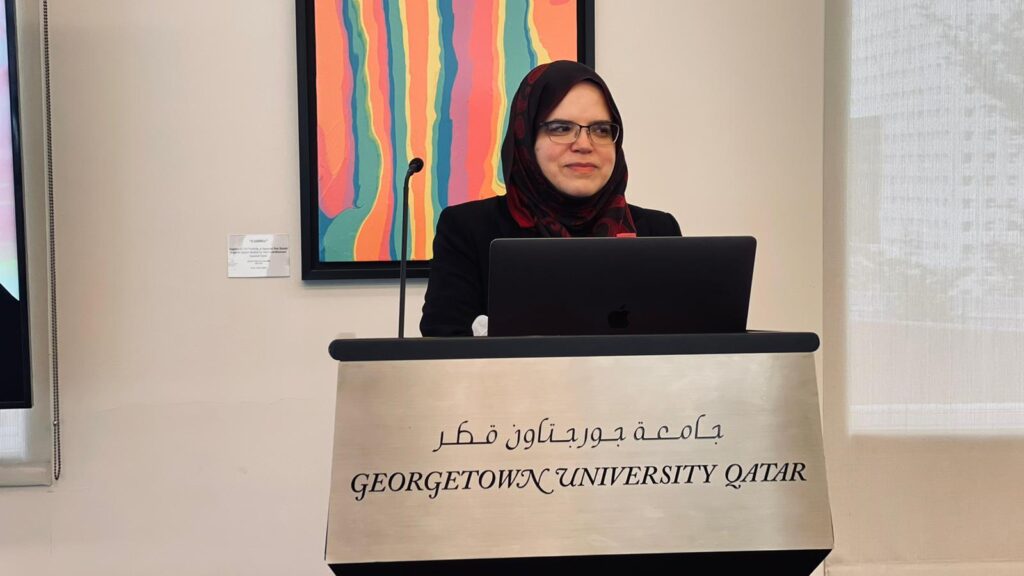 When the movie Star Wars was released in 1977, it redefined cinematic history and introduced generations of audiences to a classic storytelling structure called the monomyth, where a hero goes on an epic adventure, achieves victory in a decisive battle, and returns home, transformed.
Forty years and countless movies later, the hero's journey has become too formulaic for maturing audiences, said Dr. Nadia Salem, an Adjunct Assistant Professor at QF partner Georgetown University in Qatar (GU-Q). Her comments were delivered at a Qatar Reads "Read to Lead" session, a QF initiative that invites experts in their field to discuss their publications in the field of leadership, business, or self-development.
"George Lucas successfully popularized professor Joseph Campbell's conception of a single journey universally traveled by all in an epic pursuit of heroism. But in recent times, this idea has become tired and hackneyed," she said.
International Politics major and Qatar Reads intern, Elham Fahoum, organized the event as part of the internship, where her duties include identifying speakers for the program. "I immediately thought of professor Salem as I had taken her class and loved it. And I knew she had an upcoming book on a subject that would be enlightening for students and anyone interested in writing and storytelling," said Elham.
In The Monomyth Reboot, Dr. Salem will take a fresh look at this storytelling structure with an emphasis on inclusion of both hero and heroine's journeys. Audience fatigue for the classic hero story stems from the limitations of a masculine idealism that lacks inclusion of feminine perspectives, she explained.
By including the missing feminine aspect in everyone's nature, the story arc takes the main character through several more stages of personal development. "My hope is that students can see another paradigm in the heroine's journey and open a different, more inclusive pathway for stories."
The event was co-hosted by The Gazette student club. Culture and Politics major and Editor-in-Chief of publication Fariha Iqbal, said: "It is useful to know that there is something common linking a lot of films together and that it isn't random, but rooted in psychology and a reflection of our psyche."
While not universal, Dr. Salem noted that the monomyth can be found globally, in a diversity of literature, poetry, myth, and spiritual traditions. "This is important because there's a tendency to believe that only the West can weave tales of heroes and heroines for profound impact on its audience," she said, adding: "Storytellers should feel confident drawing from their own heritage, wherever they originate."