Students
Longest-Running Georgetown MUN Conference Marks 15 Years of Diplomacy Training in Qatar Foundation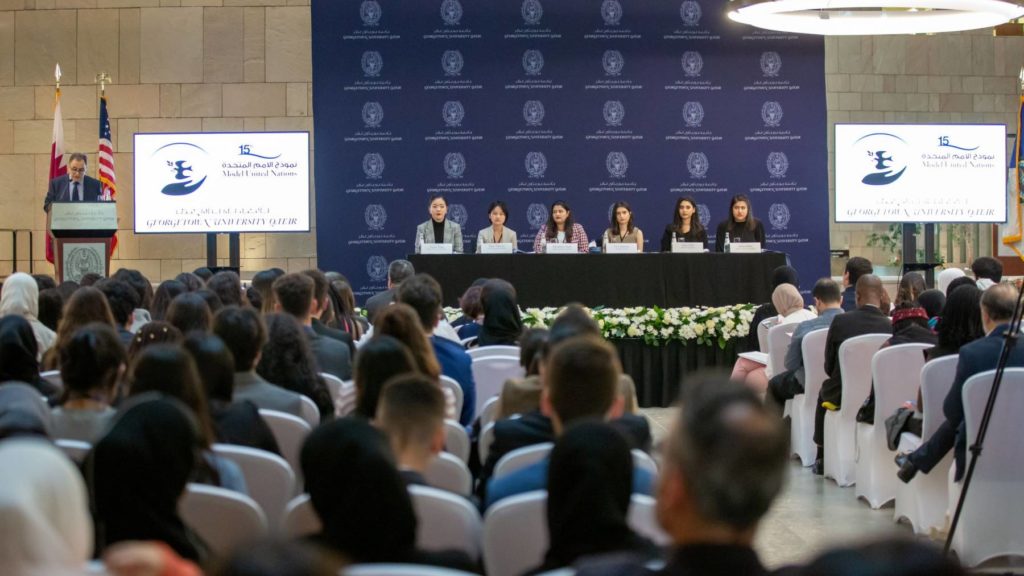 The longest-running international Model United Nations (MUN) in Qatar, the Georgetown MUN, just celebrated 15 successful years at their recently concluded conference, held on February 20-23 at the university's Education City campus. The annual program, which invites high school students to take on diplomatic roles in a simulation of the real life United Nations, was held under the theme "The North-South Divide: Authority, Inequality, and Interventionism," and included participation by more than 330 students from local and international schools.
Over the course of the 3-day conference, high school delegates from 32 schools in Qatar and 10 schools from around the world tackled real issues facing the global community today, including de-escalation of US-Iran tensions, the Sudanese uprising, immigration policies, climate change refugees, cyber-warfare, and the relocation of the U.S. Embassy to Jerusalem. The program also included a Culture Night to celebrate the visiting students' cultures and traditions, followed by the closing ceremony on the final day.
Stavros Yiannouka, the CEO of the World Innovation Summit for Education (WISE), a global think tank of the Qatar Foundation, delivered the keynote address at the conference. "It is always inspiring to engage with young people who are so committed to making the world a better place," he said, adding: "The Georgetown MUN is a powerful introduction to the concepts of international cooperation and compromise, and teaches the critical lesson that it is only by working together to confront the challenges facing us that we can find solutions for tomorrow."
The MUN is planned, organized, and run by GU-Q students. Fiza Shahzad, a junior majoring in International History who serves as the MUN Secretary General, reflected on the impact of a program that challenges future leaders to devise creative solutions to global problems, saying: "We hope that this year's conference provided our high school participants with a memorable experience. Not only does this annual event provide an opportunity to gain knowledge, skills, and debating abilities that have personal and professional impact, it's also a chance to make friendships that last a lifetime." This year, 46 GU-Q students volunteered their time to make the conference a success.
Jibin Koshy, the Educational Enrichment Manager at GU-Q, added that "MUN is a wonderful platform for students to get out of their comfort zone. Students learn diplomacy, negotiation, critical thinking, and public speaking skills – all of which are foundational skills for high school students in their developmental years. Initiatives like these aid in the holistic development of a student for university level success and beyond."
The annual international MUN event is a highlight of the year and an important student achievement to add to their college application profile.