Students
Malala Urges Georgetown Students to Take On Fight for Education Rights for All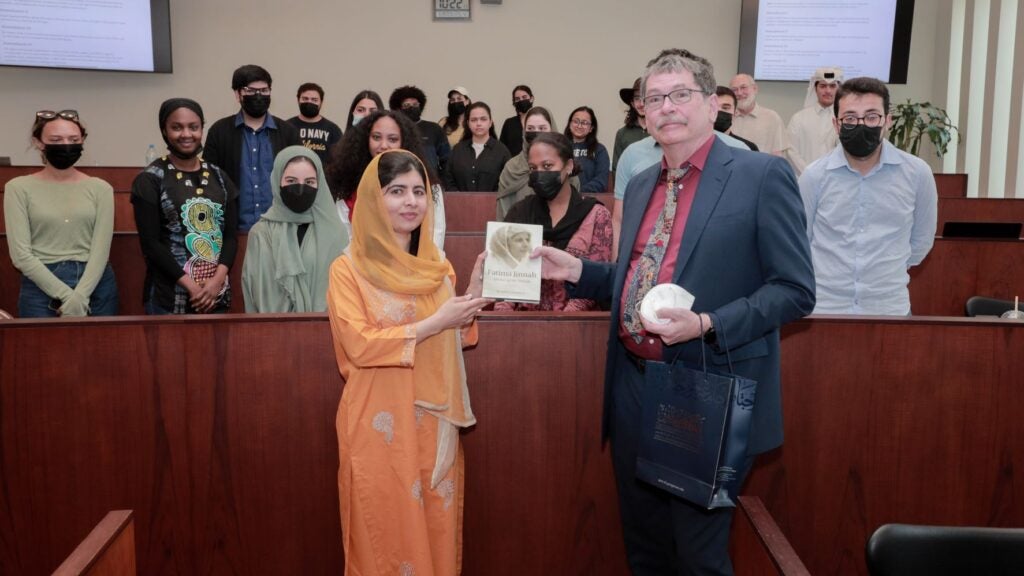 We should not let the Taliban or any extremist group misuse religion to keep girls and women out of school, said Nobel peace laureate Malala Yousafzai to students at GU-Q. As part of her engagement in Qatar, the activist and bestselling author paid a visit to GU-Q and led a classroom discussion on the message she shared at the Doha Forum, urging the global community to prioritize the fight for girls' education.
She was accompanied on her classroom visit by Francisco Marmolejo, the president of Higher Education at QF, and the dean of GU-Q, Dr. Clyde Wilcox, who warmly welcomed the activist before her talk. "We were honored to host Malala, the youngest ever Nobel Peace Prize winner and a remarkable young woman who has set an inspiring example of courage and commitment to social justice. Her classroom message resonated with our students, who are themselves committed advocates for change, and exemplify the values of service to others in pursuit of a better world," said Dean Wilcox.
In her conversation with students, Malala highlighted that according to UNESCO, there are an estimated 130 million girls between the age of 6 and 17 out of school, and an additional 15 million primary-school age girls who will never enter a classroom, and that half of these girls are in sub-Saharan Africa. She stressed the need to recognize the scale of the problem as a global human rights issue with multiple causes including social norms, climate change, the lack of funding for infrastructure, and conflict.
Speaking to students in Visiting Professor Dr. Leonard Williams' introductory course on U.S. government and politics, Malala also expressed her pride in the shared message of the Doha Forum panel she had participated in, where the diverse panel of Islamic scholars and analysts were in agreement that banning girls from attending school in Afghanistan has no basis in religious belief or practice.
"Students loved having the chance to hear from her. Malala spoke about her life and work, and her passion for promoting educational opportunity," said Dr. Williams. "Her experiences certainly helped set the stage for further class discussions on the significance of the course topics on civil liberties and civil rights, and of individual freedom and fair treatment in the U.S."
For International Economics senior Kamilah Idris, the opportunity to ask Malala her views on at-home training programs that provide benefits but reinforce social restrictions provided valuable insight into an issue she advocates through her school activities. "As a Nigerian as well as the President of the GU-Q African Students Association, I am deeply concerned with topics related to human rights and social justice. This is why I believe it's important to have these conversations and discuss these topics because together we can provide solutions that can be adapted into our own contexts."
Dr. Clyde Wilcox, thanked Malala for her visit, and presented her with a scholarly biography of Fatima Jinnah, an activist and stateswoman known in Pakistan as the "mother of the nation," written by GU-Q Associate Professor Dr. M. Reza Pirbhai.