A Million Trees Start with One Seed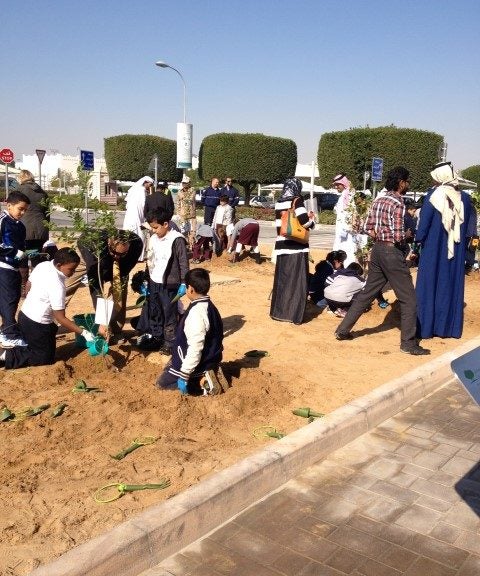 Dean Gerd Nonneman represented GU-Q at a Qatar Foundation tree planting ceremony called "Plant a Tree for Life", a campaign launched by the Health, Safety, Security and Environment (HSSE) directorate to encourage an understanding of the importance of trees in their lives and motivate them to care and protect our shared natural resources.
The ceremony, which took place on January 15, 2014 in Education City, was a public event that included the participation of local schools and universities. Attendees, numbering around 100, included students, deans and professors as well as employees from Qatar Foundation. Of the 29 trees planted. 15 were planted by deans of Qatar Foundation universities and Directorates of several directorates in Qatar Foundation. 15 sidra trees and 14 lemon trees were planted overall. The main focus of this event was to nominate a tree to represent a directorate or a university.
The HSSE directorate thanked Georgetown's contribution, saying: "This 'green' participation from you has demonstrated how motivated you are to protect Mother Earth; we thank you and congratulate you for your achievement in planting a tree."
Forty-five students from Qatar Academy Primary School, Qatar Academy Sidra and Awsaj Academy took part in the activity. Organizational participants included Mohammed Ahmed Bakhamis, HSE Director of the Health Safety Security & Environment Directorate, Khalid Sarwar Warraich, Chief Information Officer, along with Paul Read, Director of Facilities Management, both from Carnegie Mellon University Qatar, Dr. Parsaei, Associate Dean for Academic Affairs at Texas A&M Qatar, and Jassim M. Telefat, Group Executive Director at Capital Projects and Facility Management, among other distinguished guests.
HSSE announced that they will be monitoring the growth of the trees and keeping participants updated on the growth of their planted tree over the coming years, and that a commemorative plaque inscribed with the participant or organization's name would be added to each tree in the near future. The Million Trees campaign, which seeks to plant a million trees in Qatar over the next five years, was announced during the COP18/CMP8 climate change conference held in Doha in 2012.