Minister of State for Energy Affairs Discusses Qatar's Energy Future at Georgetown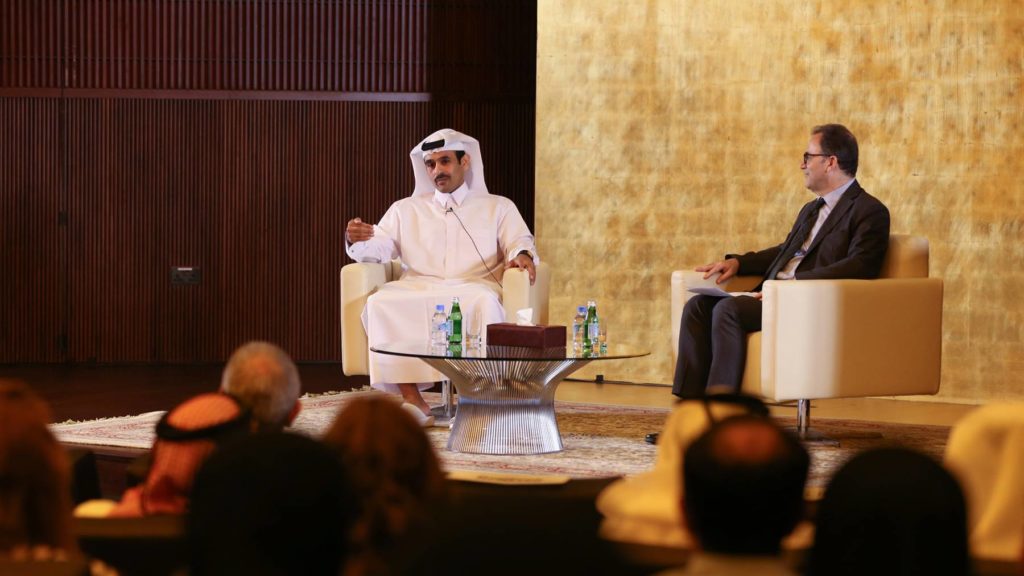 His Excellency Mr. Saad Sherida Al-Kaabi, the Minister of State for Energy Affairs and President and CEO of Qatar Petroleum (QP) recently visited Georgetown University in Qatar (GU-Q) to speak to an audience of faculty, students, and staff about the future of Qatar's energy sector, including the decision to withdraw from OPEC, and plans to increase annual capacity, explore untapped markets, and acquire new gas fields.
"I make it a priority to speak to students and faculty, because these are the people who are important for our future," he began, remarking on his efforts to engage with educational institutions, and noting that H.H. Sheikh Abdullah bin Hamad Al Thani, the Deputy Amir of Qatar and Chairman of the Board for QP is himself a graduate of GU-Q.
The Dean of GU-Q, Dr. Ahmad Dallal, gave the opening remarks where he attributed the transformative changes happening in Qatar's energy sector to the minister's strategy and vision, adding: "This event is a wonderful opportunity for our community to engage in meaningful conversation with a key leader of one of the world's most powerful economies."
The minister reviewed his efforts to guide QP and its subsidiaries to market leadership as the largest exporter of liquefied natural gas (LNG) as well as an increasingly powerful tool of economic diplomacy. Referring to the Qatar Petroleum's significant restructuring he said: "Safety, reliability, and environmental compliance are the top things we measured, then efficiency. We were able to reduce annual operational costs of the entire industry by 4 billion QAR annually."
The minister answered audience questions on the future of renewables, the role of universities in providing critical skill sets for the labor market.
In concluding remarks, the minister expressed confidence in Qatar's future, saying: "Natural gas remains the cleanest and most environmentally friendly fossil fuel and it will dominate the future of energy. We are blessed to have a lot of gas and we are looking at worldwide growth and economic gains through increased capacity and a larger market share. We are in the right business."