Other, Students
Georgetown's New Student Convocation Welcomes 113 Students into its Foreign Service Degree Program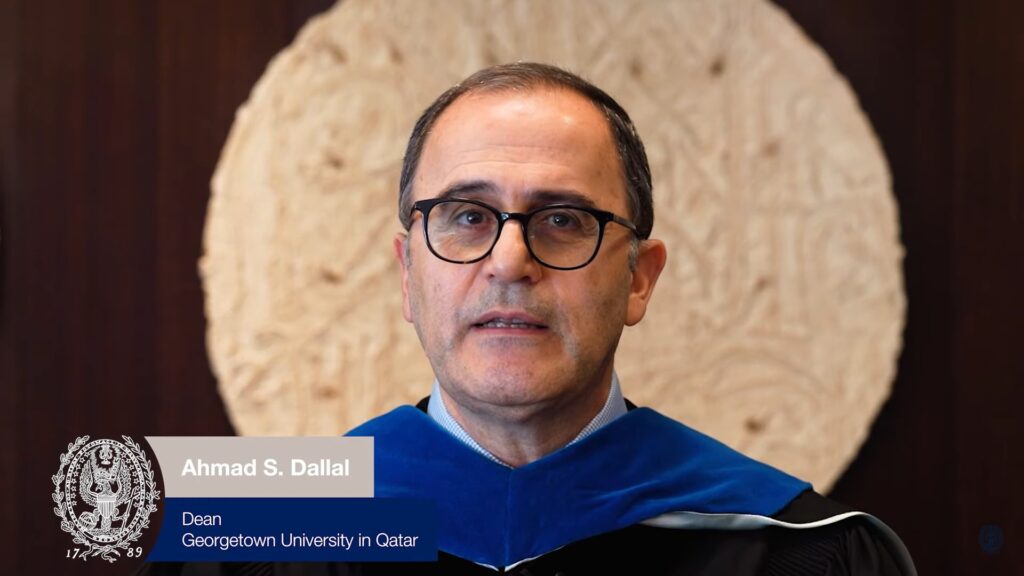 Marking the transition to their higher education journey and formal induction into Georgetown, QF partner Georgetown University in Qatar (GU-Q) welcomed 113 first-year students at its New Student Convocation, a ceremony with faculty, staff, alumni, and friends and family members of the incoming class of 2025.
Hailing from more than 40 countries, the incoming students bring with them a broad array of academic experiences and cultural backgrounds. An important milestone and the first formal event of the academic year, the virtual ceremony featured many traditional practices, including playing the national anthems of Qatar and the United States, delivery of opening prayers, and a reading of the University Charter.
In his welcome message to students, Dr. John J. DeGioia, the president of Georgetown University, cited the importance of the university's foundational values of academic excellence and public service especially during a global crisis, saying: "You represent a great hope for our world. We look forward to joining you on the extraordinary journey ahead. It's a privilege to share this moment with you, and to wish you the very best as we begin this new year. Welcome to Georgetown."
Adding his own welcome, the dean of GU-Q, Dr. Ahmad Dallal, said: "Class of 2025, tonight you will be making history as part of a long line of men and women, who for more than two centuries have become sons and daughters of Georgetown University. This history will become your story, and my hope is that today's ceremony is the start of a memorable chapter, one that you remember fondly."
Representing the faculty, Dr. Phoebe Musandu, Associate Professor of History, urged the incoming class to recognize their achievements, and the privilege and opportunity which Georgetown's globally recognized university education provides through its interdisciplinary Bachelor of Science in Foreign Service degree, offered in four majors: International Economics, International Politics, Culture and Politics, or International History, with options to pursue minors or earn Certificates in area studies.
"The B.S.F.S. degree will equip you with a broad base of knowledge and all sorts of skills and learning experiences that you can draw on in future no matter the course or courses, you eventually chart for your life," she said. "That flexibility is priceless."
Student body representative Khushboo Shah offered the incoming class a reminder of Georgetown's commitment to providing a holistic education and care for the whole person, saying: "If at all in the next four years you need help – look within this community. I assure you that there will always be a peer, a staff member, or a faculty, you can confide in and who will support you."
The celebratory notes of the university's Alma Mater song, a tradition that dates back to 1894, concluded the time-honored proceedings.