Students
Outstanding Seniors Will Leave a Lasting Legacy in Their Communities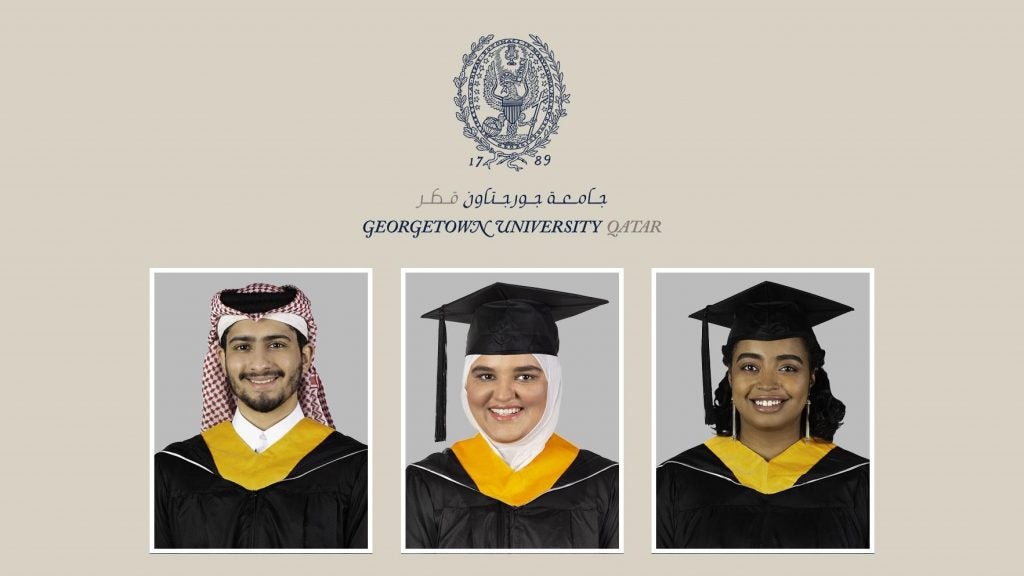 Across Qatar Foundation, senior students from branch campuses of partner universities are preparing to receive their diplomas. For the graduating Class of 2021 at QF partner Georgetown University in Qatar (GU-Q), the future is far less certain than when they began. But they are facing that future with the same resilience, innovation, and courage they exhibited throughout their undergraduate careers, and will leave behind a legacy of achievement and positive change in their communities.
Aasim Alwaleed Ali Al-Thani, a commissioned officer candidate for the Qatari Armed Forces (QAF), excelled at GU-Q, gaining induction into Pi Sigma Alpha, the National Political Science Honor Society. He added an Arabic minor to complement a major in International Politics, furthering his language proficiency through GU-Q's study abroad program at the QASID Institute for Arabic in Jordan.
After graduation, Aasim plans to complete his officer training and to apply his Georgetown education to a future committed to supporting Qatar. "Diplomacy is a fundamental pillar of statecraft. One of the skills I've gained through Georgetown's International Politics degree is a global, rational perspective, critical to understanding how to communicate and negotiate. I know these skills will be a boon to my career."
Born blind in Lahore, Pakistan, Khansa Maria has lived her entire life advocating for social justice and combating social stigmas surrounding disability. A high school counselor suggested GU-Q, where she majored in Culture and Politics and minored in History, and garnered honors for stellar academic achievement in both. Khansa also added a Certificate in Media and Politics to expand her academic focus.
Living her values through cocurricular and extracurricular activities, Khansa led a vibrant campus life, with membership in many school clubs and a prominent role on GU-Q's champion debate team. She was recently named a winner of a Rhodes Scholarship to attend the University of Oxford, where she plans to pursue a master's degree in evidence-based social intervention and policy evaluation to contribute to a more inclusive Pakistan. "What I've learned along the way is that no matter the challenges you face, you must never let the expectations of others define what you want to pursue for your future or what your goals are."
A member of the National Economics Honor Society, the National Political Science Honor Society, and the National Jesuit Honor Society, Fatima Ali AlEmadi excelled in the classroom while taking on multiple leadership roles on campus. Her deep interest in both the international system and the global economy led her to pursue a minor in Economics to complement a major in International Politics. Fatima also gained research experience through the challenge of an Honors thesis which she focused on the issue of water security in the Middle East. Adding to her achievements, Fatima's capstone project on media and national branding for the Certificate in Media and Politics program, offered jointly with Northwestern University in Qatar, tied for Best Translation of Research across both universities.
"The number of young women enrolled in the International Politics degree program is a sign that women are going to be increasingly engaged in the policy realm, and have more input on the issues that matter," said Fatima. "There is no doubt that Georgetown along with all of Qatar Foundation are increasing the contribution of women in Qatar."
When it came time for Heba Mohamednor to choose a university, small class sizes and a supportive learning environment led her to GU-Q, where the avid reader and writer explored her love of the creative arts through a degree in Culture and Politics. "I knew that I couldn't separate a study of languages, cultural arts and traditions from the political structures that gave rise to them. So CULP was the perfect choice."
On campus, Heba took on several leadership roles, including co-founder and president of the Black Student Association, which brought the community together for dialogue and discussion on issues of race and police brutality during the Black Lives Matter movement. She also helped organize a public webinar on COVID-19 and the future of education in Africa with the African Student Association. Heba has been accepted into a graduate program at the Middlebury Institute of International Studies at Monterey, California, and plans to pursue a degree in teaching English as a second language with specialization in language program administration. Students at GU-Q earn the same globally recognized Bachelor of Science in Foreign Service (BSFS) degree offered on Georgetown's Washington, DC, campus. This year's graduates will be joining a growing network of 190,000 Georgetown alumni, which provides lifelong career development and worldwide networking opportunities at all stages of career development across diverse industries including oil and gas, governance, media and communications, education, and finance.