Students
Ramadan in a time of Crisis: An Interview with Iman Abdelbagi Ismail, Founder and President of the GU-Q MSA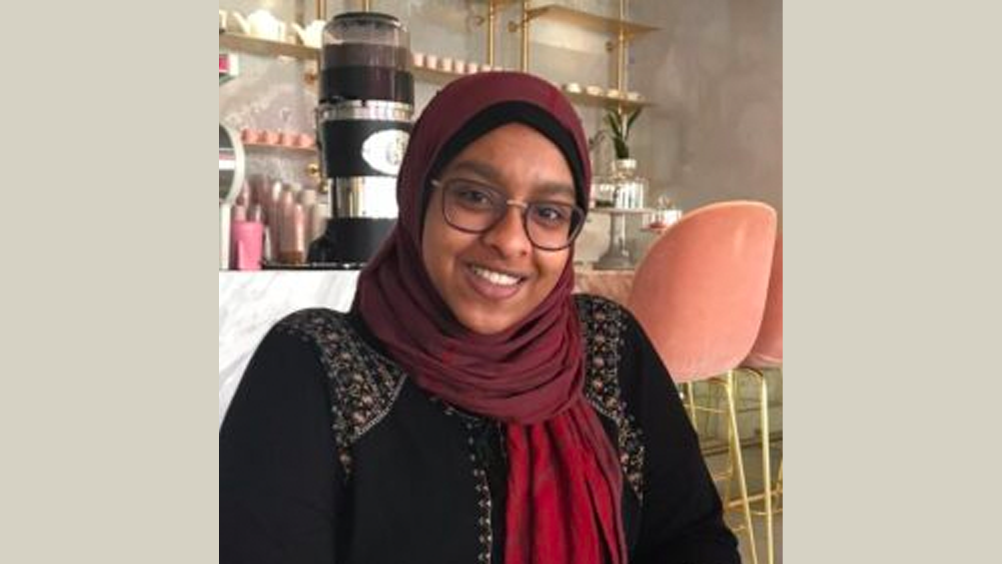 Iman Abdelbagi Ismail, a Culture and Politics major who's also pursuing minors in Arabic and Economics, is a founding member and president of a chapter of the Muslim Student Association (MSA) at Georgetown University in Qatar (GU-Q), a Qatar Foundation (QF) partner institution. We sat down with her for an interview on the role of MSA at a university positioned within the Muslim world, and discussed the importance of supporting the Muslim community during Ramadan in a time of crisis.
---
How many members are there in the GU-Q MSA, and who is involved?
We currently have just over 60 members we stay connected with through our WhatsApp group. They've contributed to event brainstorming and planning, and use the platform to share religious resources. Since our events are open to both the GU-Q and QF communities, we've also had some faculty and staff members join us, as well as Education City staff who have participated as guest speakers in our events.
Who is the faculty advisor of the MSA?
Professor Sohaira Siddiqui serves as our adviser, faculty mentor, and external relations mentor. Professor Siddiqui's support has been critical. On her suggestion that we use the MSA platform to provide spiritual guidance amidst COVID-19, we connected with a good number of guests we hosted through her multiple connections with global Muslim communities.
What do you hope to offer the community through the Ramadan programming?
For this Ramadan we planned weekly discussions, some student-led and others hosted by guest speakers. We've also purchased two books on the tafseer [exegesis] of the Quran for MSA members to encourage individual reading and reflection sessions of the Quran and Hadith.
What events have you held so far this year?
Since our start at the beginning of this semester, we've run several events, including an "Islamic Environmentalism" panel discussion in collaboration with the Sustainability Club, and online webinars, such as "Solitude and Spirituality: From the Islamic Tradition: Self-Reflection in Isolation" with Professor Sohaira Siddiqui, "Preparing for Ramadan" with Imam Omer Bajwa, Yale University Muslim Chaplain, and "Embracing Allah's Names in the Holy Month of Ramadan" with Dr. Bilal Philips, the founder of Islamic Online University. Towards the end of Ramadan, we've also launched weekly discussions that are student-led and are open to any topic, from applying the Seerah [prophetic biographies] to our lives, strengthening our relationship to the Quran, and how Islam encourages service to others, especially in this time of pandemic. .
Why is there an MSA at a university in the Muslim world? Why is this important?
This reminds me of a question I received when we first introduced the MSA to the GU-Q community: "Do you realize that GU-Q is already practically an MSA?" This question warranted deeper reflection of our vision and mission for the MSA: to provide a safe space for spiritual reflection and questioning. My initial response was to clarify that this platform was established on somewhat selfish grounds: the founders were seeking a way to collectively ground their spirituality and calling together a group of like-minded individuals was a good start.
After some further introspection, I realized that simply because we attend a Muslim-majority university in a Muslim-majority country does not mean we've been given the space and time to reflect. Living in the Muslim world, I've noticed the benefits afforded to Muslims, like numerous spaces for prayer. However, there's an assumption that since most of us are Muslim, there's no need to discuss our faith, or to explain Islam to a majority community of non-Muslims. I think having an MSA is helping our community to realize that there's always something more we can learn from our religion. We've managed to use this platform to network with intellectuals who connect their daily work to their religion, and to prove that Islam still has, and will continue to have a place in a contemporary university environment.
What role does the MSA play at a time of crisis such as we are experiencing?
I've noticed something beautiful: the overall MSA engagement has increased significantly during this pandemic, with members checking in on one another, sharing resources for spiritual understanding, and sharing an increasing appreciation for the guidance that our religion provides. In times of crisis such as this, the MSA acts as a platform for unity and comfort, reminding us to use this period of extended solitude to elevate our spirituality and return back to Allah, repentant and grateful. Moreover, the MSA has acted as a link to external resources, connecting students to Muslim chaplains to whom they can confide in for spiritual guidance and online programs and institutions offering courses and webinars that address many of the global issues and questions Muslim communities are facing globally.
How does the MSA at GU-Q align with Georgetown's foundational values and identity?
Georgetown's foundational values emphasize the recognition of every individual's unique circumstances and abilities, promoting justice and service in the name of faith, and diversity. Though these principles ultimately derive from the Jesuit tradition, they are universal in nature and absolutely pivotal in the vision and mission of the MSA. Though the name implies we cater to Muslims, it's important to note that we strive for inclusivity in all we do, and we are open to anyone who seeks to learn and to gain clarification in religious matters. Moreover, we realize that piety exists on a spectrum and every individual is on their own unique spiritual journey, whether it be their path towards God, or eternal bliss in whatever form they perceive it. The MSA is here to serve everyone.
Anything else you'd like to share?
I'd like to share my deep gratitude and appreciation to Allah (swt), to every individual who has supported our founding, and to the GU-Q community for embracing the Muslim Students Association and giving us the platform and opportunity to evince what benefits can be reaped from an Islamic organization in the Muslim world. Ultimately, the MSA has never been and will never be one person: it's a collective of spiritually driven and passionate individuals seeking clarity through religious guidance, and I'm excited to see where our spiritual endeavors and questions take us.
Read more: Muslim Student Association at Georgetown Discusses Ramadan in a Time of Crisis – https://www.qatar.georgetown.edu/news-events/news/muslim-student-associa…